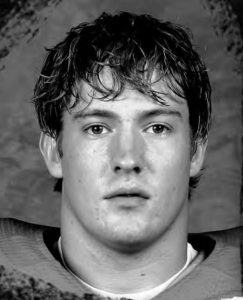 Nationality

United States

Position

TE

Birthday

3/27/1986

Hometown

Beaver, PA

High School

Beaver Area

Height

6'5"

Weight

250

Past Teams

Ohio State

Seasons

2004, 2005, 2006, 2007, 2008
Post-OSU Update: Rory Nicol did not play in the NFL after leaving Ohio State. He has worked mostly in sales, most recently for Abbott. (updated: Jun. 2023)
Jersey #: 88 (2005-08), 86, 88 (2004)
Weight: 252 (2008), 250 (2006-07), 260 (2005), 245 (2004)
2008 Media Guide: Veteran leader who will be in his third year as a starter in 2008 … teams with Jake Ballard to give the Buckeyes a double threat at tight end … has excellent size and speed, runs good
routes, can get deep and is a good technician … devoted to film study and analysis … on track to graduate in December.
2007: Shared starter's role at tight end with Ballard … 16 receptions gained 84 yards for season … 21 career starts … leading receiver at Penn State with six catches … third-year letterman.
2007 Media Guide: Second year as a starter … has played in 23 games with 16 catches for 185 yards and has scored four touchdowns … has excellent size and speed, runs precise routes, can get deep and is a good technician … spent a lot of time in film study last fall and has become more of a student of the game.
2006: Played in all 13 games and made 10 starts, including the last six games … three of his 13 receptions were touchdowns, including two against Indiana … scored first touchdown of the season against Bowling Green.
2006 Media Guide: Hopes to get back in the saddle in 2006 after missing all of last year with a foot injury that sidelined him in fall camp … did practice in the spring without any lingering effects and is expected to be 100 percent in the fall … teams with Marcel Frost to give the Buckeyes two quality tight ends … spent a lot of time in film study last fall and has become more of a student of the game … has a great work ethic and can't wait to get back out on the field in front of 102,000 fans.
2005: Went into fall camp contending for a possible starting spot, but a broken right foot in late August ended his season … underwent rehab Winter Quarter and was cleared to play in the spring.
2005 Media Guide: Heads into the fall as the Buckeyes' No. 2 tight end behind veteran Ryan Hamby … should see extensive action this year in tandem with Hamby … lettered last year as a true freshman, appearing in 10 games and starting against Wisconsin when the Buckeyes opened with two tight ends … first catch of the season came at Iowa, a nifty over-the-shoulder 23-yard touchdown reception late in the fourth quarter … is an intelligent player with a great attitude and work ethic … the OSU coaching staff believes he has an extremely bright future as he continues to develop and gain game experience.
2004: Made a favorable impression in preseason camp and was one of the first freshman to crack the two-deep … made his college debut in the season opener against Cincinnati and was in for 10 minutes … logged nine minutes at Iowa and a career-high 15 against Indiana … his catch at Iowa was the Buckeyes' only tally of the day and helped OSU avoid its first shutout since 1993 … improved with each outing … had two receptions against Oklahoma State in the bowl game … began the year wearing jersey No. 86, but switched to No. 88 to avoid any conflict with punter Kyle Turano (who also wore No. 86) when playing on the punt team.
High School: Could have an immediate impact at tight end, where the Buckeyes have just one experienced returnee in junior Ryan Hamby … is considered a super talent, who can do it all … has size, speed, quickness and is a very physical player … was regarded as a dominating blocker in high school and that could be his ticket to a quick move up the depth chart with the Buckeyes, who frequently employ a two-tight end set and are always looking for tight ends who can block … caught 18 passes for 234 yards and five touchdowns and five touchdowns as a senior … three-year varsity starter … named to the Pittsburgh Post-Gazette's "Fab 22" and the Pittsburgh Tribune-Review's Terrific 25 as a senior … also was named to the Patriot News Platinum 33 team … all-conference selection as both a sophomore and junior … had 15 catches for 168 yards and one touchdown as a junior … also played linebacker and finished with 78 tackles, 6.5 sacks and two interceptions as a junior … second team all-state his junior year … runs 40-yard dash in 4.75 seconds … rated 81st on TheInsiders.com Hot 100 list, which also ranked him as the second best tight end prospect and eighth best overall prospect in Pennsylvania … the fourth-ranked tight end prospect in the nation by Rivals.com … ranked as the sixth best tight end in the nation by SuperPrep … also ran track and was clocked at 15.8 in the 110-meter hurdles as a junior … also a center on the basketball team, averaging 10 points and 12 rebounds per game.
Personal: Is the son of Bob and Kathy Nicol … enjoys playing basketball as a way of relaxing … has two sisters: Ashley, who graduated from Virginia Tech and Lisa, who attends the University of Pittsburgh … favorite cartoon character is SpongeBob SquarePants … favorite former Buckeye is Bobby Carpenter.
Offense
| Season | Team | G | GS | Tgt | Rec | Rec Yds | Rec Avg | Rec TD | Lng | 2 Pt Conv | KR | KR Yds | KR TD |
| --- | --- | --- | --- | --- | --- | --- | --- | --- | --- | --- | --- | --- | --- |
| 2004 | Ohio State | 10 | 1 | NA | 3 | 34 | 11.3 | 1 | 23 | 0 | 0 | 0 | 0 |
| 2006 | Ohio State | 13 | NA | NA | 13 | 151 | 11.6 | 3 | 38 | NA | 0 | 0 | 0 |
| 2007 | Ohio State | 13 | NA | NA | 16 | 84 | 5.2 | 0 | 11 | 0 | 0 | 0 | 0 |
| 2008 | Ohio State | 11 | NA | NA | 6 | 60 | 10.0 | 2 | 22 | 0 | 1 | 10 | 0 |
| Total | - | 47 | NA | 0 | 38 | 329 | 8.7 | 6 | 38 | 0 | 1 | 10 | 0 |