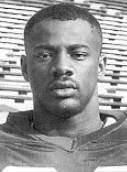 Nationality

United States

Position

DB, CB

Birthday

11/30/1973

Hometown

Columbus, OH

High School

Briggs

Height

5'9"

Weight

175

Current Team

Ohio State

Seasons

1992, 1993, 1994, 1995, 1996
Post-OSU Update: Ty Howard was selected in the third round of the 1997 NFL Draft by Arizona. He played 37 NFL games over four years, compiling 73 tackles. After his playing days, Howard went into medical sales and is now a Regional Director at Cepheid. (Updated: 2022)
Major: English (1995-96), Business (1994), Undecided (1993), Unknown (1992)
Weight: 181 (1995-96), 175 (1994), 172 (1992-93)
1996: Started all 12 games … picked off a career-high four interceptions and was credited with four passes broken up … 32 tackles included 26 solo stops … sprained his right ankle on the first play of the Penn State game and missed the next two games (Wisconsin and Purdue) before returning against Iowa … made a key interception at Indiana, stopping a late Hoosier drive … other
picks were against Rice, Minnesota and Illinois … tied his career high with eight tackles against Arizona State in the Rose Bowl … teamed with All-American Shawn Springs to give the Buckeyes one of the top cornerback tandems in the country and played a key rote in the success of the Buckeyes' defense.
1996 Media Guide: Will be in his second year us the starter at the boundary corner … good athlete with outstanding speed and quickness … made steady improvement last year and has developed into a fine coverage back … led the secondary in playing time last year with 302 minutes … finished the year with 51 tackles… also had four passes broken up, four fumbles caused and two interceptions … had a career-high eight tackles and a pair of fumbles caused against Notre Dame … credited with two key passes broken up at Penn State that helped OSU to a dramatic 28-25 win … also had a memorable game against Tennessee, making four tackles und recovering a fumble that he forced … interceptions came against Pittsburgh (15-yard runback) and Purdue (also had a tackle for loss and a pass broken up against the Boilers) … should be in for an outstanding season.
1995 Media Guide: The projected starter at the boundary corner … has been the backup for Marlon Kerner on the open side the past two years … has outstanding speed and quickness and is a good one-on-one defender … played a total of 52 minutes in the 12 games he appeared in last year (did not play at Washington) and was credited with four tackles and three passes broken up … needs experience, but has the potential to be a good football player … has added 10 pounds since last year.
1994 Media Guide: Backs up Marlon Kerner at the open corner … one of the Buckeyes' speediest defensive backs and has the potential to develop into a very talented cover man… played in all 12 games last year as a redshirt freshman and started at Pitt, when Kerner was nursing an ankle injury … also plays on the special teams… should see increased playing time this year as he gains experience … a highly regarded young player.
1993: Logged a total of 72 minutes, 23 of those coming at Pittsburgh … finished the year with 11 tackles, including nine solos … top game was four tackles against Pitt … credited with three stops at Purdue … the biggest play of his career came in last year's Holiday Bowl, when he forced a BYU receiver out of bounds at the six-yard line with 32 seconds remaining with a touchdown saving tackle that preserved OSU's 28-21 win.
1993 Media Guide: Will back up Marlon Kerner on the wide side … good young player who turned heads in the spring with his athletic ability … has outstanding speed and is an an excellent cover man … should contribute this year, both at corner and as a member of the special teams … tremendous potential, just needs experience.
1992: Redshirted.
1992 Media Guide: Came back strong in 1991 from an injured knee, which occurred in the state playoffs his junior season … missed part of his senior campaign but played well in his final six games, rushing for 1,060 yards and averaging 9.2 yard per carry from his tailback position … set a school record with a 304-yard rushing effort against Walnut Ridge … rushed for 1,610 yards and passed for 231 more as a junior quarterback … holds school career records with 504 rush attempts, 4,101 yards and 57 TDs … may be the fastest player to sign with the Buckeyes … an honorable mention All-America selection by Street & Smith's, a three-time all-city selection and twice an all-district choice … served as a three-year team captain … can return punts and kickoffs … also a standout in track … high school coach was Robert Guelmi … a graduate of Buckeyes Boys State and a two-year honor roll student … would like to major in business administration and run his own business someday … hobbies include reading Shakespeare and listening to jazz … born 11-30-73.
Personal: One of two married players on the team (James Ross is the other) … he and his wife, Audrey, have a two-year-old son, Ty Jr. … hobbies include reading and jazz.
Defense
| Season | Team | G | GS | Tkl | Solo | Asst | TFL | TFL Yds | Sacks | FF | FR | Int | Int Yds | PBU |
| --- | --- | --- | --- | --- | --- | --- | --- | --- | --- | --- | --- | --- | --- | --- |
| 1992 | Ohio State | 1 | 0 | 1 | 1 | 0 | 0 | 0 | 0 | 0 | 0 | 0 | 0 | 0 |
| 1993 | Ohio State | 12 | 1 | 11 | 9 | 2 | 0 | 0 | 0 | 0 | 0 | 0 | 0 | 0 |
| 1994 | Ohio State | 12 | 0 | 4 | 2 | 2 | 0 | 0 | 0 | 0 | 0 | 0 | 0 | 3 |
| 1995 | Ohio State | 13 | 12 | 51 | 31 | 20 | 2 | 3 | 0 | 4 | 1 | 2 | 15 | 6 |
| 1996 | Ohio State | 10 | 8 | 32 | 26 | 6 | 0 | 0 | 0 | 0 | 0 | 4 | 26 | 3 |
| Total | - | 48 | 21 | 99 | 69 | 30 | 2 | 3 | 0 | 4 | 1 | 6 | 41 | 12 |