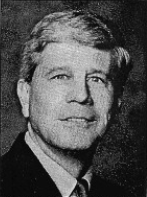 Nationality

United States

Past Teams

Ohio State
College: Auburn, 1969
OSU Coaching History:
1993-96: Offensive Coordinator
1992: Offensive Coordinator, Interior Offensive Line
1991: Offensive Line Coach
1995 Media Guide: During his three years as coordinator, Ohio State has averaged 371 yards and 26 points a game, including 375 yards and 25.8 points in 1994. Last year's squad also recorded three 500 yard games, the first time since 1984 that the Buckeyes have topped that figure thrice in one season.
1993 Media Guide: Joe Hollis is in his second season as Ohio State's offensive coordinator and his third season as a member of John Cooper's coaching staff, Originally hired to coach the
offensive guards and centers, Hollis was promoted to offensive coordinator in the spring of 1992.
1992 Media Guide: Joe Hollis coaches the offensive guards and centers for the Buckeyes and also serves as John Cooper's offensive coordinator.
1991 Media Guide: Joe Hollis is in his first season on the Ohio State football staff. He coaches the Buckeyes' offensive guards and centers.
While the 43-year-old Hollis is new to Ohio State, he does have a prior association with Buckeye head coach John Cooper. The two spent four years together at the University of Tulsa, Hollis serving as Cooper's offensive line coach between 1980 and 1983.
Prior to Ohio State, Hollis spent six years as the offensive line coach at the University of Georgia. His other coaching stops include Troy State and Auburn as an assistant and Jacksonville State as a head coach. This is his 20th year in coaching.
An Alabama native, Hollis is a 1969 graduate of Auburn. He began his coaching career in 1972 as an assistant at Troy State. He remained there for six years, leaving in 1978 to return to Auburn as offensive line coach. .
In 1980, Hollis joined up with Cooper at Tulsa. In 1983, in addition to coaching the offensive line, he also served as offensive coordinator for the Golden: Hurricane. During his stay at Tulsa, the Golden Hurricane compiled a 33-11 record. including four league titles and a 20-1 mark in Missouri Valley Conference play.
In 1984, Hollis left Tulsa to become head coach at Jacksonville State. In his only year there, he compiled a 4-5-1 record.
In 1985, Hollis was named offensive line coach at Georgia. During his six seasons with the Bulldogs, Georgia appeared in five bowl games.
Joe and his wife, Carole, have two sons, Joseph and William.