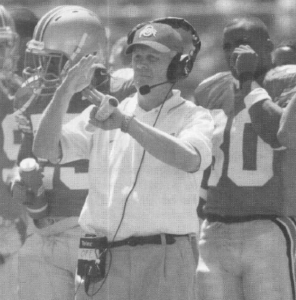 Nationality

United States

Past Teams

Ohio State
College: Baldwin Wallace, 1970
OSU Coaching History:
2004-11: Running backs coach
2004 Media Guide: Dick Tressel is in his fourth year at Ohio State, but this is his first year as a member of the football coaching staff. The associate director of football operations for the Buckeyes during his first three years in Columbus, Tressel returned to the coaching ranks in March as mentor of the OSU running backs. He replaced long-time Buckeye assistant Tim Spencer, who is now the running backs coach for the Chicago Bears.
Tressel, the older brother of Buckeye head coach Jim Tressel, is certainly no stranger to the coaching profession. Prior to coming to Ohio State, he spent 23 years as the head football coach at Hamline University in St. Paul, Minnesota.
During his tenure at Hamline, he posted an overall record of 124-102-2 and was the Division III National Coach of the Year in 1984. His 1984 team won the Minnesota Intercollegiate Athletic Conference Championship. In addition to being selected NCAA Coach of the Year, he was the Sporting News Coach of the Year in 1984.
Tressel also served as director of athletics at Hamline, spending 21 years in that capacity.
Tressel was born in Columbus and grew up in Berea, Ohio, where his father was head coach at Baldwin Wallace College. He played both football and baseball at B-W, earning four letters in each sport. A three-year starter at defensive back, he won second-team all-conference honors as a senior. He still holds the school record in baseball for playing the entire season without a fielding error at second base.
Tressel graduated from Baldwin Wallace in 1970 with a degree in physical education. He received his master's in that field from Florida State in 1976 and his doctorate from the University of Minnesota in 1996.
Tressel began his coaching career as a graduate assistant at Florida State in 1970. He returned to Ohio the following year as the head coach at Gibsonburg High School in northeast Ohio. He spent three years in the high school ranks and compiled an overall record of 19-9-2. One of his standouts at Gibsonburg was offensive lineman Ted Smith who would go on to become an All-American guard for the Buckeyes.
In 1974, Tressel jumped to the collegiate ranks as defensive coordinator at Wayne State in Detroit. He remained there throughout the 1977 season, leaving at the conclusion of that year to become head coach at Hamline. He was at Hamline from 1978 through the 2000 season.
During his first three years at Ohio State, Tressel assisted in the day-to-day operations of the football program and was responsible for monitoring the academic progress of the student-athletes on the football team. He also oversaw community relations.
Dick and his wife, Connie, have three sons, Mike (9/28/73), Ben (7/12/75) and Luke (3/15/79). Ben and Luke played football for their father at Hamline. Mike played at Cornell College in Iowa and is now an assistant at the University of Cincinnati under former Buckeye defensive coordinator Mark Dantonio.