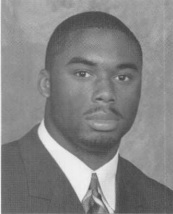 Nationality

United States

Position

DE

Height

6'4"

Weight

250

Birthday

6/5/1986

Hometown

Detroit, MI

High School

Cass Tech

Past Teams

Ohio State

Seasons

2004, 2005, 2006, 2007
Post-OSU Update: After a tremendous NFL Combine (4.58 40-yard dash, 42″ vertical, 37 bp reps), Vernon Gholston was selected sixth overall in the 2008 NFL Draft by the New York Jets. Gholston's professional career was a bust, lasting only three years and not recording a sack (he did make 42 total tackles). After football, Gholston started Anew Wellness in Somerset, NJ, a mental health clinic. (updated: May 2023)
Major: Consumer Affairs (2006-07)
Weight: 260 (2005-07), 250 (2004)
2007 Media Guide: Two-year starter and a possible All-American candidate … Ohio State's next standout at the "Leo" or drop end position … was recruited as a linebacker and now puts those skills and speed to use when rushing the quarterback or dropping into coverage … can play any of the four down lineman positions … an excellent pass rusher with his combination of size and speed.
2006: Earned second-team All-Big Ten honors from both the league's coaches and media … started all 13 games … 15 tackles behind the line of scrimmage led the team and his 49 tackles led OSU's defensive front (sixth overall) … had three or more tackles in eight games … had two tackles-for-loss in four different games … named OSU's defensive attack force player of the week after the win vs. Penn State and the team's defensive player of the week after the win over Bowling Green.
2006 Media Guide: Took part in spring drills this past April and showed no lingering effect from a hand injury … expected to play a prominent role in the defensive line rotation this fall … will spend most of his time at rush end, but can play any of the four down lineman positions … an excellent pass rusher with his combination of size and speed … bench presses 455 pounds and is one of the strongest players on the team … had an excellent spring and the coaches believe he can be a major factor in 2006.
2005: Suffered a broken hand in the season opener … was not ready to return until mid-October and was redshirted … was in contention for a starting spot before being hurt … was able to practice in the spring and significantly improved all aspects of his game during those 15 practices.
2005 Media Guide: Expected to see more playing time in 2005, and could vie for the starting spot vacated by Simon Fraser at rush end … has all the physical tools to be an outstanding rush end and will be given a long look at that position … has been favorably compared to former Buckeye All-America Will Smith, who is now playing for the New Orleans Saints … runs very well.
2004: Appeared in six games last year as a true freshman … was the backup to starter Mike Kudla at the end of the year.
High School: Rated as one of the best defensive prospects in the Midwest as a senior … a dominant linebacker at Cass Tech but is expected to move to the defensive line at Ohio State in order to take advantage of his size and speed … rated as the 18th best outside linebacker in the nation by Prep Football Report … rated as the 38th best overall linebacker in the nation by TheInsiders.com … Rivals.com rated him as the 11th best weak-side defensive end in the nation … totaled 75 tackles and six sacks as a senior from his outside linebacker and defensive end positions … runs a sub-4.5 in the 40 and should be a sensational pass rusher … currently the only player on the Ohio State roster from "that state up north" … at a position where the Buckeyes have excellent depth, but in recent years it has not been unusual for freshmen D-lineman to play.
Personal: Is the son of Cheryl Gholston (his father is deceased) … has a younger brother, Brandon, who is a high school senior (2006) … enjoys working out, playing all sports and traveling (has been on a cruise and likes beaches and tropical climates) … favorite actor is Denzel Washington … favorite former Buckeye is Jack Tatum.
Defense
| Season | Team | G | GS | Tkl | Solo | Asst | TFL | TFL Yds | Sacks | Sack Yds | FF | FR | Int | Int Yds | PBU | Blk | Def TD |
| --- | --- | --- | --- | --- | --- | --- | --- | --- | --- | --- | --- | --- | --- | --- | --- | --- | --- |
| 2004 | Ohio State | 6 | 0 | 0 | 0 | 0 | 0 | 0 | 0 | 0 | 0 | 0 | 0 | 0 | 0 | 0 | 0 |
| 2005 | Ohio State | 1 | 0 | 0 | 0 | 0 | 0 | 0 | 0 | 0 | 0 | 0 | 0 | 0 | 0 | 0 | 0 |
| 2006 | Ohio State | 13 | NA | 49 | 21 | 28 | 15.0 | 86 | 8.5 | 73 | 0 | 0 | 1 | 8 | 2 | 0 | 0 |
| 2007 | Ohio State | 13 | NA | 37 | 25 | 12 | 15.5 | 113 | 14.0 | 111 | 0 | 1 | 0 | 0 | 0 | 0 | 1 |
| Total | - | 33 | NA | 86 | 46 | 40 | 30.5 | 199 | 22.5 | 184 | 0 | 1 | 1 | 8 | 2 | 0 | 1 |