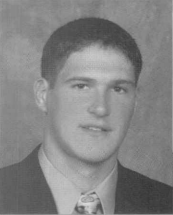 Nationality

United States

Position

QB

Birthday

6/8/1984

Hometown

St. Henry, OH

High School

St. Henry

Height

6'5"

Weight

235

Current Team

Ohio State

Seasons

2004, 2005, 2006
Major: Undeclared (2004-06)
Weight: 235 (2004-06)
2006 Media Guide: Three-year veteran … enters the season as the No. 3 signal caller behind incumbent Troy Smith and backup Justin Zwick, both of who are seniors, but is very talented in his own right and more than capable of stepping into the lineup and directing the team if need be … knows the offense and is a gifted athlete … has excellent size and a strong arm … drop-back passer with an accurate touch, especially on the deep ball … also an effective runner … is a smart player who sees the field and is good at reading his progression … has not seen a lot of action, but has certainly benefited from his time in the program, as well as from going up against the always-stout Ohio State defense … hopes to play more this year, but is at a very competitive and deep position.
2006: Played seven minutes against Miami, completing five of seven passes for 67 yards and the 42-yard TD strike to Ted Ginn … also made brief appearances against Minnesota and Northwestern, but did not have any additional stats.
2005 Media Guide: One of three contenders in what should be a very spirited quarterback race in the fall … is far and away the least experienced of the trio, but is undeniably talented and will bear watching … has excellent size and a strong arm … probably fits best into the classic drop-back passer mold, but won't hesitate to pull the ball down and butt heads to pick up extra yardage … the OSU coaches like his gumption and savvy … can rifle the ball and see the field very well for a young player … has the ability to put the last play out of his mind and focus on the next play, a very desirable attribute at quarterback … has been in the program the better part of two years now and understands the Ohio State offense … has benefited from going up against the No. 2 defense the past two years.
2004: Seemed a cinch to be redshirted and understudy Justin Zwick and Troy Smith … but that changed in Week Six when Zwick injured his shoulder at Iowa … was basically the No. 2 quarterback from that point on, backing up Smith in the last five games of the regular season and Zwick in the Alamo Bowl … told the coaches he would give up his redshirt year and play in the Alamo Bowl if needed.
High School: One of three scholarship quarterbacks on the roster … graduated from St. Henry in the spring of 2003 and enrolled at Ohio State on a part-time basis the following fall … was able to take part in fall drills until classes started … also took part in the bowl practices in Arizona before enrolling full-time at the beginning of Winter Quarter 2004 … has clearly benefited from the experience of those practice sessions and has a good grasp of the Ohio State offense … is an intelligent player with excellent size and a strong arm … it is conceivable that he could play some this year … earned All-Midwest Athletic Conference honors and All-Ohio honors as a senior … four-year starter for the Redskins and led St. Henry to the Division V state title game as a freshman … threw for 7,021 yards and 64 touchdowns in his varsity career, including his freshman season when he threw for 2,520 yards and 23 touchdowns … suffered a sprained medial collateral ligament as a senior, but completed 95 of 177 passes for 1,415 yards and 15 TDs … ranked as the 33rd-best prospect in the Midwest by SuperPrep and as the 51st-best prospect in the region by ESPN.com's Tom Lemming … coached by father, Tim Boeckman, who is now the athletics director at St. Henry … also earned all-state honors in basketball and baseball … was a four-year letterman in basketball and a three-year letterman in baseball … averaged 18.6 points per game on the hardcourt as a junior … attended the same high school that sent Bobby Hoying and Jim Lachey, among others, to Ohio State.
Personal: Is the son of Tim and Denise Boeckman … has an older brother, Trent, who played baseball at Defiance College, and a younger brother, Toby, who currently plays football at Cincinnati … a cousin, Cory Luebke, is a pitcher on the Ohio State baseball team.
Offense
| Season | Team | G | GS | Comp | Pass Att | Cmp % | Pass Yds | Pass TD | Pass Int | Skd | Skd Yds | Rush Att | Rush Yds | Rush Avg | Rush TD | Fum | Lost | FR |
| --- | --- | --- | --- | --- | --- | --- | --- | --- | --- | --- | --- | --- | --- | --- | --- | --- | --- | --- |
| 2005 | Ohio State | 3 | 0 | 5 | 7 | 71.4 | 67 | 1 | 0 | NA | NA | 0 | 0 | 0 | 0 | NA | NA | NA |
| Total | - | 3 | 0 | 5 | 7 | 0 | 67 | 1 | 0 | 0 | 0 | 0 | 0 | 0 | 0 | 0 | 0 | 0 |