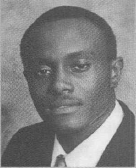 Nationality

United States

Position

DB, ST, CB

Birthday

9/7/1981

Hometown

Park Forest, IL

High School

Rich East

Height

6'0"

Weight

178

Current Team

Ohio State

Seasons

1999, 2000, 2001, 2002
Post-OSU Update: Richard McNutt joined the Ohio State football staff in 2003 as a student assistant. From there, McNutt embarked on a long career as a defensive backs coach, both in college and the NFL. In 2021, he joined Eddie George's Tennessee State staff. (update: Sep. 2022)
Major: Human Ecology (2004), Nursing (2001-02), Undeclared (2000)
Weight: 178 (2000-02), 175 (1999)
2002 Media Guide: Richard McNutt emerged from spring practice as a likely starter at one of the two vacant cornerback positions … tough, competitive player who has battled a chronic ankle condition throughout his career, but has persevered in an effort to complete his college career … has good ball skills, and is a physical player even though he lacks great size … coaches love his work ethic and attitude … stepped in last year and started two games, including the South Carolina game … has played in all 24 games the past two years, but that figure is somewhat deceiving because much of that time has been with the special units … still, given the Buckeyes youth at cornerback, he is one of the more experienced returning players at that position.
2001 Season: Played in all 12 games and started against Illinois and South Carolina … pressed into action at Minnesota when starter Cie Grant went down with a concussion … played well against the Gophers and earned the praise of the coaching staff with his effort … wound up the year with nine tackles.
2001 Media Guide: Richard McNutt was the backup to Nate Clements at the cover corner last year … will play right cornerback this year and see action with the special teams … good athlete with excellent quickness, but has been slowed by a nagging ankle injury … appeared in all 12 games last season and played at least seven minutes against Fresno State, Miami and Iowa … three tackles on the year.
2000 Season: Earned his first letter … played on the special teams … 45 minutes of playing time.
2000 Media Guide: Redshirt freshman Richard McNutt came to Ohio State with unparalleled credentials and it's only a matter of time before those shine through on the field. McNutt suffered an ankle infection as a senior in high school and the injury lingered last year, slowing his adjustment to the college game. "McNutt is coming along," Jon Tenuta, defensive coordinator, said. "The ankle injury that occurred in high school forced him to sit out all last year and we're still working through that. He's improving every day in practice and we'll look for big things from him in the future." Depending on his ankle, McNutt could challenge for the back-up spot at cornerback this season, only his second at OSU.
1999: Redshirted.
High School: Considered one of the Top 5 defensive back prospects in the nation by The National Recruiting Advisor and Superprep … named No. 3 prospect overall in the midwest by the Detroit Free Press … a USA Today honorable mention All-American … did not play as a senior because of a foot infection … was a preseason Parade Magazine All-American prior to senior season … recorded 14 interceptions as a junior and five as a sophomore … long jumped 23 feet and finished second in the state meet as a junior in the triple jump with a 47-foot leap … the son of Christine and Richard McNutt.
Defense
| Season | Team | G | GS | Tkl | Solo | Asst | TFL | TFL Yds | Sacks | Sack Yds | FF | FR | Int | PBU | Blk |
| --- | --- | --- | --- | --- | --- | --- | --- | --- | --- | --- | --- | --- | --- | --- | --- |
| 2000 | Ohio State | 12 | 0 | 12 | 7 | 5 | 1 | 2 | 0 | 0 | 0 | 0 | 0 | 0 | 0 |
| 2001 | Ohio State | 12 | 3 | 9 | 9 | 0 | 0 | 0 | 0 | 0 | 0 | 0 | 0 | 1 | 0 |
| 2002 | Ohio State | 6 | 6 | 16 | 10 | 6 | 0 | 0 | 0 | 0 | 0 | 0 | 0 | 0 | 0 |
| Total | - | 30 | 9 | 37 | 26 | 11 | 1 | 2 | 0 | 0 | 0 | 0 | 0 | 1 | 0 |