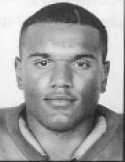 Nationality

United States

Position

DB, FS

Birthday

1/31/1977

Hometown

Columbus, OH

High School

Marion-Franklin

Height

6'4"

Weight

210

Current Team

Ohio State

Seasons

1995, 1996, 1997, 1998, 1999
Major: Sociology (1998-99), Communications (1997), Education (1996), Unknown (1995)
Weight: 218 (1999), 210 (1997-98), 200 (1995-96)
1999 Media Guide: Percy King has battled long and hard since he got to Ohio State. If it wasn't against future NFL safeties Rob Kelly or Damon Moore, King has found himself battling teammates just as talented as he for playing time at both strong and free safety. An athletic and strapping 6-4, 218 pounder, King is a veteran of 27 games and he knows what it takes to make big plays and to be an everyday player. "Percy is a very talented football player and he is still in the hunt," secondary coach Jon Tenuta said. "He has the tools to do whatever he wants on the football field. Now he just has to put it all together." King has made 30 tackles throughout his career with most of them on special teams, and he has been a warrior blocking kicks, with three to his credit including a huge touchdown-producing blocked punt in the win over Penn State last year.
1998: Was one of the featured defenders throughout spring practice and he went on to play in all 12 games with most of his action on the special teams, where he has been outstanding throughout his career. High game in terms of tackles was four against Illinois. Biggest play of the season came against Penn State, bursting through an opening to block a punt in the end zone that Joe Cooper recovered, giving the Buckeyes a 21-3 lead. OSU coaches awarded King with special teams' player of the week honors for that effort.
1998 Media Guide: Strapping, hardworking safety who appears ticketed for more playing time this year … called the "surprise of the spring in the secondary," by secondary coach Jon Tenuta, who also feels that Percy "finally realized he can play at this level and he has battled himself into playing time" … was outstanding this spring after having made a name for himself last year with his special teams play … has played in 15 games including 12 as a sophomore.
1997: Played well whenever called upon … shined on the special teams, with a blocked field goal against Iowa and a blocked PAT at Michigan … finished the 1997 season with 14 tackles … top game in terms of tackles was three against Illinois … picked off his first career interception at Missouri on the final play of the game … played a total of 81 minutes in his 12 appearances.
1997 Media Guide: Reserve safety, who also plays on the special teams … expected to back up Damon Moore at free safety this year … has seen limited playing time thus far in his career, but is a good athlete who could play a more prominent role this year.
1996:  Saw brief action in the first three games last season, logging a total of eight minutes … played five minutes in the opener with Rice and had his tone two tackles of the year against the Owls.
1996 Media Guide: Hometown product who is realizing a lifelong dream of playing for the Buckeyes … will be used in a reserve role this fall, probably at safety … did not see any playing time last fall as a true freshman … ideally suited for strong safety because of his size and speed … still in the learning stages, but is a hard worker who will continue to apply himself in an effort to get better … should see some game time in the fall as a member of the special teams … was a three-year captain of his high school football team.
1995 Media Guide: Selected first team all-district and second team Division II all-state as a senior, when he also was chosen to the Columbus Dispatch/Agonis Club Central Ohio All-Star Team … also earned All-America mention from Blue Chip and SuperPrep magazines … had 86 tackles and three interceptions as a senior … also spent some time on offense at split end, tight end and as the backup quarterback, and played some at linebacker earlier in his career … recovered six fumbles as a junior, two for touchdowns . .. started for four years and was team captain for three seasons … also lettered in basketball and track … plans to major in education at Ohio State … spent the summer getting in condition for the fall.
Defense
| Season | Team | G | GS | Tkl | Solo | Asst | TFL | FF | Int | Int Yds | PBU | Blk | KR | KR Yds | PR | FC | PR Yds |
| --- | --- | --- | --- | --- | --- | --- | --- | --- | --- | --- | --- | --- | --- | --- | --- | --- | --- |
| 1996 | Ohio State | 3 | 0 | 2 | 2 | 0 | 0 | 0 | 0 | 0 | 0 | 0 | 0 | 0 | 0 | 0 | 0 |
| 1997 | Ohio State | 12 | 0 | 14 | 8 | 6 | 0 | 0 | 1 | 0 | 0 | 1 | 0 | 0 | 0 | 0 | 0 |
| 1998 | Ohio State | 12 | 0 | 14 | 9 | 5 | 0 | 0 | 1 | 3 | 0 | 1 | 0 | 0 | 1 | NA | 8 |
| 1999 | Ohio State | 12 | 2 | 35 | 30 | 5 | 1 | 1 | 5 | 0 | 1 | 0 | 1 | 0 | 0 | 0 | 0 |
| Total | - | 39 | 2 | 65 | 49 | 16 | 1 | 1 | 7 | 3 | 1 | 2 | 1 | 0 | 1 | 0 | 8 |