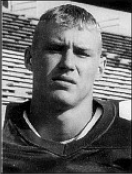 Nationality

United States

Position

DB, FS, ST, SS, CB

Height

6'2"

Weight

200

Birthday

6/21/1974

Hometown

Newark, OH

High School

Newark Catholic

Current Team

Ohio State

Seasons

1992, 1993, 1994, 1995, 1996
Post-OSU Update: Rob Kelly was drafted early in the second round of the 1997 NFL Draft. He played in parts of four seasons for the Saints, making four interceptions and 101 tackles while starting 12 games. After his playing days, Kelly struggled with sobriety, depression, and mood swings. While his healthy has improved in recent years, Kelly fears he has CTE and is an outspoken critic of the sport of football. (updated: Jan 2022)
Major: Criminal Justice (1996), Communication (1995), Unknown (1992-94)
Weight: 200 (1994-96), 192 (1993), 195 (1992)
Jersey #: 34 (1994-96), 25 (1993)
1996: Started all 12 games and finished the year with 66 tackles (fifth on the team) … also had three interceptions, five passes broken up, two fumble recoveries, two forced fumbles and two blocked kicks … returned a fumble 79 yards for a touchdown at Purdue and had a 63-yard interception return against Minnesota that resulted in an OSU score … honorable mention all-Big Ten … career-high 14 tackles in the win over Wisconsin … seven tackles and an interception at Notre Dame … blocked an Iowa punt that was recovered in the end zone for a touchdown … played in the Senior Bowl in Mobile and had two interceptions.
1996 Media Guide: Was the starter at strong safety last year, but was moved to free safety in the spring and heads into the fall as the probable starter … played well last year after three years in various backup roles … finished third on the team in tackles with 68 … also had three passes broken up, two touchdown saves and an interception … stunned the Ohio Stadium crowd in last year's Washington game by running down fleet-footed Husky back Leon Neal who had broken loose on a draw play and appeared headed for paydirt until being collared by Kelly … had a season-high nine tackles, including seven solos and an interception, at Michigan … also had eight tackles, a fumble caused, a fumble recovery and a touchdown save against Washington … other solid efforts include seven tackles against Notre Dame and five tackles and two passes broken up at Penn State … is one of the Buckeyes' more physical defensive backs … waited patiently for his chance to start and has made the most of his opportunity … also plays on special teams.
1995 Media Guide: Emerged from spring ball as the odds-on favorite to start at strong safety … has played corner and safety during his career at OSU and has also seen action as the nickel back … also a member of the special teams (he blocked a punt against Alabama in the Florida Citrus Bowl last year that led to OSU's second touchdown and a 14-7 lead) … began last year at safety but wound up as a backup corner … appeared in 10 games in 1994, playing a total of 36 minutes … longest stint was 10 minutes at Penn State … had nine tackles on the year, including a season-and career-high three against Fresno State … highly touted player out of high school who has patiently waited his turn and now hopes to show what he can do … has good speed and all the tools to be a solid player.
1994 Media Guide: Will battle Anthony Gwinn for playing time at strong safety … played briefly in 10 games last year (did not play at Purdue or against Penn State) and logged a total of 22 minutes, much of that time coming as a member of the punt return and kickoff coverage units … physical defender who is very good against the run … hard worker and good practice player … could figure in at nickel back.
1993: Two tackles against Washington, Northwestern and Michigan State were his top efforts … longest stint was four minutes against Brigham Young in the Holiday Bowl.
1993 Media Guide:  Highly regarded high school player, who was redshirted last year … figures to be used in a reserve role this year at free safety … will also play on the special teams … one of the Buckeyes' bigger defensive backs … physical player who is very good at run support … hopes to gain some experience this year that will help him in the future.
1992: Redshirted.
1992 Media Guide: The Ohio Division V and Columbus Dispatch/Agonis Club Central Ohio Back of the Year from his tailback position … a first team all-state pick who was also named honorable mention All-American by both USA Today and Street & Smith's … gained 1,663 yards on 279 carries and scored 29 touchdowns … top game was 279 yards on 26 carries and two TDs in the state semi-final game as a senior … had three interceptions on defense as a senior and five as a junior … led team to a 13-1 record and the 1991 Division V state championship … scored four TDs in the state title game when he rushed for 154 yards … school claimed its seven state title, tying the record for most in state history with Cincinnati Moeller … team captain as a senior … gained 1,326 yards and scored 21 TDs as a junior when the Green Wave reached the state semi-finals … also a standout in basketball and track, but gave up basketball his final season after sustaining a knee injury … has three sisters and a brother … high school coach was J.D. Graham, who later spent two years as Ohio State's recruiting coordinator … plans to major in criminology … born 6-21-74.
Defense
| Season | Team | G | GS | Tkl | Solo | Asst | TFL | TFL Yds | Sacks | Sack Yds | FF | FR | Int | Int Yds | PBU | Blk | Def TD | PR | PR Yds | PR TD |
| --- | --- | --- | --- | --- | --- | --- | --- | --- | --- | --- | --- | --- | --- | --- | --- | --- | --- | --- | --- | --- |
| 1992 | Ohio State | 1 | 0 | 1 | 0 | 1 | 0 | 0 | 0 | 0 | 0 | 0 | 0 | 0 | 0 | 0 | 0 | 0 | 0 | 0 |
| 1993 | Ohio State | 10 | 0 | 10 | 5 | 5 | 0 | 0 | 0 | 0 | 0 | 0 | 0 | 0 | 0 | 0 | 0 | 0 | 0 | 0 |
| 1994 | Ohio State | 10 | 0 | 9 | 6 | 3 | 0 | 0 | 0 | 0 | 0 | 0 | 0 | 0 | 0 | 1 | 0 | 1 | 10 | 0 |
| 1995 | Ohio State | 13 | 13 | 68 | 38 | 30 | 0 | 0 | 0 | 0 | 1 | 0 | 1 | 11 | 3 | 0 | 0 | 0 | 0 | 0 |
| 1996 | Ohio State | 12 | 12 | 67 | 38 | 29 | 4 | 26 | 1.5 | 11 | 2 | 2 | 3 | 86 | 5 | 2 | 1 | 1 | 23 | 0 |
| Total | - | 46 | 25 | 155 | 87 | 68 | 4 | 26 | 1.5 | 11 | 3 | 2 | 4 | 97 | 8 | 3 | 1 | 2 | 33 | 0 |