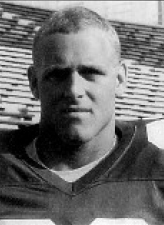 Nationality

United States

Position

FB

Birthday

3/24/1974

Hometown

Heath, OH

High School

Heath

Height

6'0"

Weight

237

Current Team

Ohio State

Seasons

1992, 1993, 1994, 1995, 1996
Post-OSU Update: Calhoun went undrafted in the 1997 NFL Draft and did not play in the NFL, despite spending time with the Giants and the Jags. He is currently a Managing Director for Eddie George's wealth management company in Dublin, Ohio. (updated Jan. 2022)
Major: Marketing Education (1996), Recreation Education (1995), Physical Education (1994), Unknown (1992-93)
Weight: 237 (1994-96), 219 (1993), 225 (1992)
1996: Played in all 12 games and started nine times, including the Rose Bowl (non-starts were the result of different offensive sets) … used mostly as a blocker … wound up with six caries for
16 yards … also had six receptions for 26 yards, with three of those grabs resulting in touchdowns … TDs came against Notre Dame, Penn State and Minnesota … long run of the year was eight yards at Notre Dame.
1996 Media Guide: Fifth-year senior … has been a key reserve at fullback the past two years, playing in 25 of Ohio State's 26 games and starting five times … started the first two games last
year (Boston College and Washington) and had a career long 27-yard run against BC … came in against Tennessee in the bowl game and played well when starter Nicky Sualua was on the sideline with an injury … wound the year up with 32 yards on three carries … longest playing stint was 17 minutes against Illinois … has been used primarily as a blocker throughout his career and has just 12 carries … has made the most of his opportunities, averaging 5.9 yards per carry … tough, hard working player who is always ready when called upon … also plays on the special teams.
1995 Media Guide: Expected to be the backup fullback in the fall … played in 12 games games last year for a total of 74 minutes … started the Pittsburgh, Houston and Northwestern games after Alex Rodriguez was forced to give up football because of a spinal cord condition … was used mostly as a blocker, but ran hard and well when given the chance, netting 20 yards on four carries … top game was 11 yards on two carries versus Houston … slowed by a shoulder injury the last half of the season … underwent surgery on that shoulder (his right) following the bowl game and missed spring practice … should be ready to go in the fall… he and Nicky Sualua are the only two true fullbacks on the OSU roster, so his return is essential from a depth standpoint.
1994 Media Guide: Could be in line for playing time this season with the departure of last year's top two fullbacks … a powerfully built player who could develop into a fine blocker … will battle with senior Alex Rodriguez and redshirt freshman Nicky Sualua for the starting role.
1993: Played in nine games for a total of 25 minutes … longest stint was eight minutes at Pittsburgh … saw most of his action as a member of the specialty teams … carried the ball five times for 24 yards and scored his lone touchdown on a one-yard run in the opener against Rice… had an 11-vard run at Pittsburgh and rushed for 12 yards on two attempts in the Big Ten opener against Northwestern.
1993 Media Guide: Enrolled at Ohio State Spring Quarter of 1992 after graduating early from high school … was redshirted last season but showed some promise in practice … coaching staff was very pleased with his progress during spring drills, and he could see some playing time this fall behind seniors Jeff Cothran and William Houston … has especially improved his blocking, and may be utilized in short yardage situations as un extra blocker … very strong, compact player … gained eight yards on a pair of carries in the spring game.
1992 Media Guide: Enrolled at Ohio State Spring Quarter after graduating from high school last winter and participating in spring practice.
High School: Calhoun rushed for 1,387 yards and 20 touchdowns as a senior … was selected second-team Division V all-Ohio and first team all-district and all-league … a preseason All-America selection by Blue Chip magazine … rushed for over 2,500 yards during his prep career … an outstanding blocker … also played linebacker in high school and had 160 total tackles as a senior … started all four seasons as a prepster … high school coach was Pat Purcell … admires Archie Griffin … born 3-24-74.
Offense
| Season | Team | G | GS | Rush Att | Rush Yds | Rush Avg | Rush TD | Tgt | Rec | Rec Yds | Rec Avg | Rec TD | Lng | Fum | KR | KR Yds | KR TD |
| --- | --- | --- | --- | --- | --- | --- | --- | --- | --- | --- | --- | --- | --- | --- | --- | --- | --- |
| 1993 | Ohio State | 9 | 0 | 5 | 24 | 4.8 | 1 | 1 | 1 | 13 | 13.0 | 0 | 13 | 0 | 0 | 0 | 0 |
| 1994 | Ohio State | 12 | 3 | 4 | 20 | 5.0 | 0 | NA | 0 | 0 | 0 | 0 | 10 | NA | 1 | 15 | 0 |
| 1995 | Ohio State | 13 | 2 | 3 | 27 | 9.0 | 0 | 0 | 0 | 0 | 0 | 0 | 27 | 0 | 0 | 0 | 0 |
| 1996 | Ohio State | 12 | 10 | 6 | 16 | 2.7 | 0 | 10 | 6 | 26 | 4.3 | 3 | 8 | 0 | 0 | 0 | 0 |
| Total | - | 46 | 15 | 18 | 87 | 4.8 | 1 | 11 | 7 | 39 | 5.6 | 3 | 58 | 0 | 1 | 15 | 0 |