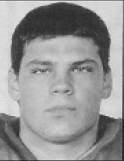 Nationality

United States

Position

OG

Birthday

1/18/1977

Hometown

Cincinnati, OH

High School

Moeller

Height

6'5"

Weight

300

Current Team

Ohio State

Seasons

1995, 1996, 1997, 1998
Post-OSU Update: Rob Murphy was dismissed from the Ohio State football team prior to the 1999 season due to academics. He played the 1999 season on the Chiefs practice squad, activated only for the final game of the year. In 2000, he played in NFL Europe. Murphy played in the XFL and then reappeared in the NFL, suiting up for three more teams (totaling 27 games). In 2006, he moved on to the CFL and quickly became a star. He retired in 2012. (updated: March 2022)
Major: Unknown (1998), Criminology (1996-97), Unknown (1995)
Weight: 300 (1997), 285 (1996), 252 (1995)
1997 Media Guide: Will be in his second year as the starting left guard … one of just two returnees on the offensive line … named to the Football News' Freshman All-America team last year and should be in the running for more postseason honors this year … was somewhat of an unknown going into last year, but improved with each succeeding week and would have to be considered one of the most pleasant sunrises of the 1996 season … is a hard worker who has added 15 pounds since last year and has significantly improved his strength … will be one of the Big Ten's biggest and most mobile guards … could also play center if need be … feels he benefited immeasurably from playing alongside All-America tackle Orlando Pace last year … helped provide the protection up front that allowed OSU to average 440.4 yards and 37.9 points a game last year.
1996 Media Guide: Did not see any game action last year us a true freshman… embarked on an ambitious conditioning program over the winter that resulted in added weight and increased strength … had a good spring and enters fall practice as the No. 2 left guard … can also play center if the need arises … comes from an outstanding high school program and is extremely well schooled fundamentally … just needs experience and that should come this year.
High School: One of the top offensive lineman in the state last year, earning all-Ohio and All-America honors … played guard at Moeller and will probably do the same at Ohio State, although he could get a look at center, a position where depth is a concern this year … rated the No. 1 lineman in the state and the No. 18 guard in the nation last year by Tom Lemming … also played ice hockey his first three years at Moeller before switching to wrestling as a senior … his father, Bob, played fullback at Miami, Fla., and had a stint with the San Diego Chargers … Moeller finished 13-1 his junior year, losing in the state championship game.
Personal: Hobbies include Modern European Folk Dancing … plans to major in criminal justice and then pursue a career in law enforcement.
Offense
| Season | Team | G | GS |
| --- | --- | --- | --- |
| 1995 | Ohio State | 0 | 0 |
| 1996 | Ohio State | 12 | 12 |
| 1997 | Ohio State | 11 | 11 |
| 1998 | Ohio State | 12 | 12 |
| Total | - | 35 | 35 |