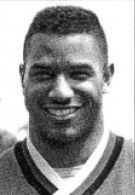 Nationality

United States

Position

FB, ILB

Height

6'1"

Weight

245

Birthday

1/18/1972

Hometown

Chicago, IL

High School

Lane Technical

Current Team

Ohio State

Past Teams

Ohio State

Seasons

1990, 1991, 1992, 1993, 1994
Major: Psychology (1992-94), Undecided (1991)
Jersey #: 48 (1991-94), 41 (1990)
Weight: 245 (1994), 240 (1993), 230 (1992), 224 (1991), 215 (1990)
1994 Media Guide: Moves to fullback this season after spending most of his Buckeye career as a backup middle linebacker … played behind Steve Tovar in 1991 and '92 and Lorenzo Styles last season … started his OSU career at fullback before moving to linebacker during his redshirt season … a powerfully built athlete who could become the starter, but missed a lot of time during the spring after recovering from off-season knee surgery (left tendon release) … tough, hard-nosed football player who plays with a lot of emotion.
1993: Appeared in all 12 games (72 minutes) as a backup or member of the specialty teams … had 28 tackles, the most by any non-starter … five tackles at Pitt and at Purdue were his season highs … also had two tackles for loss and a pass broken up against the Boilers … made a number of bone-jarring tackles as a member of the kickoff team … was expected to challenge for a starting spot, but lost ground in the spring of '93 when he elected to play baseball.
1993 Media Guide: Was expected to challenge for a starting spot, but elected to play baseball in the spring and consequently heads into the fall at No. 3 on the depth chart at middle linebacker … backed up Steve Tovar last year and played a total of 57 minutes in 12 games … 19 tackles included two sacks … had four tackles and a sack at Indiana, the latter coming on a fourth-and-goal just before halftime with OSU nursing a precarious 3-0 lead … big-time hitter who is very effective in the blitz package because of his speed … has been a solid reserve throughout his career … a favorite of the OSU fans because of his physical play on the special teams … tough football player.
1992 Media Guide: The Buckeyes' third linebacker … will play behind Steve Tovar inside, but can spell either Tovar or Brent Johnson if need be … a hard-working, tough football player … has good speed and hits like a truck … especially good against the run … played in eight games in 1991, mostly with the special teams, and had three tackles, including one for a loss (vs. Northwestern) … missed several games with a sore shoulder that was operated on in December … restricted to light duty most of the spring, but did play in the spring game and performed well … has a great attitude and will play a lot once he gets healthy.
1991 Media Guide: Established himself in the spring as a solid No. 2 linebacker behind Tovar … came to Ohio State as a fullback and shifted to linebacker midway through last season … has progressed much more quickly than anyone anticipated and was one of the most pleasant surprises of the spring … physical player who is especially good against the run … adept at fighting off would-be blockers because his low center-of-gravity allows him to get under opposing players' pads.
1990 Media Guide: The Chicago Sun Times Player of the Year and an Honorable Mention All-American on the USA Today team as a senior … played running back for the first time last year and rushed for 2,009 yards and 25 touchdowns … workhorse back who carried the ball 295 times in 11 games last year … scored all three touchdowns and ran for 232 yards in Lane's 21-14 victory over Gordon Tech in the first round of the state high school playoffs … completed six of seven passes for 145 yards and two TDs as a senior … started two years at outside linebacker … also all-state in baseball, fashioning a 12-2 record and a 1.02 ERA as a junior … hobbies include racquetball, camping and traveling … nickname is "A-Train".
Offense
| Season | Team | G | GS | Rush Att | Rush Yds | Rush TD | FR |
| --- | --- | --- | --- | --- | --- | --- | --- |
| 1990 | Ohio State | 0 | 0 | 0 | 0 | 0 | 0 |
| 1991 | Ohio State | 5 | 0 | 0 | 0 | 0 | 0 |
| 1992 | Ohio State | 11 | 0 | 0 | 0 | 0 | 0 |
| 1993 | Ohio State | 12 | 0 | 0 | 0 | 0 | 0 |
| 1994 | Ohio State | 2 | 0 | 1 | 1 | 0 | 0 |
| Total | - | 30 | 0 | 1 | 1 | 0 | 0 |
Defense
| Season | Team | G | GS | Tkl | Solo | Asst | TFL | TFL Yds | Sacks | Sack Yds | FF | FR | Int | PBU | Blk |
| --- | --- | --- | --- | --- | --- | --- | --- | --- | --- | --- | --- | --- | --- | --- | --- |
| 1990 | Ohio State | 0 | 0 | 0 | 0 | 0 | 0 | 0 | 0 | 0 | 0 | 0 | 0 | 0 | 0 |
| 1991 | Ohio State | 5 | 0 | 3 | 3 | 0 | 1 | 2 | 0 | 0 | 0 | 0 | 0 | 0 | 0 |
| 1992 | Ohio State | 11 | 0 | 20 | 14 | 6 | 2 | 13 | 2 | 13 | 0 | 0 | 0 | 0 | 0 |
| 1993 | Ohio State | 12 | 0 | 28 | 19 | 9 | 2 | 7 | 0 | 0 | 0 | 0 | 0 | 1 | 0 |
| 1994 | Ohio State | 2 | 0 | 0 | 0 | 0 | 0 | 0 | 0 | 0 | 0 | 0 | 0 | 0 | 0 |
| Total | - | 30 | 0 | 51 | 36 | 15 | 5 | 22 | 2 | 13 | 0 | 0 | 0 | 1 | 0 |