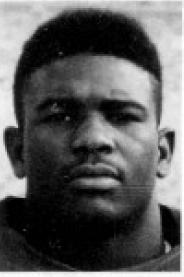 Nationality

United States

Position

FB

Birthday

3/18/1971

Hometown

Trotwood, OH

High School

Madison

Height

6'1"

Weight

245

Current Team

Ohio State

Seasons

1989, 1990, 1991, 1992, 1993
Major: Criminology (1991-93), Communications (1990), Undeclared (1989)
Weight: 260 (1992-93), 240 (1991), 245 (1990), 235 (1989)
1993 Media Guide: Has settled in as the No. 2 fullback behind returning starter Jeff Cothran … has improved tremendously since the midway point of last season, and, combined with Cothran, gives the Buckeyes an outstanding pair of senior fullbacks … ran with the first team during spring practice when Cothran was held out of drills and did a solid job … gained 31 yards on five carries in the spring game and scored on a one-yard plunge … the coaches believe they can spell Cothran more this fall and not lose a beat by inserting Houston … devastating blocker and short-yardage runner … is extremely hard to bring down once he builds up a head of steam … played in 10 games last season for a total of 49 minutes … longest stint was 10 minutes at Michigan State … was used mostly as a blocker, and rushed for 25 yards on nine carries … gained 12 yards on his only carry against Minnesota, and scored his only TD on a 1-yard plunge at Iowa … also has worked hard to control his weight … was tried at tight end and nose guard early in his career.
1992 Media Guide: Could be the person the coaching staff is looking for to give starter Jeff Cothran a rest from time to time … devastating blocker and short-yardage runner, but needs to stay below 245 pounds to maintain his quickness … coaches are hoping he can shed 15 pounds by the start of fall camp and lock up the No. 2 spot with a good August … a favorite of OSU fans because of his battering ram running style … determined runner who is extremely hard to bring down once he builds up a head of steam … played briefly in three games last year and carried the ball for three yards and two touchdowns … has 43 yards on 12 career carries and has yet to be thrown for a loss … played middle guard for a brief time last spring and weighed 275.
1991 Media Guide: The Buckeyes' biggest back … got his feet wet last year, carrying the ball 9 times for 40 yards … did  not lose any yardage … power runner who has quickly become a favorite of Ohio State fans because of the way he runs over would-be tacklers … lost ten pounds last winter in an effort to increase his quickness … still needs to work on his blocking, but has improved in that area … coaches have high hopes for him … expect him to play in short-yardage and goal-line situations.
1990 Media Guide: Redshirted as a freshman … big, strong back who can get tough yardage inside and is difficult to bring down … needs to become more consistent as a blocker, but did show improvement in the spring … coaches are anxious to see what he can do in a game situation … enters the season at the No. 3 spot on the depth chart.
1989: Redshirted.
HIGH SCHOOL: An all-Southwest Ohio pick by AP … an all-area and all-league choice as a senior … rushed for 1,300 yards and 11 touchdowns as a senior … averaged 7.3 yards per carry as a senior and 7.6 as a junior … also punted and averaged 42 yards per kick as a senior … his high school posted back-to-back 9-1 records his final two years … 55-3 as a heavyweight wrestler his last two years … captained the wrestling team.
Personal: Enjoys listening to music … nickname is "Patches".
Offense
| Season | Team | G | GS | Rush Att | Rush Yds | Rush TD | Tgt | Rec | Rec Yds | Rec TD | Lng | Fum | KR | KR Yds | KR TD |
| --- | --- | --- | --- | --- | --- | --- | --- | --- | --- | --- | --- | --- | --- | --- | --- |
| 1990 | Ohio State | 8 | 0 | 9 | 40 | 0 | 0 | 0 | 0 | 0 | 9 | 0 | 0 | 0 | 0 |
| 1991 | Ohio State | 3 | 0 | 3 | 3 | 2 | 0 | 0 | 0 | 0 | 2 | 0 | 0 | 0 | 0 |
| 1992 | Ohio State | 7 | 0 | 9 | 25 | 1 | 1 | 0 | 0 | 0 | 12 | 0 | 0 | 0 | 0 |
| 1993 | Ohio State | 11 | 1 | 1 | 0 | 0 | 2 | 1 | 6 | 0 | 6 | 0 | 1 | 8 | 0 |
| Total | - | 29 | 1 | 22 | 68 | 3 | 3 | 1 | 6 | 0 | 29 | 0 | 1 | 8 | 0 |