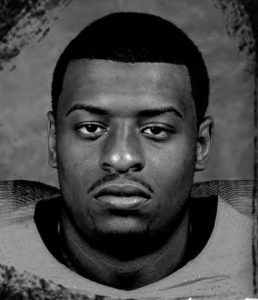 Nationality

United States

Position

DE

Height

6'6"

Weight

274

Birthday

7/21/1987

Hometown

Akron, OH

High School

St. Vincent-St. Mary

Past Teams

Ohio State

Seasons

2005, 2006, 2007, 2008, 2009
Major: Communication (2008-09), Undeclared (2005-06)
Weight: 274 (2008-09), 270 (2006-07), 225 (2005)
2009 Media Guide: veteran defensive end who is geared up after another injury-shortened campaign … big, strong, athletic and smart … will provide excellent leadership to the defense this season … graduated in June with bachelor's degree in strategic communication.
2008: Returned to starting lineup after missing the 2007 season with a broken leg … recorded 18 tackles in seven games … 18-yard sack of Youngstown … 24-yard interception against Ohio … six tackles against Troy … four tackles in the Minnesota game … pair of stops at Wisconsin … recovered a Purdue fumble but suffered a torn ACL in that game … out for remainder of season and had surgery … Attack Force award: Ohio … third-year letterman.
2008 Media Guide: Enters the season listed as a starter at defensive end after missing the 2007 campaign … has committed himself to a break-out season … big, strong, athletic and smart.
2007: Suffered broken right leg in opener with Youngstown State and missed remainder of regular season.
2007 Media Guide: Starting defensive end in his third year at Ohio State and is ready for a break-out season … raised eyebrows in 2005 as a true freshman.
2006: Played in 12 games and collected 17 tackles … totaled five tackles-for-loss, three of which were quarterback sacks … collected career-high five tackles in the win at Illinois, including three solos … contributed on special teams with the punt return unit … sacks came against Northern Illinois, Minnesota and Michigan … had three stops against the Wolverines … named the team's attack force player of the week vs. Illinois … forced a fumble in the win over Minnesota.
2006 Media Guide: A runaway winner as the player everyone was talking about coming out of spring practice … heads into the fall written in – in indelible ink – as the successor to Mike Kudla at rush end … is still young, but has made a favorable impression in a short period of time and is being compared favorably to former Buckeye All-American and Big Ten Defensive Player of the Year Will Smith … lettered in 2005 as a true freshman … was used mostly in situational circumstances, but showed signs of being a special player … really ratcheted up his play in the spring and has OSU coaches and fans, alike, buzzing about his potential … was the first position player taken in last year's spring game draft and certainly has the respect of his teammates … big, strong, athletic and smart … will be a handful for opposing offensive linemen as he continues to improve and acquire experience … runs a 4.6 40-yard dash, squats 600, has a bench press of 300 and a 36-inch vertical leap … has added 20 pounds since last year and has great strength to go along with outstanding speed … has a chance to be Ohio State's next great defensive end.
2005: Played in all but one game, Texas, as a rookie … logged a career-high 17 minutes against Notre Dame in the Fiesta Bowl … had two tackles – one against Iowa and the other vs. Northwestern.
High School: Ranked as Ohio's top defensive end and the No. 9 player overall by Rivals.com … ranked as the No. 12 weakside defensive end in the nation by Rivals.com … ESPN's Tom Lemming rated him the No. 16 defensive end in the country … runs the 40-yard dash in 4.6 seconds … bench presses 300 pounds, squats 600 and has a 36-inch vertical jump … 2004 First Team All-Ohio defensive lineman … had 15 sacks as a junior and 10 as a senior … has a 3.6 GPA … averaged 15 points per game in basketball as a junior … joins former Irish teammate Sian Cotton at Ohio State … played for Keith Wakefield.
Personal: Is the son of Eugene and Sarah Wilson … older brother attends Ohio State … favorite music artist is Kirk Franklin … favorite actress is Halle Berry … favorite subject is African-American Studies … favorite former Buckeye is Antonio Pittman.
Defense
| Season | Team | G | GS | Tkl | Solo | Asst | TFL | TFL Yds | Sacks | Sack Yds | FF | FR | Int | Int Yds | PBU | Blk | Def TD |
| --- | --- | --- | --- | --- | --- | --- | --- | --- | --- | --- | --- | --- | --- | --- | --- | --- | --- |
| 2005 | Ohio State | 11 | 0 | 2 | 0 | 2 | 0 | 0 | 0 | 0 | 0 | 0 | 0 | 0 | 0 | 0 | 0 |
| 2006 | Ohio State | 10 | NA | 18 | 7 | 11 | 5.0 | 17 | 3.0 | 15 | 2 | 0 | 0 | 0 | 1 | 0 | 0 |
| 2007 | Ohio State | 1 | NA | 2 | 1 | 1 | 1.5 | 11 | 1.0 | 10 | 0 | 0 | 0 | 0 | 0 | 0 | 0 |
| 2008 | Ohio State | 7 | NA | 18 | 8 | 10 | 2.5 | 21 | 1.0 | 18 | 0 | 1 | 1 | 24 | 2 | 0 | 0 |
| 2009 | Ohio State | 13 | NA | 23 | 10 | 13 | 3.0 | 15 | 2.0 | 13 | 0 | 0 | 1 | 4 | 3 | 0 | 0 |
| Total | - | 42 | NA | 63 | 26 | 37 | 12 | 64 | 7 | 56 | 2 | 1 | 2 | 28 | 6 | 0 | 0 |