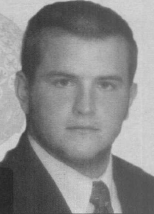 Nationality

United States

Position

LS, C

Birthday

9/10/1981

Hometown

Middletown, OH

High School

Middletown

Height

5'11"

Weight

245

Past Teams

Ohio State

Seasons

2001, 2002, 2003, 2004
Major: Criminology (2003-04)
Weight: 245 (2002-04), 235 (2001)
2003 Season: Kyle Andrews had another stellar season and played an integral part in Buckeye punter B.J. Sander winning the 2003 Ray Guy Award … started all 13 games … OSU coaches named him the special units player of the week following the Northwestern game.
2003 Media Guide: Kyle Andrews returns for his second year as the starting long snapper … does all the centering on punts and placements … is extremely accurate and gets good velocity on the ball … went through the entire 2002 campaign with NO errant snaps … played a key role in the success of last year's kicking game (one of the best in the country) and is being counted on to do the same again this year … a former walk-on who was rewarded with a scholarship at the end of last season.
2002 Season: Took over the long snapping duties and did an exceptional job … started all 14 games as the Buckeyes' long snapper … certainly instrumental in the success of All-Americans Andy Groom (fourth nationally in punting) and Mike Nugent (seven school field goal records).
2001 Season: First collegiate action came against South Carolina in the Outback Bowl.
High School: Played defensive tackle as a sophomore and junior and moved to defensive end his senior year … earned second-team all-league and honorable mention All-Southwestern Ohio honors as a senior.
Personal: His parents are John and Judy Andrews.
Offense
| Season | Team | G | GS | FR |
| --- | --- | --- | --- | --- |
| 2001 | Ohio State | 1 | 0 | 0 |
| 2002 | Ohio State | 14 | 0 | 0 |
| 2003 | Ohio State | 13 | 0 | 0 |
| 2004 | Ohio State | 12 | 0 | 0 |
| Total | - | 40 | 0 | 0 |
Defense
| Season | Team | G | GS | Tkl | Solo | Asst | FR |
| --- | --- | --- | --- | --- | --- | --- | --- |
| 2001 | Ohio State | 1 | 0 | 0 | 0 | 0 | 0 |
| 2002 | Ohio State | 14 | 0 | 1 | 1 | 0 | 0 |
| 2003 | Ohio State | 13 | 0 | 2 | 1 | 1 | 0 |
| 2004 | Ohio State | 12 | 0 | 3 | 2 | 1 | 0 |
| Total | - | 40 | 0 | 6 | 4 | 2 | 0 |