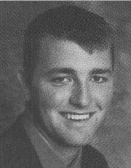 Nationality

United States

Position

H, P

Birthday

1/5/1980

Hometown

Cincinnati, OH

High School

Roger Bacon

Height

6'3"

Weight

212

Current Team

Ohio State

Seasons

1999, 2000, 2001, 2002, 2003
Post-OSU Update: B.J. Sander was selected by the Green Bay Packers with the 87th pick (3rd-round) in the 2004 NFL Draft. After punting in NFL Europe for the 2004 season, Sander mostly started for the Packers in 2005, averaging 39.2 yards on 64 punts. That was his lone year with NFL regular season action. (updated: Sep. 2022)
Major: Turf and Grass Science (2001-03), Undeclared (1999-00)
Weight: 212 (2000-03), 195 (1999)
2003 Media Guide: B.J. Sander will take over the punting chores for All-American Andy Groom … left-footed kicker with a strong leg … has appeared in 16 games during his career, including all 12 in 2000 when he averaged 41.9 yards per kick on 37 punts … has a career average of 39.9 on 43 kicks … has been the backup to Groom the past two years and has seen only limited playing time in that span, appearing in two games in 2001 and none last year, but punted extremely well in the spring and the coaching staff does not anticipate any drop-off in 2003 … recorded a career-best 69-yard punt against Minnesota as a redshirt freshman … can also hold on placements.
2002 Season: Backed up Andy Groom but did not see any game time.
2002 Media Guide: B.J. Sander is the Buckeyes' backup punter … left-footed kicker with a strong leg … is now used mostly is special situations … averaged 29.8 yards per kick on his four punts last year … was the regular punter during the 2000 campaign and averaged 41.9 yards per kick on 37 attempts … longest kick in 2000 was a career-best 69 yards against Minnesota … also holds on placements … valuable player to have in reserve in case something should happen to senior starter Andy Groom.
2001 Season: Began the year bracketed with Groom, but the latter won the job early on and had an all-star year.
2001 Media Guide: B.J. Sander returns for his second year as the Buckeyes' punter … left-footed kicker … averaged 41.9 yards per punt last year on 37 kicks … dropped seven punts inside the 20 … longest kick was 69 yards against Minnesota … has a strong leg and gets great height on the ball … coaches would like to see him develop more consistency.
2000 Season: Shared time with Dan Stultz, with Stultz handling the "pooch" kicking responsibilities … also the backup place-kicker.
2000 Media Guide: A healthy version of B.J. Sander may be more excited about the 2000 football season than anyone. Heavily recruited after an all-Ohio punting career at Roger Bacon High School in Cincinnati, Sander reported to OSU with expectations of a starting job. An injury sustained over the summer slowed him in the early going before a deep bruise on his left kicking foot developed during fall all but ended his freshman season. Sander will have the opportunity to win the starting punting job back this year and hopes to be a big part of the future of Ohio State special teams.
1999: Played in one game, the third game of the year against Ohio University … punted twice but was clearly bothered by an injury to his left kicking foot … received a medical redshirt and will have four more years of eligibility remaining.
High School: Recruited as a punter, he could have the opportunity to place kick down the road as well … a left-footed kicker and punter, he is considered one of the best dual specialists in the state this decade … selected first-team Division II all-Ohio by the Associated Press as a senior … kicked a state-record 60-yard field goal in 1998 win over Kettering Alter … averaged 40.0 yards per punt as a senior and 43.5 yards per punt as a junior … the son of Judith and William Sander.
Offense
| Season | Team | G | GS | Comp | Pass Att | Pass Yds | Rush Att | Rush Yds | Rush TD | TB |
| --- | --- | --- | --- | --- | --- | --- | --- | --- | --- | --- |
| 1999 | Ohio State | 2 | 0 | 0 | 0 | 0 | 0 | 0 | 0 | 0 |
| 2000 | Ohio State | 12 | 0 | 0 | 1 | 0 | 0 | 0 | 0 | 0 |
| 2001 | Ohio State | 2 | 0 | 0 | 0 | 0 | 0 | 0 | 0 | 1 |
| 2002 | Ohio State | 0 | 0 | 0 | 0 | 0 | 0 | 0 | 0 | 0 |
| 2003 | Ohio State | 13 | 0 | 0 | 0 | 0 | 1 | -10 | 0 | 7 |
| Total | - | 29 | 0 | 0 | 1 | 0 | 1 | -10 | 0 | 8 |
Defense
| Season | Team | G | GS | Pt | Pt Yds | TB | I20 | Pt Blkd |
| --- | --- | --- | --- | --- | --- | --- | --- | --- |
| 1999 | Ohio State | 2 | 0 | 2 | 49 | 0 | 0 | 0 |
| 2000 | Ohio State | 12 | 0 | 37 | 1549 | 0 | 7 | 2 |
| 2001 | Ohio State | 2 | 0 | 4 | 119 | 1 | 0 | 0 |
| 2002 | Ohio State | 0 | 0 | 0 | 0 | 0 | 0 | 0 |
| 2003 | Ohio State | 13 | 0 | 82 | 3553 | 7 | 39 | 0 |
| Total | - | 29 | 0 | 125 | 5270 | 8 | 46 | 2 |