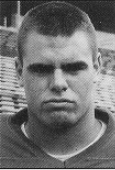 Nationality

United States

Position

DT, DE

Birthday

5/20/1975

Hometown

Independence, OH

High School

St. Ignatius

Height

6'3"

Weight

265

Current Team

Ohio State

Seasons

1993, 1994, 1995, 1996, 1997
Major: History (1994-97), Unknown (1993)
Weight: 265 (1997), 245 (1994-96), 230 (1993)
1997 Media Guide: Hopes to take over for three-year regular Matt Finkes at end … has played in the shadows of Finkes and All-America Mike Vrabel during his stay at Ohio State and is eagerly looking forward to the 1997 campaign and the opportunity for more playing time … intense, hard working individual.
1996: Backed up Finkes and appeared in eight games … played a total of 46 minutes, including 12 in the season opener against Rice and 10 versus Minnesota … had four tackles, all solos, including two against Pittsburgh.
1996 Media Guide: Moves inside this year after spending his first two years at defensive end … the OSU coaching staff hopes he will provide depth at tackle behind Winfield Garnett … switched
positions in the spring, so this fall will be a learning experience for him … has excellent speed and should be a good pass rusher … is a good worker and a serious student of the game … has been the backup for Mike Vrabel the past two years … saw action in seven games last year for a total of 38 minutes and had six tackles, including two for loss … had three tackles in 13 minutes against Iowa, both season highs … tackles for loss were against Purdue and Minnesota.
1995: Backed up Vrabel and played a total of 38 minutes in seven games … six tackles, included tackles for loss against Minnesota and Purdue.
1995 Media Guide: Solid reserve who will play behind All-America candidate Matt Finkes … appeared in six games last year for a total of 30 minutes and was credited with five tackles … played 12 minutes against Houston and 10 vs. Purdue … two tackles vs. Fresno State in the Pigskin Classic was his top game in terms of tackles … credited with a tackle for loss and a fumble caused against Pittsburgh … had a fumble recovery in the Houston game … did not get a lot of game time last year, but made significant strides during fall practice and should be in for a good year in 1995.
1994: played behind Finkes and appeared in six games logging a total of 30 minutes … five tackles included a tackle for loss against Pittsburgh … recovered a fumble against Houston.
1994 Media Guide: Redshirted last year … should be a top reserve this year … intense player with a high level of expectation for himself … highly regarded by the Ohio State coaching staff … works hard in the weight room and has added 15 pounds since the beginning of last year … has the potential to be an excellent end.
1993: Redshirted.
1993 Media Guide: A first team Division I (large school) all-Ohio selection as a senior … recorded 70 tackles, including 23 quarterback sacks… helped team win the state championship his junior and senior years … the 1992 team was 14-0 and was ranked fourth nationally by USA Today … was selected Defensive Player of the Year on the Cleveland Plain Dealer All-Scholastic Team (seven counties) and was a USA Today honorable mention All-American … president of the student council as a senior … St. Ignatius' state title was its fourth in the last five years … high school coach was Chuck Kyle … high school teammate of Buckeye redshirt freshman Juan Porter … father is an Ohio State graduate … plans to major in history or psychology … hobbies include writing
poetry and reading … likes to write poetry and short stories and hopes to pursue his writing interests after graduation, along with a teaching and coaching career (his mother, a former English teacher, has encouraged him to have his works published, but he has resisted thus far).
Defense
| Season | Team | G | GS | Tkl | Solo | Asst | TFL | TFL Yds | Sacks | FF | FR |
| --- | --- | --- | --- | --- | --- | --- | --- | --- | --- | --- | --- |
| 1994 | Ohio State | 6 | 0 | 5 | 4 | 1 | 1 | 5 | 0 | 1 | 1 |
| 1995 | Ohio State | 8 | 0 | 6 | 3 | 3 | 2 | 5 | 0 | 0 | 0 |
| 1996 | Ohio State | 8 | 0 | 4 | 4 | 0 | 0 | 0 | 0 | 0 | 0 |
| 1997 | Ohio State | 1 | 0 | 1 | 0 | 1 | 0 | 0 | 0 | 0 | 0 |
| Total | - | 23 | 0 | 16 | 11 | 5 | 3 | 10 | 0 | 1 | 1 |