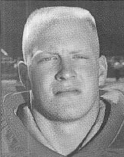 Nationality

United States

Position

MLB

Birthday

1/23/1979

Hometown

Cincinnati, OH

High School

Elder

Height

6'4"

Weight

240

Current Team

Ohio State

Seasons

1997, 1998, 1999, 2000
Major: Communications (1998-00), Unknown (1997)
Weight: 240 (1998-00), 235 (1997)
2000 Media Guide: Jason Ott's 1999 season might best be described as a roller coaster – there were several exciting peaks (a 15-tackle performance against Wisconsin and 25 tackles in the last three games), a couple dips (a performance against Miami that he admitted was filled with anxiety about his first start), and in the end, you couldn't wait to get back in line and do it again. Ott improved over the course of last season as much as any player on the OSU roster, and that progress has everyone excited about his potential in the 2000 season. He was thrust into the starting job at middle linebacker last season as an inexperienced sophomore and responded by making 79 tackles. Ott, a very intelligent player and excellent student, is blessed with speed and strength and is one of the team's top run-stoppers. "Jason's big plus is his ability to play the run between the tackles," Brian Williams, linebackers coach, said. "He's a solid run defender from tackle-to-tackle and he's got good leadership abilities. When you play the linebacker position, you're kind of like the quarterback of the defense from a leadership standpoint. That's a role we need Jason to develop into."
1999: Started all 12 games at middle linebacker after entering the season with only 37 minutes of collegiate experience … a District IV GTE/CoSIDA Academic All-America and an Academic All-Big Ten selection … tied for second on the squad with 11 tackles-for-loss … had two sacks and one interception, the latter of which came against Cincinnati … made a season- and career-high 15 tackles, including 9 solos, a TFL, and a sack against Wisconsin … also recorded double-figure tackles against Cincinnati and Michigan State … blocked a 39-yard field goal attempt by Travis Forney of Penn State … one of only three players on the team to make a tackle-for-loss, record a sack and grab an interception.
1999 Media Guide: Two-time OSU Scholar-Athlete and Academic All-Big Ten pick Jason Ott is in the heat of the battle for the starting middle linebacker position. And the redshirt sophomore would like nothing more than to slam the door left open when All-American and Butkus Award-winning linebacker Andy Katzenmoyer decided to turn pro after his junior season. He has as good a chance as anyone to do just that. Linebacker's coach Fred Pagac: "Jason is a young student-athlete who has plenty of talent. He is still picking up schemes, but he is going to be good."
1998: Managed playing time in 10 games for a total of 37 minutes. Recorded six tackles, including one quarterback sack, and had a high of 16 minutes against Toledo.
1998 Media Guide: An OSU Scholar-Athlete … a talented and promising young linebacker prospect who is learning both outside linebacker positions … is coming off a good spring practice … Fred Pagac says Jason "has lots of ability. . .he is physically tough and he plays the game hard … he worked hard this spring and he will see playing time this year."
1997: Redshirted the season as a true freshman.
High School: As a senior he tallied 177 tackles, 12 sacks and one interception in leading his team to an 11-2 record and a Regional Championship … finished his career with 316 tackles … the Ohio Gatorade Player of the Year and the Associated Press Division I Defensive Player of the Year … Associated Press first-team All-State Defense (Division I) … two-time first-team all-Greater Catholic League selection … was named the Cincinnati Defensive Player of the Year by the Cincinnati Enquirer and the Cincinnati Post … rated the best player in Ohio by The Ohio Football Recruiting News … All-America selection by The National Recruiting Advisor, SuperPrep, G&W Report and PrepStar … played in the 1997 Ohio-Pennsylvania Big 33 Classic … plans to major in business … chose Ohio State because of the coaches and the tradition … career ambitions include playing in the NFL or owning a construction business … greatest sports thrill was winning the Regional Championship as a senior and being named a Parade All-American and the Ohio Gatorade Player of the Year … the two people he most admires are his mother and father … has two sisters … son of Dennis and Patricia Ott … born 1-23-79.
Defense
| Season | Team | G | GS | Tkl | Solo | Asst | TFL | TFL Yds | Sacks | Sack Yds | FF | FR | Int | Int Yds | PBU | Blk |
| --- | --- | --- | --- | --- | --- | --- | --- | --- | --- | --- | --- | --- | --- | --- | --- | --- |
| 1998 | Ohio State | 11 | 0 | 6 | 5 | 1 | 1 | 1 | 1 | 1 | 0 | 0 | 0 | 0 | 0 | 0 |
| 1999 | Ohio State | 12 | 12 | 79 | 55 | 24 | 11 | 32 | 2 | 10 | 1 | 2 | 1 | 14 | 1 | 1 |
| Total | - | 23 | 12 | 85 | 60 | 25 | 12 | 33 | 3 | 11 | 1 | 2 | 1 | 14 | 1 | 1 |