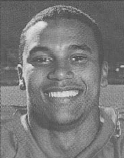 Nationality

United States

Position

DB, FS

Birthday

10/24/1977

Hometown

Columbus, OH

High School

DeSales

Height

6'0"

Weight

205

Current Team

Ohio State

Seasons

1996, 1997, 1998, 1999
Major: Business (1998-99), Undecided (1996-97)
Weight: 195 (1998-99), 205 (1996-97)
1999 Media Guide: Gary Berry is on the verge of exploding onto the college football scene. The last time anybody saw him play he recorded 12 tackles, 11 solo tackles, in the Sugar Bowl win over Texas A&M. It was such an impressive performance that Sports Illustrated named Gary to its all 1998-99 Bowl Team. Defensive backs coach Jon Tenuta: "I expect great things from Gary this season. He is by far the best athlete in the secondary. He has all the tools: Speed, jumping ability, quickness and great hands. He will be the master in the secondary." Gary has earned the right to be a leader and to be considered for All-America accolades and major awards. He has played in 37 games in the past three seasons and has started 24. One of the fastest players on the team, Gary also has the ability to return punts. He has 18 career returns, a number that should rise significantly in 1999.
1998: Recorded a career-high in tackles and solo tackles (44), but did not have an interception for the first time in his three seasons at Ohio State. Best tackling game was his career-high 12 tackles vs. Texas A&M with 11 of those solo tackles.
1998 Media Guide: A veteran of 25 games and 13 starts who can play corner or safety, but is expected to start at free safety for second-consecutive year …was thrust into the starting lineup at free safety last year as a sophomore due to the unexpected ineligibility of two players … wound up starting all 13 games and developed into one of the top safeties in the Big Ten by the end of the year …one of the fastest players on the team … secondary coach Jon Tenuta says Gary "is the best athlete in the secondary … he has all the tools and his best football is ahead of him … has the potential to win postseason honors before he graduates … backs up David Boston on punt returns.
1997: Started all 13 games at free safety … tied for the team lead with five interceptions and set a new school record with 166 interception return yards … named Chevrolet Player of the Game at Michigan State … scored two touchdowns against the Spartans – one on a 45-yard interception return and the other after scooping up a blocked punt and taking it one yard into the end zone – marking the first time since 1983 that an OSU defender has scored twice in a game … the TDs, in a span of 2:07 of the second quarter, broke open a 3-3 game and sparked OSU to a 37-13 win … in addition, he finished the year with seven passes broken up, three of those coming in the Sugar Bowl, and was sixth on the team in tackles with 48, including two for losses and a sack … nine tackles at Penn State was his season and career high … his strip of Michigan quarterback Brian Griese on the Michigan two-yard line set up an OSU touchdown.
1997 Media Guide: Expected to be in the hunt for playing time at one of the corner spots … outstanding young prospect with speed, power and natural athletic ability … played in all 12 games last year as a true freshman, logging a total of 36 minutes, almost all of that time coming with the special teams … did see some playing time at safety and picked off his first career interception (19-yard return) against Pittsburgh … finished the year with 12 tackles, including three in the season opener against Rice … was tried at running back during freshman orientation, but the defensive coaches eventually won out in the battle for his services … inexperienced right now, but is going to be a very good football player.
High School: A two-way star at DeSales High School, both as a running back and defensive back … Rushed for 1,106 yards and 19 touchdowns as a senior, despite missing three games due to injury … As a junior, rushed for 711 yards and eight TDs … Senior injury limited him on defense but had 80 tackles and three interceptions as a junior … Also caught 12 passes in two years and returned punts and kickoffs … All-America selection by Bluechip Illustrated, Parade, G & W, SuperPrep and The National Recruiting Advisor … Rated the third best defensive back in the country by Parade … Rated the sixth best defensive back in the country by Bluechip Illustrated and second best defensive back in the Midwest … Rated the fifth best defensive back in the country by SuperPrep and the fifth best player in Best of the Midwest by the Detroit Free Press … Rated the third best player in Ohio by the The Ohio Football Recruiting News … Four year starter and letterwinner in football and four year letterwinner in track … Played in the annual Ohio-Pennsylvania Big 33 all-star game … High school teammate of fellow recruit lineman Kurt Murphy … Helped lead DeSales to the conference title as a junior and senior and regional runner-up as a junior … DeSales' had a two year record of 21-2 when he was at the school … Played at Worthington as a freshman and sophomore … High school coach was Bob Jacoby.
Personal: Chose Ohio State because "it was a great place for me"… Is undecided on major … Mother in an OSU graduate and employee … Has one sister … hobbies include playing video games (Star Wars is his favorite) and basketball … favorite defensive back is Rod Woodson … Full name is Gary John Berry.
Defense
| Season | Team | G | GS | Tkl | Solo | Asst | TFL | TFL Yds | Sacks | Sack Yds | FF | FR | Int | Int Yds | PBU | Def TD | PR | FC | PR Yds | PR TD |
| --- | --- | --- | --- | --- | --- | --- | --- | --- | --- | --- | --- | --- | --- | --- | --- | --- | --- | --- | --- | --- |
| 1996 | Ohio State | 12 | 0 | 11 | 7 | 4 | 0 | 0 | 0 | 0 | 0 | 0 | 1 | 19 | 1 | 0 | 0 | 0 | 0 | 0 |
| 1997 | Ohio State | 13 | 13 | 48 | 38 | 10 | 2 | 10 | 1 | 8 | 2 | 1 | 5 | 166 | 7 | 1 | 3 | NA | 17 | 1 |
| 1998 | Ohio State | 12 | 12 | 55 | 44 | 11 | 4 | 13 | 1 | 5 | 0 | 1 | 0 | 0 | 2 | 0 | 15 | NA | 65 | 0 |
| 1999 | Ohio State | 12 | 10 | 86 | 65 | 21 | 6 | 20 | 1 | 2 | 1 | 2 | 1 | 12 | 3 | 1 | 0 | 0 | 0 | 0 |
| Total | - | 49 | 35 | 200 | 154 | 46 | 12 | 43 | 3 | 15 | 3 | 4 | 7 | 197 | 13 | 2 | 18 | 0 | 82 | 1 |