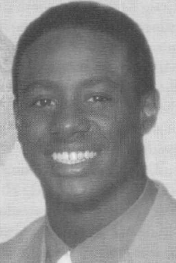 Nationality

United States

Position

DB, CB

Height

6'1"

Weight

175

Birthday

8/3/1983

Hometown

Hamilton, OH

High School

Hamilton

Current Team

Ohio State

Seasons

2002, 2003, 2004
Jersey #: 2 (2003-04), 49 (2002)
Major: Science (2003-04)
Weight: 175 (2002-04)
2004 Media Guide: Heads into fall camp as a contender to replace Chris Gamble at the field (wide side) cornerback position … is a fine athlete with good ball skills … two-year letter winner … Coach Jim Tressel calls him one of the most talented cornerbacks he has ever coached … played in all 14 games and made two starts in Ohio State's 2002 national championship season … saw action in the first four games of 2003 before missing eight games with a hand injury.
2003: Played in five games, including the Fiesta Bowl vs. Kansas State … logged a total of 15 minutes, including a season-high eight minutes vs. Washington … also saw action against San Diego State, North Carolina State and Bowling Green … totaled four tackles, including three solo stops … three of those tackles came against the Huskies in the season opener.
2003 Media Guide: E.J. Underwood is a good young prospect who got his feet wet as a true freshman … played in all 14 games as a rookie and started the San Jose State and Wisconsin games when Richard McNutt was sidelined because of a chronic ankle condition … finished the year with 21 tackles, the second highest total of any true freshman … has good ball skills, is a fine athlete and is going to be an outstanding player once he gains the necessary experience … will back up two-way starter Chris Gamble and will provide quality depth when the coaches need to rest Gamble.
2002: Had a career-high five tackles in a tense 23-19 win at Cincinnati, where he played in front of a large contingent of family and friends who made the short trek from nearby Hamilton, Ohio … also broke up a pair of passes in the end zone at Cincinnati, including one late in the fourth quarter when the Bearcats were threatening to score what could have been the winning touchdown … also had five tackles against San Jose State in his first career start.
High School: A first-team Division I Associated Press All-Ohio selection this past season … considered one of the top two defensive backs in the state of Ohio and one of the best cover corner prospects in the country … in on 63 tackles as a senior … had 11 career interceptions … also a standout kick returner … had 70 tackles as a junior … rated as the nation's 19th best cornerback prospect by Rivals.com … also runs track and plays basketball … coming in at a position where OSU needs to develop quality depth … high school coach – Ed Mignery.
Personal: Parents are Pamela and Elmer Underwood … father is a minister and mother works at IBM … has two brothers, Jamaal and Brandon, a freshman on the Ohio State football team this fall … says the best thing about playing college football is the opportunity to be a role model … his favorite memory from the 2003 season was playing under the lights in Ohio Stadium vs. Washington in the season opener … born Aug. 3, 1983.
Defense
| Season | Team | G | GS | Tkl | Solo | Asst | TFL | TFL Yds | Sacks | Sack Yds | FF | FR | Int | Int Yds | PBU | Blk | Def TD |
| --- | --- | --- | --- | --- | --- | --- | --- | --- | --- | --- | --- | --- | --- | --- | --- | --- | --- |
| 2002 | Ohio State | 14 | 2 | 21 | 17 | 4 | 0 | 0 | 0 | 0 | 0 | 0 | 0 | 0 | 3 | 0 | 0 |
| 2003 | Ohio State | 5 | 0 | 4 | 3 | 1 | 0 | 0 | 0 | 0 | 0 | 0 | 0 | 0 | 0 | 0 | 0 |
| 2004 | Ohio State | 10 | 8 | 29 | 17 | 12 | 0 | 0 | 0 | 0 | 0 | 0 | 0 | 0 | 1 | 0 | 0 |
| Total | - | 29 | 10 | 54 | 37 | 17 | 0 | 0 | 0 | 0 | 0 | 0 | 0 | 0 | 4 | 0 | 0 |