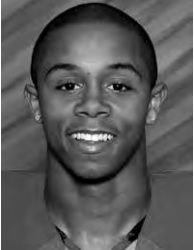 Nationality

United States

Position

WR

Hometown

Cincinnati, OH

High School

LaSalle

Height

6'3"

Weight

210

Past Teams

Ohio State

Seasons

2008, 2009, 2010, 2011
Post-OSU Update: DeVier Posey was selected in the third round (68th overall) of the 2012 NFL Draft by the Houston Texans. Posey played three years in the NFL, all with Houston. He compiled 22 catches for 272 yards (12.4 YPC). After his NFL career, Posey continued his professional career in the CFL. (updated: Aug. 2023)
Pronunciation: de-VEER POE-zee
Major: Communication (2011), Management and Industry (2009-10)
Weight: 210 (2011), 213 (2010), 205 (2008-09)
2011 Media Guide: 24 career starts … has caught a pass in 27 consecutive games, the longest current string in the Big Ten … 1,793 career yards, 16 scores … will miss the first five games of the season with an NCAA suspension.
2010: Biletnikoff, Hornung awards preseason watch list … honorable mention all-Big Ten … touchdowns of 6 and 11 yards from Pryor in Marshall win … 105 yards receiving on 4 catches vs. Miami … 5 catches vs. Ohio, where he was defended by his older brother Julian, a Bobcat DB … 103 yards receiving with a 17-yard TD catch in the Indiana win … 22-yard TD from Pryor in Purdue victory … 115 yards on 6 catches with a 38-yard TD at Minnesota … 3 catches for 69 yards vs. Penn State … 33-yard TD in the Michigan win … gained 70 yards on three catches in the Sugar Bowl, including a 43-yard TD reception … third-year letterman.
2010 Media Guide: outstanding receiver who became a leader in the passing game with the departure of Brian Robiskie and Brian Hartline … fluid and skilled with excellent range … big-play possibilities at any time.
2009:  led the Buckeye pass-catching rotation with 60 catches for 828 yards, eight TD… pair of catches against Navy … six receptions vs. USC for 81 yards … 4-yard TD from Terrelle Pryor was one of five vs. Toledo … pair of catches in win over Illinois … 23-yard TD catch from Pryor at Indiana … 32-yard
catch from Pryor at end of first half was Ohio State's only offensive TD against Wisconsin … also had a 22-yard catch vs. the Badgers to sustain that TD drive … nine catches gained 87 yards at Purdue, with a 25-yard TD … scored on TDs of 62 and 57 yards in the Minnesota win … career-best 161 yards on eight catches against the Gophers … 79 yards on five receptions in win over New Mexico State … also tossed a 39-yard TD throw to Dane Sanzenbacher off a reverse against the Aggies … 62-yard TD in the win at Penn State … five receptions at Michigan … 101 yards receiving in the Rose Bowl, scoring a 17-yard fourth-quarter TD to ice the win over Oregon … second-year letterman.
2009 Media Guide: Outstanding young receiver who continues to grow within the passing game with the departure of Brian Robiskie and Brian Hartline … fluid and skilled with excellent range.
2008: Made 11 catches for 117 yards as a true freshman … 25-yard touchdown reception from Boeckman in opener against Youngstown State, his first career game … two catches gained team-high 28 yards vs. Purdue … 13-yard reception at Michigan State … pair of receptions in Fiesta Bowl … first-year letterman.
High School: All-Ohio, all-Cincinnati, all-league and all-district receiver … 47 receptions for 770 yards, 7 TD as a senior; 33 catches for 750 yards, 9 TD as a junior … U.S. Army All-American Bowl and Maxwell Award … Greater Catholic League receiver of the year … Top 100 nationally from Scout, Rivals, PrepStar, Superprep … holds school record at 200 (21.5) and 400 (47.78) meters … also a three-year basketball letterman … 33-inch vertical jump … honor student and academic all-star … Lancer Ambassador … state champion in 400.
Personal: Son of Julie and the late Baxter Posey … says he is the best dancer on the team … favorite international cuisine is Mexican … favorite holiday is Christmas.
Offense
| Season | Team | G | GS | Comp | Pass Att | Pass Yds | Pass TD | Pass Int | Rush Att | Rush Yds | Rush Avg | Rush TD | Tgt | Rec | Rec Yds | Rec Avg | Rec TD | Lng | 2 Pt Conv | Fum | Lost | KR | KR Yds | KR Avg | KR TD | PR | PR Yds | PR Avg | PR TD |
| --- | --- | --- | --- | --- | --- | --- | --- | --- | --- | --- | --- | --- | --- | --- | --- | --- | --- | --- | --- | --- | --- | --- | --- | --- | --- | --- | --- | --- | --- |
| 2008 | Ohio State | 12 | NA | 0 | 0 | 0 | 0 | 0 | 0 | 0 | 0 | 0 | NA | 11 | 117 | 10.6 | 1 | 25 | 0 | NA | NA | 0 | 0 | 0 | 0 | 1 | 4 | 4.0 | 0 |
| 2009 | Ohio State | 13 | NA | 1 | 1 | 39 | 1 | 0 | 2 | 19 | 9.5 | 0 | NA | 60 | 828 | 13.8 | 8 | 62 | 0 | NA | NA | 1 | 24 | 24.0 | 0 | 3 | 5 | 1.7 | 0 |
| 2010 | Ohio State | 13 | NA | 0 | 0 | 0 | 0 | 0 | 0 | 0 | 0 | 0 | NA | 53 | 848 | 16.0 | 7 | 62 | 0 | NA | NA | 0 | 0 | 0 | 0 | 0 | 0 | 0 | 0 |
| 2011 | Ohio State | 4 | NA | 0 | 0 | 0 | 0 | 0 | 1 | -6 | -6.0 | 0 | NA | 12 | 162 | 13.5 | 2 | 43 | 0 | NA | NA | 0 | 0 | 0 | 0 | 0 | 0 | 0 | 0 |
| Total | - | 42 | 0 | 1 | 1 | 39 | 1 | 0 | 3 | 13 | 0 | 0 | 0 | 136 | 1955 | 0 | 18 | 62 | 0 | 0 | 0 | 1 | 24 | 0 | 0 | 4 | 9 | 0 | 0 |