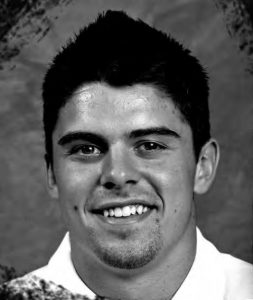 Nationality

United States

Position

WR

Height

5'11"

Weight

175

Birthday

10/13/1988

Hometown

Toledo, OH

High School

Central Catholic

Past Teams

Ohio State

Seasons

2007, 2008, 2009, 2010
Post-OSU Update: Dane Sanzenbacher was not selected in the 2011 NFL Draft, but did play four seasons in the NFL (two with Chicago and two with Cincinnati). He accumulated 43 catches for 449 yards (10.4 YPC) and three touchdowns. (updated: July 2023)
Pronunciation: sahn-zen-bock-ur
Major: Marketing (2010), Business Administration (2008-09)
Weight: 180 (2010), 175 (2007-09)
2010 Media Guide: Speedy receiver who has made a significant impact on the Buckeye offense … tough, talented athlete with great instincts for the game … dependable and team-focused.
2009: season totals: 36 catches, 570 yards, six TD … 38-yard TD from Pryor vs. Navy was the Buckeyes' first score of the season … 56-yard catch vs. USC was one of his two receptions … five catches for 126 yards vs. Toledo, including scores of 76 and 18 yards from Pryor on the game's first two drives … voted captain for Illinois … three catches with a 3-yard fourth-down TD in the win over the Illini … three catches at Indiana … three receptions gained 62 yards in Minnesota win … caught a 19-yard score from Pryor and a 39-yard TD from Posey in the New Mexico State win … nine catches gained 64 yards in the Rose Bowl win … offensive player of week: Toledo, New Mexico State … Paul Warfield Award (outstanding receiver) from Ohio State coaches … Top Ten Tenacious three times … third-year letterwinner.
2009 Media Guide: speedy receiver who has made a significant impact on the Buckeye offense … tough, talented athlete with great instincts for the game.
2008: Among OSU's top three receiver rotation … 21 receptions for 272 yards … four catches against Ohio … three catches at USC … left the Wisconsin game with a concussion and missed the Purdue matchup … pair of catches for 40 yards against the Badgers … leading receiver in Penn State game with six catches for 82 yards … long reception of 53 yards against the Nittanies, gaining 30 of that after the catch … 14-yard third-down reception from Pryor at Northwestern … 20-yard TD catch at Illinois … pair of receptions gained 49 yards in Michigan win … offensive champion: Penn State … special teams dog tags: Minnesota … second-year letterman.
2008 Media Guide: Speedy receiver who made an impact as a true freshman … will be even more effective after gaining a season's worth of experience … talented athlete with great instincts for the game.
2007: True freshman receiver … 12 catches for 89 yards … caught a touchdown on his very first college reception, three yards from Todd Boeckman in the Youngstown State win … first-year letterman.
High School: Ranked as the No. 13 overall prospect in Ohio coming out of high school … finished his senior season with 61 receptions for 1,079 yards and 11 touchdowns … in seven career playoff games, he recorded 40 receptions for 842 yards and nine touchdowns in addition to 40 solo tackles and eight interceptions … helped guide Toledo Central Catholic to the 2005 State Championship with two touchdown receptions … grabbed 65 receptions for 16 touchdowns as a junior and was named first-team all-state … picked off 11 interceptions as a junior … owns a 3.3 GPA … has great decision making skills and has plays his best in big games … also spent time at quarterback and defensive back … committed to Ohio State in July 2006 … all-state in the 400-meter dash.
Personal: Born Oct. 13, 1988 … son of Lee and Marianne Sanzenbacher … lists winning the 2005 state championship as his greatest sports thrill … favorite American from history is John Adams … favorite actor is Morgan Freeman … favorite former Buckeye is Eddie George.
Offense
| Season | Team | G | GS | Rush Att | Rush Yds | Rush Avg | Rush TD | Tgt | Rec | Rec Yds | Rec Avg | Rec TD | Lng | 2 Pt Conv | Fum | Lost | PR | PR Yds | PR Avg | PR TD |
| --- | --- | --- | --- | --- | --- | --- | --- | --- | --- | --- | --- | --- | --- | --- | --- | --- | --- | --- | --- | --- |
| 2007 | Ohio State | 12 | NA | 0 | 0 | 0 | 0 | NA | 12 | 89 | 7.4 | 1 | 15 | 0 | NA | NA | 0 | 0 | 0 | 0 |
| 2008 | Ohio State | 12 | NA | 0 | 0 | 0 | 0 | NA | 21 | 272 | 13.0 | 1 | 56 | 0 | NA | NA | 0 | 0 | 0 | 0 |
| 2009 | Ohio State | 13 | NA | 2 | 8 | 4.0 | 0 | NA | 36 | 570 | 15.8 | 6 | 76 | 0 | NA | NA | 2 | 17 | 8.5 | 0 |
| 2010 | Ohio State | 13 | NA | 4 | 14 | 3.5 | 1 | NA | 55 | 948 | 17.2 | 11 | 65 | 0 | NA | NA | 0 | 0 | 0 | 0 |
| Total | - | 50 | NA | 6 | 22 | 3.7 | 1 | NA | 124 | 1879 | 15.2 | 19 | 76 | 0 | NA | NA | 2 | 17 | 8.5 | 0 |