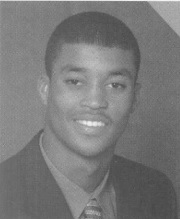 Nationality

United States

Position

WR

Birthday

12/3/1987

Hometown

Cleveland, OH

High School

Chagrin Falls

Height

6'3"

Weight

190

Past Teams

Ohio State

Seasons

2005, 2006
Jersey #: 80 (2006), 85 (2005)
Major: Business (2006)
Weight: 195 (2006), 190 (2005)
2006 Media Guide: Promising young receiver who is being counted on to help offset the loss of first-round draft choice Santonio Holmes … has outstanding speed and quickness, is blessed with good hands and has demonstrated a knack for finding the open seam in the defense … lettered last year as a freshman … appeared in all 12 games, but almost all of his playing time came with the special teams … did have a 13-yard reception against San Diego State on which he knifed between two defenders and picked up additional yardage … coaches like his presence and command of the game … coming off a solid showing in the spring … will figure in the rotation at wide receiver in 2006 and has a chance to become an integral part of the passing attack.
2005: Would have to rate as one of the more pleasant surprises of the year … made an early impression with his athletic ability and nailed down a spot on special teams … played in all 12 games … longest stints were eight minutes against Northwestern and seven against Illinois.
High School: Ranked as the No. 6 wide receiver in the state of Ohio and the No. 22 prospect overall by Rivals.com … a 2004 first-team All-Ohio selection … set Chagrin Falls career receiving records with 118 catches for 1,885 yards and 34 touchdowns … caught 47 passes as a senior for 754 yards and 12 touchdowns … also scored on a 95-yard punt return and an interception return … led Chagrin Falls to a 9-3 overall record in 2004 and the conference championship … averaged 14.5 yards on punt returns … had two interceptions … is an honor student, carrying a 3.5 GPA … played for Mark Iammarino.
Personal: Is the son of Terry and Cynthia Robiskie … his father played in the NFL and was the interim head coach with the Cleveland Browns before returning to his present role of assistant.
Offense
| Season | Team | G | GS | Rec | Rec Yds | Rec Avg | Rec TD | Lng | Fum | Lost | FR | PR | PR Yds | PR Avg | PR TD |
| --- | --- | --- | --- | --- | --- | --- | --- | --- | --- | --- | --- | --- | --- | --- | --- |
| 2005 | Ohio State | 12 | 0 | 1 | 13 | 13.0 | 0 | 13 | NA | NA | NA | 0 | 0 | 0 | 0 |
| 2006 | Ohio State | 13 | NA | 29 | 383 | 13.2 | 5 | 39 | NA | NA | 0 | 1 | 0 | 0.0 | 0 |
| Total | - | 25 | 0 | 30 | 396 | 0 | 5 | 52 | 0 | 0 | 0 | 1 | 0 | 0 | 0 |