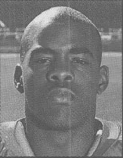 Nationality

United States

Position

OLB

Height

6'3"

Weight

227

Birthday

9/02/1978

Hometown

Miami, FL

High School

Southridge

Current Team

Ohio State

Seasons

1997, 1998, 1999, 2000, 2001
Post-OSU Update: Courtland Bullard was a fifth-round pick (167th overall) in the 2002 NFL Draft, selected by the St. Louis Rams. Bullard played two seasons with the Rams, appearing in 20 games (1 start) and accounted for ten tackles. (updated: Aug. 2022)
Major: African-American and African Studies (2001), Undeclared (1997-00)
Weight: 227 (2000-01), 220 (1998-99), 215 (1997)
2001 Media Guide: Courland Bullard is a fifth-year senior who will be in his third year as a starter at the SAM (strong side) linebacker position … has played in a team-leading 38 games during his career, with 22 starts to his credit … extremely athletic defender who runs to the ball well … coming off his best year in almost every category, including total tackles (46), tackles for loss (11) and sacks (6) … has been a solid performer throughout his career … also a standout on the special teams because of his sub 4.5 speed … poised for a great year.
2000 Season: Started all 12 games … played his best ball late in the season, recording all six of his sacks in the last six regular-season games … had a season-high 10 tackles at Purdue … credited with two sacks against both Wisconsin and Minnesota … also forced a pair of fumbles and had one recovery (at Iowa) … picked off his first career interception against South Carolina in the Outback Bowl … seventh on the team in tackles.
2000 Media Guide: Courtland Bullard is simply a natural talent. He stands an imposing and rock hard 6-3, 227 pounds yet still owns sub 4.5-second speed and is naturally athletic with great football instincts. As linebackers coach Brian Williams puts it, "Courtland can run, jump and do it all. He is the most athletic linebacker we have. Courtland can make athletic plays from sideline to sideline. He also should have success rushing the passer this year."
1999: Played in 11 games and started 10 … ranked 11th on the team with 40 tackles, including 27 solos … made four tackles-for-loss and had three sacks … made a season-high 10 tackles against Wisconsin, including his first career sack … notched two sacks for minus 12 yards against Penn State … logged 210 minutes of playing time, including a season- and career-high 31 against the Nittany Lions … was credited with one forced fumble and one pass break-up … second highest tackle total was seven versus Michigan State.
1999 Media Guide: Courtland Bullard, healthy after an injury-hindered and painful second season as a Buckeye, is an athletic and physical linebacker who is in a battle to replace Jerry Rudzinski at the "will" linebacker position. Linebacker's coach Fred Pagac said "Courtland's strength is at stopping the run, and he is athletic, runs well and has a nose for the football."
1998: Had a painful and severe groin strain that all but ended the sophomore season for this promising young linebacker who is blessed with size and speed. Played in just two games and ended up redshirting the season.
1998 Media Guide: A promising young linebacker prospect with size, speed and a nose for the football … still in a learning mode, but has ability to really be a fine football player … Fred Pagac says he is "a tough kid, fun to be around and has an acceleration factor" … should see increased playing time this year and could contend for a starting spot at one of the outside positions … figures to play a lot of football one way or the other … has added 10 pounds since last year and worked out extensively in the weight room in an effort to get bigger and stronger … regarded as one of the top high school linebacker prospects in the country his senior year and gave every indication last year of being able to live up to those accolades.
1997: Played in all 13 games, seeing most of his playing time as a member of the special teams, where he quickly developed a reputation as an outstanding hitter … was a valuable member of the kickoff coverage and return units … finished the year with 11 tackles, including a tackle for loss against Indiana … had a season-high four tackles against Northwestern.
1997 Media Guide: Will add to Ohio State's already talented and deep group of linebackers … highly recruited player who chose the Buckeyes over all the Florida powers … was a second-team USA Today selection on defense … All-America choice by The National Recruiting Advisor, G2W Report, Prep Football Report and SuperPrep … was one of two Ohio State signees named to the Atlanta Journal-Constitution Super Southern 100 team, along with offensive lineman Tam Hopkins … born 9-2-78.
Personal: Parents are Linda and Courtland Bullard … born Aug. 2, 1978,
Defense
| Season | Team | G | GS | Tkl | Solo | Asst | TFL | TFL Yds | Sacks | Sack Yds | FF | FR | Int | Int Yds | PBU |
| --- | --- | --- | --- | --- | --- | --- | --- | --- | --- | --- | --- | --- | --- | --- | --- |
| 1997 | Ohio State | 13 | 0 | 11 | 9 | 2 | 1 | 1 | 0 | 0 | 1 | 0 | 0 | 0 | 0 |
| 1998 | Ohio State | 2 | 0 | 1 | 1 | 0 | 0 | 0 | 0 | 0 | 0 | 0 | 0 | 0 | 0 |
| 1999 | Ohio State | 11 | 10 | 40 | 27 | 13 | 4 | 19 | 3 | 16 | 1 | 0 | 0 | 0 | 1 |
| 2000 | Ohio State | 12 | 12 | 46 | 35 | 11 | 11 | 61 | 6 | 46 | 2 | 1 | 1 | 0 | 2 |
| 2001 | Ohio State | 12 | 11 | 47 | 32 | 15 | 8 | 23 | 2 | 12 | 0 | 0 | 0 | 0 | 1 |
| Total | - | 50 | 33 | 145 | 104 | 41 | 24 | 104 | 11 | 74 | 4 | 1 | 1 | 0 | 4 |