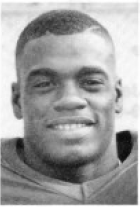 Nationality

United States

Position

FS, SS, CB

Birthday

12/25/1969

Hometown

Sarasota, FL

High School

Sarasota

Height

6'2"

Weight

188

Current Team

Ohio State

Seasons

1989, 1990, 1991, 1992, 1993
Post-OSU Update: Chico Nelson was found dead from a gun shot wound that was likely self-inflicted in 2016. Nelson was rumored to have had a substance-abuse problem.
Major: Black Studies (1991-93), Communications (1990)
Weight: 197 (1992-93), 190 (1991), 1988 (1989-90)
1993 Media Guide: The undisputed leader of the secondary … a strong candidate for postseason honors … talented athlete who will be in his third year as a starter … moves from free to strong safety this year … fierce hitter, who gets a great break on the ball … excellent one-on-one defender … the Buckeyes' leading returning tackler, collecting 68 tackles last year to rank fourth on the team … 20 of those tackles came in the last two games, including a career high 11 against Michigan … three interceptions (Syracuse, Wisconsin and Michigan) last year tied him for second on the team and gave him five career thefts … also had two passes broken up and a fumble caused last year … could play any of the four defensive back positions if need be … teamed with Roger Harper the past two years to give OSU a pair of outstanding safeties … also a fine special teams player.
1992 Media Guide: Nelson started the first time last year and responded by leading the team in passes broken up with six … also had 52 tackles, including 36 solos, and an interception … logged 293 minutes of playing time, second only to Roger Harper on the defense … has excellent speed and doesn't shy away from contact … very good at breaking on the ball and timing his hit on the intended receiver … had a season-best eight tackles against Michigan State … six tackles against Syracuse, all solos … his interception came against Louisville and set up an OSU touchdown … valuable player because he can play any of the four secondary positions … also plays on special teams.
1991 Media Guide: Emerged from spring ball with a slight edge over Tim Patillo in the battle for the starting free safety spot … big-time hitter with speed and good instincts … coaches like his leadership ability … played strong safety last year but shifted to free safety in the spring … had 24 tackles in 1990, including a season-high six against Purdue … had his only interception against Minnesota … also an outstanding special teams player.
1990 Media Guide: Promising young cornerback prospect … redshirted last year … injured his left knee in practice and had surgery Nov. 14 … did not practice in the spring, but is expected back in the fall and should compete for a spot on the depth chart … good athlete with 4.5 speed … also figures to help out on the specialty teams.
1989: Came to OSU with great credentials … Was on the two-deep and, up until his injury, always a possibility to play.
HIGH SCHOOL: A preseason All-America choice, Nelson missed the first seven games of his senior year with a knee injury, but still made the all-state team … had 49 tackles and two interceptions in the five games he did play in … fully recovered to run track during the indoor season … helped the team to a fourth-place finish in the state's big school playoffs and a 10-2 record … had four interceptions as a junior … also competed in basketball and track, captaining the football and track teams … a sprinter in track, with best times of 4.45 in the 40, 10.7 in the 100, and a long jump of 23 feet.
PERSONAL: First name is Willie … relaxes by walking through malls.
Defense
| Season | Team | G | GS | Tkl | Solo | Asst | TFL | TFL Yds | FF | FR | Int | Int Yds | PBU |
| --- | --- | --- | --- | --- | --- | --- | --- | --- | --- | --- | --- | --- | --- |
| 1990 | Ohio State | 11 | 0 | 24 | 20 | 4 | 1 | 4 | 1 | 0 | 1 | 0 | 1 |
| 1991 | Ohio State | 12 | 10 | 52 | 36 | 16 | 0 | 0 | 0 | 0 | 1 | 22 | 9 |
| 1992 | Ohio State | 12 | 8 | 65 | 31 | 34 | 1 | 4 | 1 | 0 | 3 | 34 | 2 |
| 1993 | Ohio State | 12 | 12 | 55 | 30 | 25 | 1 | 2 | 0 | 1 | 2 | 63 | 1 |
| Total | - | 47 | 30 | 196 | 117 | 79 | 3 | 10 | 2 | 1 | 7 | 119 | 13 |