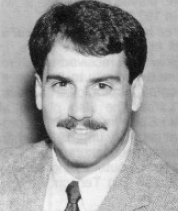 Nationality

United States

Past Teams

Ohio State
1990 Media Guide: Tony Caviglia is in his first year as Ohio State's volunteer coach. At OSU, the 28-year old Caviglia will assist Ron Zook with the Buckeyes' defensive backs.
This is Caviglia's second trip to Columbus. He was a graduate assistant coach for the Buckeyes in 1988, leaving after the season to accept a full-time position at New Mexico State.
Caviglia (pronounced Ca VEAL yuh) is a native of Castro Valley, Calif. He graduated from Cal Poly San Luis Obispo in 1983 with a B.S. in physical education, and he received his master's from Southern Cal in 1987.
Caviglia began his coaching career at Cal Poly SLO in 1983, spending two years at his alma mater as coach of the running backs. In 1985, he was named running backs coach at Chabot Junior College in Hayward, California.
Caviglia spent the 1986 and '87 seasons as a graduate assistant at USC, where he worked with the Trojans' defensive backs.
He joined John Cooper's first Ohio State staff in 1988 and moved to New Mexico State last year as coach of the defensive backs.
Caviglia and his wife, Kristi, has a son, Andrew, born this past April.