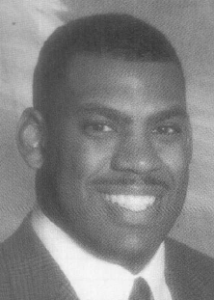 Nationality

United States

Current Team

Ohio State
College: Wisconsin, 1995 (Business Management)
OSU Coaching History:
2004: Defensive Backs / Co-Defensive Coordinator
2001-03: Defensive Backs
2003 Media Guide: Mel Tucker is in his third season as a member of the OSU football staff. Tucker coaches the Buckeyes' defensive backs and is one of the outstanding teachers on the staff. He has helped develop a number of outstanding players at Ohio State, including strong safety Michael Doss, a first-team All-America each of the past two years. This year, he will work with two of the best cornerbacks in the Big Ten in juniors Chris Gamble and Dustin Fox.
2001 Media Guide: Mel Tucker is in his first year as a member of the Ohio State football staff. Tucker, who joined the OSU ranks in February, coaches the Buckeyes' defensive backs.
The 29-year old Tucker comes to Ohio State from LSU, where he also coached the defensive backs for Nick Saban. In his only season on the LSU staff, the Tigers posted an 8-4 record.
Prior to LSU, Tucker was defensive backs coach at Miami (Ohio) in 1998. He began his coaching career in 1997 as a graduate assistant under Saban at Michigan State. His responsibilities at MSU included assisting with the defensive secondary and working with the scout teams.
After two years of learning the ropes at Michigan State, Tucker accepted a full-time position with Terry Hoeppner at Miami. The Redhawks posted a 7-4-1 record in 1999, including a 28-3 upset of Northwestern in the season opener.
Tucker is from Cleveland, where he earned all-state honors at Cleveland Heights High School. He was a two-time member of the Cleveland Plain Dealer's all-scholastic team and also was a standout basketball player.
Tucker played his college football at Wisconsin. He earned four letters at defensive back for the Badgers before receiving his degree in business management in 1995. He redshirted in 1993, in what would have been his senior season, after suffering a broken leg in fall camp. But he returned to action in 1994 and helped the Badgers to an 8-3-1 record and a bowl berth.
Following graduation, Tucker enjoyed a brief stay with the Hamilton Tiger Cats in the Canadian Football League.
Since leaving the playing field and turning to coaching, Tucker has enjoyed a meteoric rise to the top of his profession.
Born Jan. 4, 1972, Mel and his wife Jo-Ellyn were married in June of 1999.