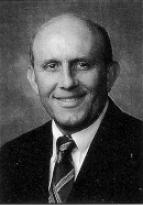 Nationality

United States

Current Team

Ohio State

Past Teams

Ohio State
College: Northeast Oklahoma State, '70
OSU Coaching History:
1993-94: Defensive Backs Coach
1993 Media Guide: Larry Coker joined the Ohio State coaching staff last March, replacing Larry Coyer as defensive backfield coach.
Coker, 44, comes lo Ohio State from the University of Oklahoma, where tor the past three years he served as the Sooners' offensive coordinator.
A native of Okemah, Oklahoma, Coker is a 1970 graduate of Northeast Oklahoma State University. He was a three-year starter at defensive back at N.O.S.U. and won all conference honors as a senior. He also was named the school's top student-athlete as a senior.
After graduation, Coker spent nine years as a high school coach in Oklahoma — seven in the town of Fairfax and two at Claremore High School in suburban Tulsa.
Coker moved to the collegiate ranks in 1979, accepting an offer from John Cooper to coach the running backs and quarterbacks at Tulsa. He was named offensive coordinator the following year, a position he held until 1982. when he left Tulsa to become offensive coordinator at Oklahoma Staite.
Coker spent seven years with the Cowboys, leaving after the 1989 campaign to become offensive coordinator at the University of Oklahoma, a position he held until being reunited with Cooper last spring.
Coker and his wife, Dianna, have a daughter, Lara. who lives in Norman.