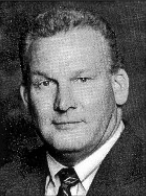 Nationality

United States

Past Teams

Ohio State
1991-92: Defensive backs coach
1992 Media Guide: 
1991 Media Guide: Larry Coyer is in his first year on the Ohio State football staff. He coaches the Buckeyes' defensive backs.
Coyer came to Ohio State after one year at the University of Houston, where he served as defensive coordinator. His extensive coaching background includes stops in the Pac-10, Big 8 and Big Ten, as well as a stint in the USFL. He also coached previously in Ohio, spending a year at Bowling Green.
Coyer, 48, is a native of Huntington, West Virginia and a 1965 graduate of Marshall, where he was a standout football player and wrestler. After graduation, he spent three years as Marshall's
secondary coach, leaving in 1968 to become head coach at Martins Ferry High School in Ohio. Between 1970 and '72, he was the defensive coordinator at Massillon High School, leaving in 1973 to become secondary coach at Bowling Green.
In 1974, Coyer was named defensive coordinator at Iowa. He remained there four years, leaving in 1978 to accept a similar position at Oklahoma State. In 1979, he moved to Iowa State as defensive coordinator.
Coyer left the collegiate ranks in 1983 to become defensive coordinator with the Michigan Panthers of the USFL. He remained there two years before joining the staff of the Memphis Showboats.
In 1986, Coyer returned to college football, accepting the position of defensive coordinator at Memphis State. In 1987, he was named linebacker coach at UCLA, a position he retained until moving to Houston for the 1990 season.
Larry and his wife, Linda, have two sons, Matthew and Justin.