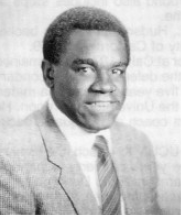 Nationality

United States

Current Team

Ohio State
1991: Running Backs Coach
1988-90: Wide Receivers Coach
1991 Media Guide: Gene Huey is in his fourth year on the Ohio State coaching staff. He accompanied John Cooper from Arizona State in the winter of 1988.
During his first three years with the Buckeyes, Huey coached the wide receivers. This year, however, he will work with the OSU running backs.
Huey is an outstanding teacher and communicator, whose players have consistently been one of the strengths of the Ohio State offense. Last year, starters Jeff Graham and Bobby Olive combined for 81 catches and 14 touchdowns and were one of the most dangerous receiving tandems in the Big Ten. Both were selected in the NFL draft.
1990 Media Guide: Gene Huey is in his third year as a member of the Ohio State football staff. He coaches the Buckeyes' wide receivers.
Huey came to Ohio State from Arizona State, where he was the Sun Devils' wide receivers coach.
Prior to ASU, Huey spent 10 years as receivers coach at Nebraska. He also has coached at Wyoming and New Mexico.
Huey is from Uniontown, Pa. He went to college at the University of Wyoming, graduating in 1971. While at Wyoming, he played split end and defensive back. He set 13 receiving records and is the only player in the history of the Western Athletic Conference to win all-WAC honors on both offense and defense. He was a co-captain for the Cowboys and played on three conference championship teams.
Huey began his coaching career at Wyoming. Between 1970 and 1972, he assisted with the defensive backs and wide receivers while a graduate assistant. In 1972, he was named head freshman coach.
Huey went to the University of New Mexico in 1974 as coach of the wide receivers. He left the Lobos after the 1977 season to join Tom Osborne's staff at Nebraska. While at Nebraska, he assisted in coordinating the Cornhuskers' passing attack.
He joined forces with Cooper at Arizona State prior to the 1987 campaign and accompanied Cooper to Ohio State.