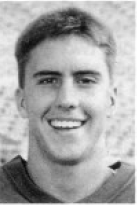 Nationality

United States

Position

K, P

Birthday

1/17/1971

Hometown

Waynesville, OH

High School

Wayne Local

Height

5'9"

Weight

180

Current Team

Ohio State

Seasons

1990, 1991, 1992, 1993
Major: Education (1993), Sports and Leisure Studies (1992), Education (1990-91)
Weight: 180 (1990-93), 155 (1989)
1993 Media Guide: In his fourth season as the regular placekicker … could also double up as the punter this year if no one else comes to the forefront … handled both jobs in 1991 with little difficulty … has led Ohio State in scoring each of the past three years and is the first OSU player ever to lead the team three times … 79 points last year included a perfect 31 of 31 PATs and 16 of 29 field goals … longest field goal last year was 50 yarder against Illinois … tried a 56-yard boot against Michigan that had plenty of distance but was just wide to the right … 29 field goal attempts was a school record and his 16 made field goals were two shy of the OSU single-season mark … finished second in Big Ten kick scoring and fifth in overall league scoring, averaging seven points a game … also kicks off.
1992 Media Guide: Will handle all the kicking duties for the second straight year … led the Buckeyes in scoring last year with 63 points and was an honorable mention all-Big Ten selection … made 33 of 35 extra point attempts and hit 10 of 16 field goal tries … longest field goal of the year was a 50 yarder at Michigan, the second longest of his career … seven of 10 from inside the 40 and three of six from beyond … averaged 38.5 yards per punt in his first year as the regular punter … 70-yard punt against Iowa was his best boot of the year and ranks as the seventh longest in OSU history … also kicks off … has led OSU in scoring each of the last two years and has a chance to be the first player ever to lead three years in a row … he could rewrite the OSU record book before his career is over.
1991 Media Guide: Did all the Buckeyes' placekicking last year and could also be the punter this year … Led OSU in scoring in 1990 with 79 points … converted all 40 of his extra point attempts and was 13 of 18 in the field goal department … strong-legged kicker who seemed to have few problems adjusting either to natural grass or to the no tee rule … longest field goal was a 52 yarder as time expired in the first half at Boston College … hit seven of his last eight attempts during the regular season, including a 43 yarder against Michigan … was three-of-five from beyond 40 yards, with one of the misses coming on a block … two of his misses came in the Liberty Bowl … also handles kick-offs … good young kicker who has a chance to rewrite the OSU record book before he is through.
1990: Converted all 40 extra points and 13 of 18 field goals for 79 total points … kicked a 52-yarder at Boston College, still his career best.
1990 Media Guide: Redshirted last year … emerged from spring practice with a slight edge over Jon Berger in the battle to succeed Pat O'Morrow as the Buckeyes' placekicker … has a strong leg and 50-yard range … gets the ball up very quickly … seems to have adjusted to the no tee rule … extremely confident young player … also a standout high school punter, but will concentrate on placekicking at OSU.
1989: Redshirted.
HIGH SCHOOL: Twice an all-stater, garnering second team honors as a sophomore and honorable mention laurels as a junior … a four-time all-Warren County pick … kicked a state record 57-yard field goal as a senior and had a career punting average of 41 yards … played in the North-South All-Star Game … made 107 of 110 PATs … hit on six of eight field goal tries from inside of 50 yards as a senior, going five-for-five inside 46 yards … 22 of 45 from all distances for his career … also lettered three times in baseball and two in basketball.
Personal: Likes to play tennis … enjoys working with children.
Offense
| Season | Team | G | GS | Comp | Pass Att | Pass Yds | Pass TD | Rush Att | Rush Yds | Fum | Lost | FR | TB | XP | XPA | XP % | FG | FGA | FG % |
| --- | --- | --- | --- | --- | --- | --- | --- | --- | --- | --- | --- | --- | --- | --- | --- | --- | --- | --- | --- |
| 1990 | Ohio State | 12 | 12 | 0 | 0 | 0 | 0 | 0 | 0 | 0 | 0 | 0 | 0 | 30 | 30 | 100.0 | 13 | 18 | 72.2 |
| 1991 | Ohio State | 12 | 12 | 1 | 1 | 21 | 0 | 0 | 0 | 1 | 0 | 1 | 4 | 33 | 34 | 97.1 | 10 | 15 | 66.7 |
| 1992 | Ohio State | 12 | 12 | 0 | 0 | 0 | 0 | 0 | 0 | 0 | 0 | 0 | 0 | 28 | 28 | 100.0 | 14 | 27 | 51.9 |
| 1993 | Ohio State | 12 | 12 | 0 | 0 | 0 | 0 | 1 | -15 | 0 | 0 | 0 | 1 | 34 | 34 | 100.0 | 10 | 13 | 76.9 |
| Total | - | 48 | 48 | 1 | 1 | 21 | 0 | 1 | -15 | 1 | 0 | 1 | 5 | 125 | 126 | 99.2 | 47 | 73 | 64.4 |
Defense
| Season | Team | G | GS | Tkl | Solo | Asst | FR | Pt | Pt Yds | Punt Avg | TB | I20 |
| --- | --- | --- | --- | --- | --- | --- | --- | --- | --- | --- | --- | --- |
| 1990 | Ohio State | 12 | 12 | 0 | 0 | 0 | 0 | 0 | 0 | 0 | 0 | 0 |
| 1991 | Ohio State | 12 | 12 | 2 | 1 | 1 | 1 | 55 | 2120 | 38.5 | 4 | 16 |
| 1992 | Ohio State | 12 | 12 | 1 | 1 | 0 | 0 | 0 | 0 | 0 | 0 | 0 |
| 1993 | Ohio State | 12 | 12 | 1 | 1 | 0 | 0 | 12 | 433 | 36.1 | 1 | 2 |
| Total | - | 48 | 48 | 4 | 3 | 1 | 1 | 67 | 2553 | 38.1 | 5 | 18 |