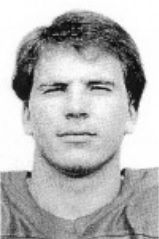 Nationality

United States

Position

K

Birthday

10/24/1967

Hometown

Radford, VA

High School

Radford

Height

5'11"

Weight

180

Current Team

Ohio State

Seasons

1986, 1987, 1988, 1989
Major: Marketing (1986-89)
Jersey #: 34 (1988-89), 6 (1987), 34 (1986)
Weight: 180 (1988-89), 177 (1986-87)
1989 Media Guide: Pat O'Morrow is a soccer-style booter with distance and excellent accuracy … handles all the Buckeyes' place kicking chores … last year was his first as the full-time field goal kicker … this will be his fourth year as the kickoff specialist … no tee rule did not seem to bother him in the spring.
1988: Led Ohio State in scoring with 77 points … made 18 of 23 field goal attempts and all 23 of his extra point tries … 18 field goals tied the school single-season record … longest kick was 46 yards against Wisconsin … all of his misses were from beyond 49 yards … closed out the year with six straight field goals and 26 consecutive extra points … top game was four field goals against Syracuse … third in the Big Ten kick scoring and fourth in overall scoring.
1988 Media Guide: Expected to assume the extra point and field goal duties this year … made all three of his field goal attempts in the spring game, including a 43-yarder.
1987: Was used solely for kickoffs and did not have any extra point or field goal attempts.
1986: Underwent arthroscopic knee surgery three weeks before the season, but still played in the season opener with Alabama … made four of nine field goals, including the game winner in a 13-10 win over Colorado as time ran out, and a 40-yarder against Utah. 
High School: A two-time all-Virginia selection by the Associated Press and a second team All-American as a senior … made 18 of 29 field goals during his career, including a school-record 48-yarder as a senior … made 66 of 72 extra points over a three-year period … made 52 straight extra points … each of his six missed field goals as a senior were from distances over 50 yards … also earned four letters in soccer and two in basketball … contacted about 15 major schools detailing his kicking ability … chose Ohio State because of an immediate response and interest.
Personal: Swimming and water skiing are his hobbies … his father is a college professor at Radford University.
Offense
| Season | Team | G | FR | XP | XPA | XP % | FG | FGA | FG % |
| --- | --- | --- | --- | --- | --- | --- | --- | --- | --- |
| 1986 | Ohio State | 12 | 0 | 12 | 14 | 85.7 | 4 | 9 | 44.4 |
| 1987 | Ohio State | 11 | 0 | 0 | 0 | 0 | 0 | 0 | 0 |
| 1988 | Ohio State | 11 | 0 | 23 | 23 | 100.0 | 18 | 23 | 78.3 |
| 1989 | Ohio State | 12 | 0 | 39 | 40 | 97.5 | 8 | 15 | 53.3 |
| Total | - | 46 | 0 | 74 | 77 | 96.1 | 30 | 47 | 63.8 |
Defense
| Season | Team | G | Tkl | Solo | Asst | FR |
| --- | --- | --- | --- | --- | --- | --- |
| 1986 | Ohio State | 12 | 0 | 0 | 0 | 0 |
| 1987 | Ohio State | 11 | 0 | 0 | 0 | 0 |
| 1988 | Ohio State | 11 | 0 | 0 | 0 | 0 |
| 1989 | Ohio State | 12 | 1 | 1 | 0 | 0 |
| Total | - | 46 | 1 | 1 | 0 | 0 |