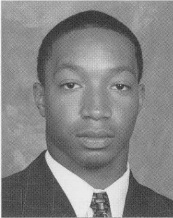 Nationality

United States

Position

ST, TB, CB

Birthday

1/20/1986

Hometown

Hubbard, OH

High School

Hubbard

Height

5'10"

Weight

180

Past Teams

Ohio State

Seasons

2004, 2005, 2006, 2007, 2008
Major: Family Resource Management (2008), Consumer Affairs (2006-07)
Weight: 175 (2008), 180 (2004-07)
2008 Media Guide: Veteran in the Buckeye secondary who adds to the team in a number of ways … agile athlete who continues to study the game … will give Ohio State experience and leadership among the cornerbacks … will also provide beneficial service to the special teams.
2007: Significant contributor on defense and special teams … 13 tackles for season … forced a Purdue fumble in that road win … special units player of week: Purdue, Michigan State, Illinois … Jack Tatum hit of week: Minnesota … special teams dog tags: Washington, Minnesota, Purdue, Michigan State, Illinois … third-year letterman.
2006: Was on track to contribute but needed another surgery on the knee he injured in 2005 prior to the opening of preseason camp … was forced to miss the season.
2006 Media Guide: Earned his first letter last year, appearing in eight games with the special teams … had his season cut short at Minnesota when he tore the ACL in his left knee and missed the remainder of the 2005 campaign … also sat out spring practice, but is expected to be ready in the fall … recruited as a cornerback, but was moved to tailback at the beginning of fall camp in 2005 to add depth to that position … expected move back to cornerback in 2006, but the coaches will keep their options open … very competitive and hard working … wants to play and doesn't care whether it is on offense or defense.
2005: Member of the special teams … season ended prematurely at Minnesota when he tore his ACL … had surgery in November and sat out winter conditioning and spring practice.
2005 Media Guide: Redshirted last year as a true freshman … heads into his sophomore year hoping to land a spot on the two-deep at cornerback … will also help out as a member of the special teams … is a sure tackler and has excellent speed … while his father, Garcia Lane, played safety and cornerback at Ohio State under then-coach Earle Bruce, the younger Lane is expected to concentrate on the latter … showed a flare for coverage last year and is going to be an excellent football player.
2004: Played on the scout team and did not see any game action.
High School: Hopes to follow in the footsteps of his father, Garcia Lane, during the next four years at Ohio State … the elder Lane was a three-year starter for the Buckeyes at safety and cornerback, winning first-team All-Big Ten honors and serving as a team co-captain as a senior in 1983 (Jim Tressel's first year on the Ohio State staff) … the younger Lane is expected to concentrate on corner … excels at man-to-man coverage, has exceptional closing speed and can change direction on a dime … had five interceptions as a junior and four more as a senior … also played running back and ran for more than 3,700 yards his last two years, including 2,400 yards and 27 touchdowns as a junior … won first-team All-Ohio honors as a senior at running back when he averaged more than 10 yards per carry … also returned punts in high school … runs the 40 in 4.45 seconds … was the first commitment of the 2004 class … Rivals.com rated him as the 14th best cornerback prospect in the nation and as one of the Top 10 overall prospects in the state of Ohio … SuperPrep ranked him as the 31st best defensive back.
Personal: Is the son of Garcia Lane and Danella Stanford … nickname is "S Dot" … favorite subject is Economics … favorite TV show is Flavor of Love.
Offense
| Season | Team | G | GS | Rush Att | Rush Yds | Rush Avg | Rush TD | Rec | Rec Yds | Rec TD | Lng | FR | Def TD |
| --- | --- | --- | --- | --- | --- | --- | --- | --- | --- | --- | --- | --- | --- |
| 2005 | Ohio State | 8 | 0 | 1 | 2 | 2.0 | 0 | 0 | 0 | 0 | 2 | 0 | 0 |
| 2007 | Ohio State | 13 | NA | 0 | 0 | 0 | 0 | 0 | 0 | 0 | 0 | 1 | 0 |
| 2008 | Ohio State | 13 | NA | 0 | 0 | 0 | 0 | 0 | 0 | 0 | 0 | 1 | 0 |
| Total | - | 34 | 0 | 1 | 2 | 0 | 0 | 0 | 0 | 0 | 2 | 2 | 0 |
Defense
| Season | Team | G | GS | Tkl | Solo | Asst | TFL | TFL Yds | Sacks | Sack Yds | FF | FR | Int | Int Yds | PBU | Blk | Def TD |
| --- | --- | --- | --- | --- | --- | --- | --- | --- | --- | --- | --- | --- | --- | --- | --- | --- | --- |
| 2005 | Ohio State | 8 | 0 | 3 | 1 | 2 | 0 | 0 | 0 | 0 | 0 | 0 | 0 | 0 | 0 | 0 | 0 |
| 2007 | Ohio State | 13 | NA | 14 | 12 | 2 | 0 | 0 | 0 | 0 | 2 | 1 | 0 | 0 | 0 | 0 | 0 |
| 2008 | Ohio State | 13 | NA | 27 | 19 | 8 | 0 | 0 | 0 | 0 | 2 | 1 | 0 | 0 | 1 | 0 | 0 |
| Total | - | 34 | 0 | 44 | 32 | 12 | 0 | 0 | 0 | 0 | 4 | 2 | 0 | 0 | 1 | 0 | 0 |