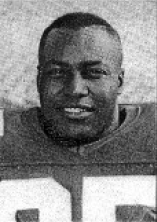 Nationality

United States

Position

FB

Birthday

3/28/1969

Hometown

Long Beach, NY

High School

Long Beach

Height

5'10"

Weight

220

Current Team

Ohio State

Seasons

1987, 1988, 1989, 1990, 1991
Post-OSU Update: Scottie Graham was a seventh-round selection (188th overall) in the 1992 NFL Draft by Pittsburgh. Graham played 57 NFL games with the Jets, Vikings, and Cincinnati. He rushed for 1,267 yards (3.5 ypc) and seven touchdowns. (updated: Nov. 2022)
Major: Recreation Education (1990-91), Undeclared (1987-89)
Weight: 220 (1990-91), 225 (1989), 215 (1988), 207 (1987)
1991: Media Guide: Will be in his third year as the Buckeyes' starting fullback … sprained his ankle in the season opener last year and never fully recovered … wound up the year with 253 yards and 2 touchdowns on 73 carries … worked hard in the spring to regain his form two years ago when he rushed for 977 yards, scored 10 touchdowns and carried the ball 183 times … good inside power runner and has the speed to go outside … very team oriented … bench presses 430 pounds and has 4.45 speed … a powder keg waiting to explode … will graduate at the end of this quarter.
1990: Media Guide: Cadillac running back, who does it all … has the power to run inside and the speed to get outside … good receiver and an excellent blocker… All-American potential … expected to start at fullback, but might also play tailback, especially early in the year … has dedicated this season to teammate Carlos Snow, who is injured and will not play in 1990 … ran for 977 yards and 10 touchdowns last year in his first year as a starter … OSU's leading returning rusher now that Snow (990) is out … great team player … hits the hole extremely quickly … bench presses 430 and runs a 4.45 forty … had more yards last year than any OSU fullback since Pete Johnson's 1,059 in 1975 … attended the same high school as Johnson … has an indirect tie to another Ohio State fullback, Jim Otis … Graham's given name is James Otis Graham, and like the former Buckeye All-American, he also wears No. 35 … lettered in indoor track last winter as a sprinter.
1989: Had five 100-yard games, including three in the last five games … top effort was 152 yards against Wisconsin … alternated between fullback and tailback at Michigan and had 133 yards and two touchdowns in a superb individual effort … 70 yard run against Boston College and 60 yarder vs. Indiana were the two longest runs of the year by an OSU back.
1988: Understudied Bill Matlock … appeared in all 11 games and started the LSU contest … carried the ball 38 times for 164 yards and two touchdowns with no lost yardage … top game was 38 yards on five carries against Michigan … also averaged 11.6 yards per reception on seven catches.
1987: Redshirted.
HIGH SCHOOL: All-state in football, wrestling and lacrosse … rushed for 1,500 yards, averaged 10 yards per carry and scored 17 touchdowns as a senior … 10 of those TDs were on runs of 40 or more yards … top individual rushing effort as a senior was 304 yards … his top football thrill came when he ran for 240 yards on ten carries the second half of a game with Uniondale … the third-ranked heavyweight wrestler in New York as a junior.
PERSONAL: Wants to be an academic and a football All-American … enjoys all sports … full name is James Otis Graham … running backs he most admires are Herschel Walker and Joe Morris.
Offense
| Season | Team | G | GS | Rush Att | Rush Yds | Rush Avg | Rush TD | Tgt | Rec | Rec Yds | Rec Avg | Rec TD | Lng | Fum | Lost | FR | KR | KR Yds | KR Avg | KR TD |
| --- | --- | --- | --- | --- | --- | --- | --- | --- | --- | --- | --- | --- | --- | --- | --- | --- | --- | --- | --- | --- |
| 1988 | Ohio State | 10 | 8 | 38 | 164 | 4.3 | 2 | NA | 7 | 81 | 11.6 | 0 | 21 | 0 | 0 | 0 | 4 | 77 | 19.3 | 0 |
| 1989 | Ohio State | 12 | 12 | 183 | 977 | 5.3 | 10 | NA | 11 | 115 | 10.5 | 1 | 70 | 2 | 2 | 1 | 5 | 135 | 27.0 | 0 |
| 1990 | Ohio State | 12 | 11 | 69 | 236 | 3.4 | 2 | 9 | 3 | 15 | 5.0 | 0 | 16 | 0 | 0 | 0 | 0 | 0 | 0 | 0 |
| 1991 | Ohio State | 11 | 8 | 66 | 374 | 5.7 | 5 | 4 | 2 | 12 | 6.0 | 0 | 65 | 0 | 0 | 0 | 0 | 0 | 0 | 0 |
| Total | - | 45 | 39 | 356 | 1751 | 4.9 | 19 | NA | 23 | 223 | 9.7 | 1 | 70 | 2 | 2 | 1 | 9 | 212 | 23.6 | 0 |