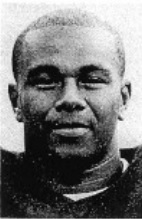 Nationality

United States

Position

FB, ST

Height

5'9"

Weight

220

Birthday

4/22/1967

Hometown

Columbus, OH

High School

Beechcroft

Current Team

Ohio State

Seasons

1985, 1986, 1987, 1988
Major: Economics (1988)
Weight: 220 (1988)
1988 Media Guide: Figures to start at fullback this fall, replacing three-year regular George Cooper … has defied the odds, first by making the team as a walk-on, then by winning a scholarship and now by starting … an excellent blocker and a hard, powerful runner who is difficult to bring down because of his explosiveness and low running style … has seen only spot action the past three years, but has always performed well when called upon … carried the ball eight times for 61 yards last year, an average of 7.6 yards per carry … gained 39 yards on five carries at Illinois, his top game as a collegian … played in eight games as a freshman, but did not carry the ball … thrust into action the second game of his freshman year when Cooper went down with a knee injury.
High School: A standout fullback and linebacker at Beechcroft, but was considered too small to play major college football … walked on at OSU and was converted to scholarship as a freshman.
Personal: Making the Ohio State team fulfilled a lifelong dream. "I have wanted to play at Ohio State since I was about five years old," he says.
Offense
| Season | Team | G | GS | Rush Att | Rush Yds | Rush Avg | Rush TD | Rec | Rec Yds | Rec Avg | Rec TD | Lng | Fum | Lost | FR |
| --- | --- | --- | --- | --- | --- | --- | --- | --- | --- | --- | --- | --- | --- | --- | --- |
| 1985 | Ohio State | 8 | 0 | 0 | 0 | 0 | 0 | 0 | 0 | 0 | 0 | 0 | 0 | 0 | 0 |
| 1986 | Ohio State | 10 | 0 | 3 | 9 | 3.0 | 0 | 0 | 0 | 0 | 0 | 6 | 0 | 0 | 0 |
| 1987 | Ohio State | 11 | 1 | 8 | 61 | 7.6 | 0 | 1 | 10 | 10.0 | 0 | 21 | 1 | 1 | 0 |
| 1988 | Ohio State | 11 | 10 | 69 | 317 | 4.6 | 2 | 9 | 78 | 8.7 | 0 | 19 | 3 | 1 | 2 |
| Total | - | 40 | 11 | 80 | 387 | 4.8 | 2 | 10 | 88 | 8.8 | 0 | 21 | 4 | 2 | 2 |
Defense
| Season | Team | G | GS | Tkl | Solo | Asst | FR |
| --- | --- | --- | --- | --- | --- | --- | --- |
| 1985 | Ohio State | 8 | 0 | 0 | 0 | 0 | 0 |
| 1986 | Ohio State | 10 | 0 | 0 | 0 | 0 | 0 |
| 1987 | Ohio State | 11 | 1 | 6 | 4 | 2 | 0 |
| 1988 | Ohio State | 11 | 10 | 0 | 0 | 0 | 2 |
| Total | - | 40 | 11 | 6 | 4 | 2 | 2 |