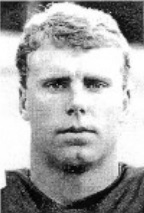 Nationality

United States

Position

H, QB, TE, OLB

Height

6'4"

Weight

221

Birthday

2/19/1966

Hometown

North Canton, OH

High School

Hoover

Past Teams

Ohio State

Seasons

1984, 1985, 1986, 1987, 1988
Post-OSU Update: Scott Powell achieved his collegiate desire of becoming an attorney. He is now a partner at Vorys, a Columbus-area law firm. (updated: Nov. 2022)
Major: English (1988), Pre-law (1985-86), Communications (1984)
Weight: 221 (1988), 229 (1987), 208 (1986), 210 (1985), 205 (1984)
1988 Media Guide: Redshirted in 1984 … has played quarterback, tight end and outside linebacker at OSU … his college career parallels his prep days when he was an outside linebacker for three years before moving to quarterback as a senior … moved back to quarterback in 1987 and will stay there this year … the Buckeyes' holder for kick conversions the past two years … completed an 11-yard pass at LSU on a fake field goal … has lettered each of the past two years … Academic All-Big Ten in 1985.
1986 Media Guide: A third-team quarterback behind Karsatos and Tupa … needs work on mechanics of quarterback play but learns quickly.
1985: Played only in the Indiana game.
1984: A freshman redshirt.
High School: Did not play quarterback at North Canton Hoover High until his senior year, when he completed 119 of 220 passes for 1,580 yards and 17 touchdowns as a senior, the only year he played quarterback … intercepted seven passes as a junior, when he started at linebacker … captained the Hoover High basketball team in 1984 … was an honor student throughout high school.
Personal: His father, Tim, now an attorney, played college football for Ara Parseghian at Northwestern and then went on to play for the Los Angeles Rams and Pittsburgh Steelers … wants to be an attorney.
Offense
| Season | Team | G | GS | Comp | Pass Att | Pass Yds | Pass TD | Pass Int | Skd | Skd Yds | Fum | Lost | FR |
| --- | --- | --- | --- | --- | --- | --- | --- | --- | --- | --- | --- | --- | --- |
| 1985 | Ohio State | 1 | 0 | 0 | 1 | 0 | 0 | 0 | 0 | 0 | 0 | 0 | 0 |
| 1986 | Ohio State | 12 | 0 | 0 | 0 | 0 | 0 | 0 | 0 | 0 | 0 | 0 | 0 |
| 1987 | Ohio State | 11 | 0 | 1 | 2 | 11 | 0 | 0 | 0 | 0 | 1 | 0 | 0 |
| 1988 | Ohio State | 11 | 0 | 0 | 0 | 0 | 0 | 0 | 0 | 0 | 0 | 0 | 0 |
| Total | - | 35 | 0 | 1 | 3 | 11 | 0 | 0 | 0 | 0 | 1 | 0 | 0 |
Defense
| Season | Team | G | GS | FR |
| --- | --- | --- | --- | --- |
| 1985 | Ohio State | 1 | 0 | 0 |
| 1986 | Ohio State | 12 | 0 | 0 |
| 1987 | Ohio State | 11 | 0 | 0 |
| 1988 | Ohio State | 11 | 0 | 0 |
| Total | - | 35 | 0 | 0 |