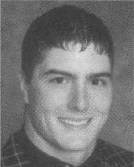 Nationality

United States

Position

LS, OLB

Birthday

5/20/1981

Hometown

Bowling Green, KY

High School

Bowling Green

Height

6'4"

Weight

242

Current Team

Ohio State

Seasons

2000, 2001, 2002, 2003
Post-OSU Update: Robert Reynolds was selected with the 165th pick (fifth round) of the 2004 NFL Draft by Tennessee. Reynolds played 33 games with the Titans over 33 seasons, mostly on special teams. His playing career came to an end during a tumultuous 2006 season in which Reynolds pleaded guilty to two misdemeanors related to a domestic altercation with his wife. Reynolds was also suspended by the NFL for violating its substance abuse policy. This suspension accelerated his decision to retire from professional football. In 2011, Reynolds issued a public apology for choking Wisconsin QB Jim Sorgi during a 2003 game, stating that he wanted to set a good example for his four children. Reynolds had personally apologized to Sorgi during the week after the incident. (updated: Sep. 2022)
Major: Sport & Leisure Studies (2003), Agriculture & Construction Systems Management (2002), Undeclared (2001)
Weight: 242 (2003), 234 (2002), 220 (2001), 223 (2000)
2003 Media Guide: Robert Reynolds will be in his second year as a starter, probably at the SAM, but is capable too of playing the MIKE position … is an intelligent player with outstanding speed and a great feel for the flow of the game … has played in all 38 games the past three years and has 15 career starts to his credit … sure tackler with a knack for being in the right place at the right time … really came into his own last year and should be an outstanding player and leader on the field this year … also a valuable member of the special teams.
2002 Season: Stepped in as the starter at the SAM linebacker position … started all 14 games … sixth on the team in tackles with 62, including 39 solos … sacked Kent State QB Josh Cribbs for a 4-yard loss in the fourth quarter for his lone sack of the year … forced a fumble in the San Jose State game, one of four by the Spartans.
2002 Media Guide: Robert Reynolds will step in as the starter at the SAM linebacker position, replacing Courtland Bullard … with the departure of Bullard and Joe Cooper at the WILL position, Reynolds is the Buckeyes second most experienced linebacker behind veteran MIKE backer Matt Wilhelm … intense player who is blessed with outstanding speed and natural athletic ability … has a knack for the ball and is a sure open field tackler … has patiently waited his turn and fully intends to take advantage of that opportunity now that it is here … intelligent football player who is rarely out of position … also the backup long snapper and a valuable member of the special teams.
2001 Season: Played behind Bullard … saw action in all 12 games and made his first career start against Purdue … 12 tackles on the year include 11 solos … picked off his first career interception against San Diego State … also had a sack, forced fumble and pass broken up against the Aztecs.
2001 Media Guide: Robert Reynolds is the backup to Courtland Bullard at the SAM linebacker and a good football player … played behind Bullard last year and was the fourth linebacker … also snapped on punts … second among all true freshmen in playing time with 64 minutes … had 11 tackles on the year … nickname is "Turbo".
2000 Season: Won the starting long snapper's job early on and gradually worked his way into the two-deep at linebacker … recovered a muffed punt against Michigan State to set up an Ohio State touchdown … had three tackles in the season opener against Fresno State – his first collegiate game.
High School: High School Player of the Year for the state of Kentucky … rated the No. 1 prospect from the state of Kentucky and one of the top linebackers in the country by numerous publications … USA Today honorable mention All-American … rated the No. 26 linebacker prospect in the nation by Rivals100.com … finished his senior year with 99 tackles, 14 tackles-for-loss, nine sacks and one interception … earned all-state honors after his junior and senior seasons … played much of his senior season with a broken hand … as a junior, totaled 180 tackles, 21 tackles-for-loss and 15 sacks … finished his high school career with 468 tackles, 39 tackles-for-loss, 29 sacks, 16 fumble recoveries and two interceptions.
Offense
| Season | Team | G | GS | FR |
| --- | --- | --- | --- | --- |
| 2000 | Ohio State | 12 | 0 | 1 |
| 2001 | Ohio State | 12 | 1 | 0 |
| 2002 | Ohio State | 14 | 13 | 0 |
| 2003 | Ohio State | 12 | 12 | 1 |
| Total | - | 50 | 26 | 2 |
Defense
| Season | Team | G | GS | Tkl | Solo | Asst | TFL | TFL Yds | Sacks | Sack Yds | FF | FR | Int | Int Yds | PBU | Blk |
| --- | --- | --- | --- | --- | --- | --- | --- | --- | --- | --- | --- | --- | --- | --- | --- | --- |
| 2000 | Ohio State | 12 | 0 | 11 | 7 | 4 | 1 | 6 | 1 | 6 | 0 | 1 | 0 | 0 | 0 | 0 |
| 2001 | Ohio State | 12 | 1 | 12 | 11 | 1 | 2 | 9 | 1 | 6 | 1 | 0 | 1 | 0 | 0 | 0 |
| 2002 | Ohio State | 14 | 13 | 62 | 39 | 23 | 3.5 | 16 | 1 | 4 | 1 | 0 | 0 | 0 | 0 | 0 |
| 2003 | Ohio State | 12 | 12 | 81 | 41 | 40 | 9 | 33 | 2 | 15 | 0 | 1 | 1 | 19 | 1 | 0 |
| Total | - | 50 | 26 | 166 | 98 | 68 | 15.5 | 64 | 5 | 31 | 2 | 2 | 2 | 19 | 1 | 0 |