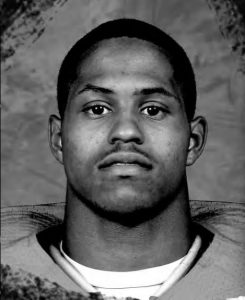 Nationality

United States

Position

WR

Height

6'0"

Weight

175

Birthday

3/25/1987

Hometown

Cleveland, OH

High School

Glenville

Past Teams

Ohio State

Seasons

2006, 2007, 2008, 2009
Post-OSU Update: Ray Small did not play NFL football after leaving Ohio State. He is best known for bringing the Ohio State memorabilia scandal to light, leading to the eventual firing of Jim Tressel. Small has had several drug-related arrests since then, and was sentenced to four years in jail in 2014. (updated: Jun. 2023)
Jersey #: 82 (2008-09), 4 (2007)
Major: Sociology (2009), Human Development & Family Science (2007-08)
Weight: 180 (2008-09), 175 (2006-07)
2009 Media Guide: Speedy senior wide receiver whose efforts can enhance the Buckeye passing game … also a capable return specialist.
2008: ranked in NCAA Top 10 in punt return average … 69-yard punt return for a touchdown along with five catches against Ohio … six catches at USC … pair of catches, including a 13-yard completion on the game-winning drive, and three punt returns in win at Wisconsin … missed the Northwestern and Illinois games … special teams champion: Youngstown State.
2007 Media Guide: Constantly singled out by his teammates as being the next great Ohio State wide receiver.
2006: Saw action in 11 games as a true freshman… eight catches for 68 yards and one touchdown … caught an 11-yard pass against Bowling Green from Troy Smith for the first score of his career … averaged 8.5 yards on his eight receptions.
2006 Media Guide: Ranked Ohio's top all-purpose "athlete" prospect coming out of high school … ranked the No. 7 wide receiver in the nation … is another Glenville standout who could provide footage for the highlight tape much like Ted Ginn Jr. … Ginn Sr., Glenville coach, says Small is the most talented receiver he has coached.
High School: Caught 35 passes for 521 yards and 10 touchdowns as a senior … first-team All-Ohio in 2005 … returned 13 punts for 292 yards and two touchdowns and returned three kickoffs for 270 yards and two touchdowns … rushed 13 times for 175 yards and a TD … collected 24 tackles and seven assists and totaled two interceptions, six pass breakups and a sack … named the league MVP and has been picked to play in the Big 33 Game … had 429 yards receiving and three touchdowns on 33 grabs as a junior and carried the football 26 times for 241 yards and three more scores.
Personal: Son of Kenneth and Veda Small … nickname is Smally … favorite food is French fries … favorite subject is science.
Offense
| Season | Team | G | GS | Rush Att | Rush Yds | Rush Avg | Rush TD | Rec | Rec Yds | Rec Avg | Rec TD | Lng | 2 Pt Conv | Fum | Lost | KR | KR Yds | KR Avg | KR TD | PR | PR Yds | PR Avg | PR TD |
| --- | --- | --- | --- | --- | --- | --- | --- | --- | --- | --- | --- | --- | --- | --- | --- | --- | --- | --- | --- | --- | --- | --- | --- |
| 2006 | Ohio State | 10 | NA | 0 | 0 | 0 | 0 | 8 | 68 | 8.5 | 1 | 36 | 0 | NA | NA | 0 | 0 | 0 | 0 | 0 | 0 | 0 | 0 |
| 2007 | Ohio State | 11 | NA | 4 | 49 | 12.2 | 0 | 20 | 267 | 13.4 | 2 | 60 | 0 | NA | NA | 22 | 391 | 17.8 | 0 | 21 | 153 | 7.3 | 0 |
| 2008 | Ohio State | 11 | NA | 1 | -1 | -1.0 | 0 | 18 | 149 | 8.3 | 0 | 23 | 0 | NA | NA | 0 | 0 | 0 | 0 | 24 | 364 | 15.2 | 1 |
| 2009 | Ohio State | 11 | NA | 4 | 40 | 10.0 | 0 | 15 | 175 | 11.7 | 0 | 38 | 0 | NA | NA | 12 | 324 | 27.0 | 1 | 33 | 273 | 8.3 | 0 |
| Total | - | 43 | 0 | 9 | 88 | 0 | 0 | 61 | 659 | 0 | 3 | 60 | 0 | 0 | 0 | 34 | 715 | 21.0 | 1 | 78 | 790 | 10.1 | 1 |