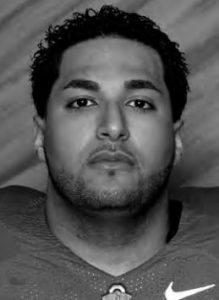 Nationality

United States

Position

DT

Height

6'3

Weight

295

Birthday

10/25/1985

Hometown

Metairie, LA

High School

Archbishop Rummel

Past Teams

Ohio State

Seasons

2004, 2005, 2006, 2007, 2008
Major: Family Resource Management (2007-08)
Weight: 300 (2008), 310 (2006-07), 300 (2005), 295 (2004)
Nickname: Neddy
2008 Media Guide: Heads into the spring as a key component of the defensive front after a productive season … returning starter along with Doug Worthington at defensive tackle … in his fifth year in the program.
2007: Made significant contributions along the defensive line … 19 tackles for season … starter in eight games … sack and three tackles in the Wisconsin win … first-year letterman.
2007 Media Guide: Fourth year in the program … redshirted as a freshman and has seen brief action the last two years … is big, strong and athletic and can play both end and tackle … is a physical presence.
2006: Added depth on the defensive front … saw action in four games vs. Northern Illinois, Texas, Cincinnati and Minnesota.
2006 Media Guide: In his third year in the program … saw brief action in four games last year … hopes to play his way into the rotation this year … is big, strong and athletic and can play both end and tackle … is a physical presence … has shown signs of being ready to step up, but needs to become more consistent … went through a very stressful situation last fall when his family's home in Metairie was destroyed by Hurricane Katrina, forcing the family to move to Columbus with very few belongings … his mother, father and three siblings all lived together in his apartment for a period of time before his family returned to Louisiana in April in hopes of rebuilding their home and starting over.
2005: Played a total of 14 minutes in four games, including six minutes in the opener against Miami (Ohio) … also had appearances against Indiana, Minnesota and Northwestern … lone tackle of the year was an assist against the Redhawks.
2005 Media Guide: Expected to play tackle in the fall … coaches like his combination of size and speed … spent a lot of time in the weight room last year and has improved his strength since coming to Ohio State … should compete for playing time this fall.
2004: Redshirted his freshman season.
High School: One of the top interior defensive line prospects in the nation … has the size and strength to stop the run and the agility to rush the quarterback … rated as the eight best defensive tackle in the country by Prep Football Report … Rivals.com rated him as the 30th best defensive tackle in the nation … as a senior, collected 11 quarterback sacks, 76 tackles, two interceptions and five knockdowns in just eight games … ranked as the nation's 44th best defensive tackle by TheInsiders.com … has shown great closing speed and the ability to split double-teams … played in the U.S. Army All-American game in San Antonio … led Archbishop Rummel to the state playoffs in 2003 and collected four sacks, two batted passes, a fumble recovery and a forced fumble in a hard-fought 7-5 second round loss to Shreveport Evangel … is the first student-athlete from Louisiana to sign with Ohio State since Jonathan Wells.
Personal: Is the son of Youmes and Izzieh Abdallah … has two alligators – Hulio and Ameireh … favorite movie is Scarface … favorite musical artist is Juvenile.
Defense
| Season | Team | G | GS | Tkl | Solo | Asst | TFL | TFL Yds | Sacks | Sack Yds | FF | FR | Int | Int Yds | PBU | Blk | Def TD |
| --- | --- | --- | --- | --- | --- | --- | --- | --- | --- | --- | --- | --- | --- | --- | --- | --- | --- |
| 2005 | Ohio State | 4 | 0 | 1 | 1 | 0 | 0 | 0 | 0 | 0 | 0 | 0 | 0 | 0 | 0 | 0 | 0 |
| 2006 | Ohio State | 4 | 0 | 0 | 0 | 0 | 0 | 0 | 0 | 0 | 0 | 0 | 0 | 0 | 0 | 0 | 0 |
| 2007 | Ohio State | 13 | NA | 19 | 8 | 11 | 3.0 | 9 | 1.0 | 5 | 0 | 0 | 0 | 0 | 0 | 0 | 0 |
| 2008 | Ohio State | 13 | NA | 33 | 12 | 21 | 6.0 | 21 | 1.0 | 11 | 0 | 1 | 0 | 0 | 4 | 0 | 0 |
| Total | - | 34 | NA | 53 | 21 | 32 | 9 | 30 | 2 | 16 | 0 | 1 | 0 | 0 | 4 | 0 | 0 |