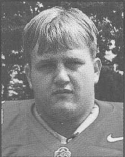 Nationality

United States

Position

DT

Birthday

1/19/1978

Hometown

Newark, OH

High School

Newark

Height

6'4"

Weight

290

Current Team

Ohio State

Seasons

1997, 1998, 1999, 2000, 2001
Post-OSU Update: Mike Collins was not selected in the 2001 NFL Draft and did not play in the NFL. After Ohio State, he has worked extensively in the criminal justice industry. (updated: Apr. 2022)
Major: Sociology (1999-01), Undeclared (1997-98)
Jersey #: 98 (1998-01), 70 (1997)
Weight: 290 (1998-01), 270 (1997)
2001 Media Guide: Co-captain and All-America and Lombardi Award candidate … big, strong, physical player who runs well and gives tremendous effort on every play … will be in his third year as a starter and is a veteran of 34 games … has led the defensive line in tackles each of the past two years and is a force in the middle … teamed with Ryan Pickett last year to give the Buckeyes one of the top defensive tandems in the Big Ten … Honorable Mention All-Big Ten each of the past two years … great personality with a ready smile, but all competitor once he steps between the lines.
2000 Season: Finished the season with 46 tackles, including five tackles-for-loss and three sacks … played more of a nose guard position and was constantly double-teamed … scored the second touchdown of his collegiate career against Penn State, scooping up a fumble and returning it 11 yards … led OSU in tackles at Iowa with a career-high nine.
2000 Media Guide: When Mike Collins arrived at Ohio State prior to the 1998 season, the preseason two-deep described him as a player that would "push for playing time." Just 24 months later he is already a veteran of 22-consecutive games and 11-consecutive starts at defensive tackle. That indicates the progress he's made in just two short seasons. Collins will enter 2000 primed to emerge as one of the top defensive lineman in the Big Ten and will team up with tackle Ryan Pickett to form one of the most formidable inside run-stopping tandems in the country. Although he's known for his superior strength and toughness, defensive tackles coach Jim Heacock says there's more to Mike Collins than bulging muscles. "He's a strong, physical player but he runs well, too," Heacock said. "He gets sideline to sideline pretty well for as big as he is." All-Big Ten honorable mention by the media last season, Collins is a mainstay for the Ohio State defense.
1999: Played in 12 games and started the last 11 at defensive tackle … led all defensive tackles and tied for sixth on the team with 56 tackles (35 solos, 21 assists) … one of only three players on the team (the others being the departed Na'il Diggs and James Cotton) with at least 11 tackles-for-loss and three sacks … played 272 minutes, the most among defensive tackles and the second most among all defensive lineman … made a season-high seven stops against Penn State, including four tackles-for-loss – just one shy of the school record … made six tackles against Miami, Cincinnati, Wisconsin and Michigan.
1999 Media Guide: Mike Collins is a force off the bench along the defensive line. This talented, physical and strong sophomore will battle for more playing time this fall. He knocked enough people around last fall to record 23 tackles, the second-most among OSU defensive lineman. Collins was honored for his fine play by being named co-outstanding freshman defensive player of the year. "Mike had a good first year," tackles coach Jim Heacock said. "He is strong, extremely strong, and we expect him to get better as he picks up the defensive schemes."
1998: Collins enrolled in school in January and participated in spring drills. He played in 10 of 12 games, missing the Minnesota and Iowa games because of a sore back. Displayed a nose for the football and end zone when he intercepted an Iowa pass at the line and rumbled 22-yards for a touchdown, giving OSU a 21-7 lead.
1998 Media Guide: Enrolled at Ohio State this spring and was very impressive in spring drills, climbing to No. 2 on the depth charts at one tackle position … coaches expect him to push for
playing time … tackles coach Jim Heacock says Mike has "a degree of toughness to him … he really helped himself by picking up the defensive schemes quickly."
1997 Media Guide: Strong, aggressive defensive lineman who will get a look because of the lack of depth at nose guard … totaled 95 tackles with six sacks, two fumbles caused and two fumbles recovered as a senior … Associated Press first-team All-State Defense (Division I) … played in the 1997 Ohio-Pennsylvania Big 33 Classic … son of Mike Sr. and Tammy Collins … born 1-19-78.
Defense
| Season | Team | G | GS | Tkl | Solo | Asst | TFL | TFL Yds | Sacks | Sack Yds | FF | FR | Int | Int Yds | PBU | Blk | Def TD |
| --- | --- | --- | --- | --- | --- | --- | --- | --- | --- | --- | --- | --- | --- | --- | --- | --- | --- |
| 1998 | Ohio State | 10 | 0 | 23 | 15 | 8 | 6 | 16 | 3 | 11 | 0 | 0 | 1 | 22 | 0 | 0 | 1 |
| 1999 | Ohio State | 12 | 11 | 56 | 36 | 20 | 11 | 34 | 4 | 24 | 1 | 0 | 0 | 0 | 0 | 0 | 0 |
| 2000 | Ohio State | 12 | 12 | 46 | 27 | 19 | 5 | 20 | 3 | 17 | 0 | 1 | 0 | 0 | 0 | 0 | 1 |
| 2001 | Ohio State | 12 | 12 | 29 | 23 | 6 | 3 | 11 | 1 | 6 | 1 | 0 | 0 | 0 | 0 | 0 | 0 |
| Total | - | 46 | 35 | 154 | 101 | 53 | 25 | 81 | 11 | 58 | 2 | 1 | 1 | 22 | 0 | 0 | 2 |