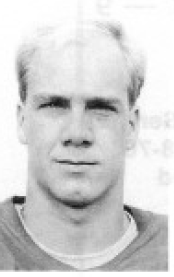 Nationality

United States

Position

QB

Birthday

1/29/1968

Hometown

Cincinnati, OH

High School

St. Xavier

Height

6'2"

Weight

195

Current Team

Ohio State

Seasons

1986, 1987, 1988, 1989, 1990
Post-OSU Update: Greg Frey did not play professional football after leaving Ohio State. He is a financial representative at Fortegic and has a long-running youth quarterback training company called QB One. Frey also provides color commentary for OHSAA football games on Spectrum News 1. (updated: Dec. 2022)
Pronunciation: Fry
Major: English (1988-90)
Weight: 195 (1988-90), 184 (1986)
1990 Media Guide: Veteran, poised quarterback who returns for his third year as a starter … led the conference and was 10th nationally in passing efficiency last year with a rating of 145.7 … won second team all-Big Ten honors in 1989 … good leader and a heady player, who makes good decisions and has the ability to audible out of a bad play … control-type passer … has started every game the past two years … career totals are 4,254 yards passing and 21 touchdowns … ranks fourth on the OSU career passing chart and could jump up into second place this year … another 2,000-yard season would make him the first Ohio State signal caller ever to throw for that figure three years in a row … skipped practice last spring and played baseball, starting in left field and hitting .293.
1989: Completed 59 percent of his passes, good for 2,132 yards and 13 touchdowns … yardage total is the fourth highest one-season total in Ohio State history … top game was 362 yard, 3-TD effort at Minnesota in which he rallied OSU from a 31-0 deficit to a stirring 41-37 victory… also threw for 200 or more yards against Oklahoma State (285), Boston College (252), Michigan (220) and Auburn (232).
1989 Media Guide: Beginning his second year as OSU's starting signal caller … drop back passer, who can also throw on the run … heady player who makes good decisions and moves the team … has a good understanding of the OSU offense and showed improvement in the spring in taking when the defense gives him instead of forcing the ball … played much of last year with a tendinitis condition in his throwing arm but still put up some impressive numbers.
1988: Started all 11 games and threw for 2,028 yards, the fifth highest one-season total in Ohio State history … connected on 152 of 293 passes for a completion percentage of .519 … passed for eight touchdowns and ran for two others … threw for 200 or more yards four times, with a high of 281 against LSU … hit 24 of 37 passes against LSU, including the game winner with 38 seconds left … had touchdown passes in eight of the 11 games … 1,994 yards in total offense.
1988 Media Guide: Solidified his position as the starting quarterback with a strong spring … has quickly grasped the new offense … impressed the coaches in the spring with his ability to move the team … voted the most improved offensive player at the end of spring drills last April.
1987: Understudied Tom Tupa and played sparingly in six games … came off the bench at Michigan to hit a critical third-down pass that kept OSU's game-winning drive alive.
1987 Media Guide: Fundamentally sound and a good technician.
1986: Redshirted.
HIGH SCHOOL: Ohio Back-of-the-Year and Cincinnati Player-of-the Year as a senior … named to several prep All-American teams as a senior … threw for 2,970 yards and 28 touchdowns as a senior … career figures were 47 TDs and 4,702 yards … completed 28 of 55 passes for 487 yards and four touchdowns against Cincinnati Moeller as a senior … two-time Cincinnati Player-of-the-Year in baseball.
PERSONAL: Hobby is golf … favorite food is shrimp … admires Michael Jordan and Doug Flutie … favorite actor is Bill Murray.
Offense
| Season | Team | G | GS | Comp | Pass Att | Cmp % | Pass Yds | Pass TD | Pass Int | Skd | Skd Yds | Rush Att | Rush Yds | Rush Avg | Rush TD | Tgt | Rec | Rec Yds | Rec TD | Lng | 2 Pt Conv | Fum | Lost | FR |
| --- | --- | --- | --- | --- | --- | --- | --- | --- | --- | --- | --- | --- | --- | --- | --- | --- | --- | --- | --- | --- | --- | --- | --- | --- |
| 1987 | Ohio State | 6 | 0 | 8 | 20 | 40.0 | 94 | 0 | 2 | 2 | -6 | 5 | 5 | 1.0 | 0 | NA | 0 | 0 | 0 | 8 | 0 | 0 | 0 | 0 |
| 1988 | Ohio State | 11 | 11 | 152 | 293 | 51.9 | 2028 | 8 | 13 | 18 | -125 | 60 | -34 | -0.6 | 2 | NA | 1 | 22 | 0 | 22 | 0 | 10 | 4 | 3 |
| 1989 | Ohio State | 12 | 12 | 144 | 246 | 58.5 | 2132 | 13 | 8 | 16 | -149 | 51 | -92 | -1.8 | 2 | 0 | 0 | 0 | 0 | 21 | 0 | 5 | 2 | 0 |
| 1990 | Ohio State | 12 | 12 | 139 | 276 | 50.4 | 2062 | 16 | 17 | 11 | -49 | 33 | -69 | -2.1 | 1 | 1 | 1 | 60 | 1 | 60 | 0 | 8 | 3 | 1 |
| Total | - | 41 | 35 | 443 | 835 | 53.1 | 6316 | 37 | 40 | 47 | -329 | 149 | -190 | -1.3 | 5 | NA | 2 | 82 | 1 | 60 | 0 | 23 | 9 | 4 |