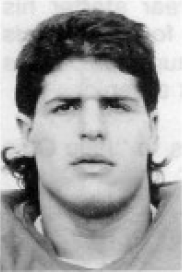 Nationality

United States

Position

ILB

Height

6'1"

Weight

225

Birthday

1/10/1970

Hometown

Bainbridge, OH

High School

Kenston

Current Team

Ohio State

Seasons

1988, 1989, 1990, 1991
Major: Marketing (1991), Undecided (1990), Engineering (1989)
Weight: 225 (1990-91), 215 (1989), 212 (1988)
1991 Media Guide: The Buckeyes' most experienced inside linebacker … has played in all 32 games the past three years and has 12 starts (all in 1989) to his credit … will contend with Tom Lease for the inside spot opposite Steve Tovar … OSU's No. 3 linebacker last fall, finishing with 38 tackles … top showing was eight tackles against Wisconsin … also had a team-high six stops against Northwestern … had his second career interception in last year's season opener against Texas Tech … not real big as linebackers go, but tough and very competitive … has worked hard to condition himself for the rigors of Big Ten football.
1990 Media Guide: Thrust into a starting role last year when Andy Gurd underwent surgery … started all 12 games and finished third on the team in tackles with 65 … OSU's leading returning tackler … will compete with Gurd and Tom Lease for a starting spot this year … aggressive player who runs to the ball well … bothered by neck stingers much of last year and coaches would like to see him add 10-15 pounds to help alleviate that problem … played at the same high school as Gurd.
1989: Career high 13 tackles at Illinois … interception against Indiana set up an OSU TD in key 35-31 win.
1989 Media Guide: Played in eight games last year, one of just three true freshman to see action … an aggressive player with outstanding ability who will improve with experience … coaches would like to see him add 10-15 pounds and become more physical … moved from the weak to the strong side late in the spring and adapted very well.
1988: Wound up his rookie campaign with 16 tackles, including 12 solos … top game was four tackles at Pittsburgh.
HIGH SCHOOL: Consensus All-American and all-Ohio as a senior … had 180 tackles as a senior and 578 during his career … totaled an incredible 279 tackles as a junior, believed to be a national high school single-season record … Kenston advanced to the state finals his junior year, losing in the championship game to Carlos Snow's Cincinnati Academy of Physical Education … hobbies include skiing and hunting … career objective is either coaching or sports marketing.
Defense
| Season | Team | G | GS | Tkl | Solo | Asst | TFL | TFL Yds | Sacks | Sack Yds | FF | FR | Int | Int Yds | PBU | Blk |
| --- | --- | --- | --- | --- | --- | --- | --- | --- | --- | --- | --- | --- | --- | --- | --- | --- |
| 1988 | Ohio State | 8 | 0 | 16 | 12 | 4 | 2.0 | 2 | 0 | 0 | 0 | 0 | 0 | 0 | 0 | 0 |
| 1989 | Ohio State | 12 | 12 | 65 | 36 | 29 | 3.0 | 4 | 0 | 0 | 1 | 1 | 1 | 40 | 0 | 0 |
| 1990 | Ohio State | 11 | 0 | 38 | 17 | 21 | 1 | 1 | 0 | 0 | 0 | 0 | 1 | 29 | 2 | 0 |
| 1991 | Ohio State | 12 | 10 | 67 | 38 | 29 | 13.5 | 47 | 3 | 24 | 0 | 1 | 0 | 0 | 0 | 0 |
| Total | - | 43 | 22 | 186 | 103 | 83 | 19.5 | 54 | 3 | 24 | 1 | 2 | 2 | 69 | 2 | 0 |