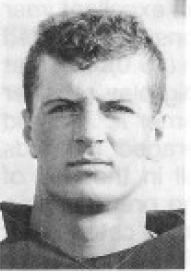 Nationality

Ireland

Position

ILB

Birthday

3/27/1969

Hometown

Chagrin Falls, OH

High School

Kenston

Height

6'3"

Weight

230

Current Team

Ohio State

Past Teams

Ohio State

Seasons

1987, 1988, 1989, 1990, 1991
Post-OSU Update: Andy Gurd completed post-graduate work from Kent State and Ohio State after finishing his undergraduate work. He began a business career in sales and has had a broad array of positions, ranging from education to partner at a business consulting firm (his current role). Gurd has also had several positions for Ohio State, such as the Chief Advancement Officer for the College of Food, Agricultural, and Environmental Sciences – read more. (updated: Nov. 2022)
Major: Military History (1991), Psychology (1990), Medicine (1989), Veterinary Medicine (1988)
Weight: 230 (1991), 215 (1987)
1991: Media Guide: Tough-luck player who has been plagued by shoulder injuries for the better part of the last three years … will move to the outside this year to reduce the wear and tear on his shoulder, which has been operated on four times since 1988 … penciled in as a starter in each of the past three years, but has played in just five games in that span because of his shoulder … doctors have suggested he would be better off giving up the game, but he has steadfastly refused … played one minute against Minnesota last year, his only appearance of the regular season, but then came off the bench to record nine tackles against Air Force in the Liberty Bowl.
1990: Media Guide: Missed the final eight games of the 1988 season and all of last year because of a shoulder injury … two operations in 1988 did not solve the problem and necessitated a more radical procedure prior to the start of last year … was permitted to take part in non-contact drills during the spring … hopes to be able to make a comeback this year and challenge for a starting spot on the inside …. his return would greatly bolster the OSU defense … healthy, he has the ability to be an impact football player … very intelligent player with a nose for the football.
1989: Underwent his third shoulder operation in early September and sat out the entire year.
1988: A starter for three games before suffering a shoulder injury … had nine tackles against both Pitt and LSU.
1988 Media Guide: A likely starter … extremely intelligent player … coaches would like him to add weight … missed the spring game with a pinched nerve in his shoulder (stinger).
1987: Played in all 11 games and had starts against Wisconsin and lowa … finished the season with 37 tackles.
HIGH SCHOOL: Played fullback and linebacker … started all three years as a linebacker … had 136 tackles his senior year and 291 over a three year period … led Kenston to the playoffs and had four touchdowns in the two games … missed three games as a senior with a broken arm … won nine high school letters, three each in football, basketball and baseball.
PERSONAL: Born in Belfast, Ireland … moved to the United States when he was eight years old … enjoys all outdoor sports … top football thrill came when his Kenston High team advanced to the state finals his senior year … both of his parents are orthopedic surgeons … his father played rugby and his mother played field hockey at Queens University … nickname is Goose.
Defense
| Season | Team | G | GS | Tkl | Solo | Asst | TFL | TFL Yds | Sacks | Sack Yds | FF | FR | Int | Int Yds | PBU |
| --- | --- | --- | --- | --- | --- | --- | --- | --- | --- | --- | --- | --- | --- | --- | --- |
| 1987 | Ohio State | 11 | 2 | 37 | 17 | 20 | 3 | 13 | 1 | 8 | 0 | 1 | 0 | 0 | 0 |
| 1988 | Ohio State | 3 | 3 | 26 | 13 | 13 | 1.0 | 1 | 0 | 0 | 0 | 0 | 0 | 0 | 2 |
| 1990 | Ohio State | 2 | 0 | 9 | 4 | 5 | 1 | 2 | 0 | 0 | 0 | 0 | 0 | 0 | 0 |
| 1991 | Ohio State | 11 | 3 | 19 | 11 | 8 | 2 | 10 | 1 | 9 | 0 | 0 | 0 | 0 | 1 |
| Total | - | 27 | 8 | 91 | 45 | 46 | 7 | 26 | 2 | 17 | 0 | 1 | 0 | 0 | 3 |