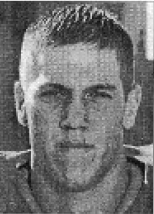 Nationality

United States

Position

OT, DT

Height

6'7"

Weight

285

Birthday

3/5/1977

Hometown

Tucson, AZ

High School

Catalina Foothills

Current Team

Ohio State

Seasons

1996, 1997, 1998, 1999, 2000
Post-OSU Update: Joe Brown was undrafted in the 2001 NFL Draft, but was signed by Seattle and an undrafted free agent. Brown played two games with the Seahawks in 2001. In 2003, he left his NFL career and joined Army as a special ops soldier. He was twice deployed to Iraq, once in 2005 and again in 2007. His Army career ended after fall suffered in an airstrike that injured his leg and left him with a severe head injury, resulting in internal bleeding. After a year of rehab, Brown was able to continue life as a civilian. He tried coaching, but found it sacrificed too much of his family time. After coaching, Brown found a career in parks and recreation. (updated: Apr. 2022)
Major: Communications (1998-00), Unknown (1996-97)
Weight: 285 (1998-00). 265 (1997), 250 (1996)
2000 Media Guide: Joe Brown moves from tackle to end this year. Now all he needs is a little luck. He entered the 1998 season as a starter and the leader of the defensive line before breaking his left thumb in a fall scrimmage. He was able to play but the injury nagged Brown the entire season. In 1999 the injury bug struck again, this time in the form of shoulder problems. But the 2000 version of Joe Brown is healthy, quicker, leaner and ready to return to the dominant form he has shown in the past. Brown is an extremely strong, physical player at the line of scrimmage. He's also one of the team's better pass rushers. "The thing about him is that he was injured all last year and probably shouldn't even been playing," Jim Heacock, Ohio State's defensive line coach, said. "When he's healthy, he is very effective. He's got the ability to make some big plays."
1999: Played in all 12 games, starting one … made 17 tackles, including 10 solos … collected four tackles-for-loss and one sack … lone start came in the season opener against Miami … season high for tackles was three against Penn State … had two or more tackles in five games.
1999 Media Guide: Joe Brown doesn't mess around. He simply gets the job done with a combination of quickness, physical strength and technique. A veteran of 25 games with 17 starting assignments, he has become an anchor along the defensive line and among the defensive tackles. And a huge one at that, at 6-6 and 285 pounds. The 1999 season should prove to be Brown's best. There are plenty of quality young tackles in the program eager to play and Joe is responding to all challengers. He also won't have to play in pain, like last year, when a broken left thumb and subsequent metal plate caused him to play through a great deal of adversity for the majority of the season. "The fact that Joe played through the injury was very positive," tackles coach Jim Heacock said. "He has worked himself into becoming a great football player." Brown enters his junior campaign with 44 career tackles, eight tackles-for-loss and three quarterback sacks.
1998: Managed to start every game at defensive tackle, despite playing with a broken left thumb. On a balanced defensive unit that was first nationally against the rush, he had high games of five tackles vs. Michigan State and four vs. Penn State. Had six tackles behind the line of scrimmage in six different games, including sacks vs. Penn State and Texas A&M.
1998 Media Guide: Talented young player who is expected to start at defensive tackle this year … very active … came into his own last year, playing particularly well from the Missouri game on … has gained through experience and Jim Heacock expects Joe to be "even more of a playmaker now that he has experience" … strong, physical player who can get off a block and make the tackle … one of the Buckeyes' quickest defensive linemen … has a great work ethic.
1997: Played in all 13 games as a second-year freshman and started five of the last seven games .. .broke into the starting lineup against Indiana … his play late in the season was a key factor in
the overall improvement of the OSU defense … finished the season with 23 total tackles, including two for loss and a sack, the latter coming on the first play of the Minnesota game to set the stage for a strong defensive effort by the Buckeyes … top game in terms of total tackles was four against Indiana.
1997 Media Guide: Highly thought of young player who was redshirted last year and is eagerly anticipating his first opportunity to play … big, strong and physical … should be a solid backup for Winfield Garnett .. can also play nose guard and could figure in that rotation … coming off a solid spring and has the makings of a very good player … coaches really like his work ethic.
High School: All-state, all-region and all-city as a senior offensive and defensive lineman at Catalina Foothills High School … A second team All-America selection by Bluechip Illustrated and rated the 14th best defensive lineman in the west … Foothills did not field a varsity football team until his junior year, and the team responded with the best first-year varsity record in Tucson in 30 years (4-6) … Lettered three times in football and basketball … Was on the honor roll the first two semesters of his senior year with a 3.50 grade point.
Personal: Both parents attended Ohio State … Chose Ohio State because "'it's the best place in the world to play football"… Is undecided on his major… Has one sister and one stepbrother … was born in Columbus … Full name is Joseph Warren Brown.
Offense
| Season | Team | G | GS | FR |
| --- | --- | --- | --- | --- |
| 1997 | Ohio State | 13 | 5 | 1 |
| 1998 | Ohio State | 12 | 0 | 0 |
| 1999 | Ohio State | 12 | 1 | 0 |
| 2000 | Ohio State | 12 | 1 | 0 |
| Total | - | 49 | 7 | 1 |
Defense
| Season | Team | G | GS | Tkl | Solo | Asst | TFL | TFL Yds | Sacks | Sack Yds | FF | FR | Int | PBU |
| --- | --- | --- | --- | --- | --- | --- | --- | --- | --- | --- | --- | --- | --- | --- |
| 1997 | Ohio State | 13 | 5 | 23 | 15 | 8 | 2 | 9 | 1 | 0 | 7 | 1 | 0 | 1 |
| 1998 | Ohio State | 12 | 0 | 21 | 12 | 9 | 6 | 23 | 2 | 10 | 0 | 0 | 0 | 1 |
| 1999 | Ohio State | 12 | 1 | 17 | 10 | 7 | 4 | 21 | 1 | 8 | 0 | 0 | 0 | 0 |
| 2000 | Ohio State | 12 | 1 | 8 | 2 | 6 | 2 | 12 | 1 | 8 | 0 | 0 | 0 | 1 |
| Total | - | 49 | 7 | 69 | 39 | 30 | 14 | 65 | 5 | 26 | 7 | 1 | 0 | 3 |