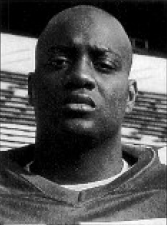 Nationality

United States

Position

NG, DT, DE, OLB

Birthday

11/20/1973

Hometown

Liberty, OH

High School

Ursuline

Height

6'5"

Weight

251

Current Team

Ohio State

Seasons

1992, 1993, 1994, 1995, 1996, 1997
Major: Criminology (1994-97), Undecided (1993), Unknown (1992)
Weight: 270 (1997), 255 (1996), 251 (1994-95), 241 (1993), 230 (1992)
1997 Media Guide: Goes into his senior year hoping to nail down a starting job at nose guard … has been a solid reserve throughout his career and worked hard during the offseason to get himself ready for his final year … moved from end to tackle last year and played behind Winfield Garnett … appeared in nine games, including the Rose Bowl, and finished the season with seven tackles, six of which were solos … recorded his first career tackle for loss in the Buckeyes' 45-0 win over Minnesota … two tackles each against Purdue, Minnesota and Illinois were his top efforts … logged 39 minutes last year, compared to just 16 total minutes his first two years combined.
1996 Media Guide: Reserve defensive lineman who has played both end and nose guard the past two years and now moves to tackle … was moved to the latter spot in the spring in an effort to find a backup for Winfield Garnett and develop some overall depth … had a good spring and impressed the coaches with his effort … has just 16 minutes of career playing time and no career tackles, but that could change this year … was a very sought after high school player, but a basketball knee injury has hampered his development in college … began last season as an end, but was moved to nose guard midway through the year in an effort to shore up the depth at that position … saw limited action in three games (Pittsburgh, Purdue and lowa) … total playing time last year was six minutes.
1995 Media Guide: Physically imposing young player whose collegiate career has been slowed by a knee injury suffered while playing basketball in high school … had reconstructive surgery on the knee (his right) in 1993 and was redshirted that year … began his comeback bid last year and played in his first two collegiate games, logging eight minutes against Houston and two against Purdue … waltzed through spring practice without missing a beat and should be at his physical best in the fall … plays behind Matt Finkes.
1994 Media Guide: Good young prospect who was redshirted last year after undergoing reconstructive surgery on his right knee … coaches will give him a long look this fall to see what he can do … suffered his knee injury while playing basketball as a high school senior and, as a result, did not enroll at Ohio State until Winter Quarter of 1993 … big, strong athlete who can run … an unknown at this point, but the OSU coaching staff believes he can be a contributor … showed substantial improvement during the spring.
1993: Redshirted.
1993 Media Guide: Was to have enrolled last fall, but a preseason knee injury, incurred while playing basketball, delayed his enrollment until Winter Quarter of 1993 … has recovered from reconstructive surgery on the knee (his right), but probably will be redshirted this year … big, strong athlete who can run … should be an excellent defensive end, but could also play linebacker.
1992 Media Guide: An honorable mention All-America selection by Street & Smith's, an all-Ohio and all-Steel Valley Conference pick … recorded 54 total tackles as a senior with three quarterback sacks … graded out at 88 percent blocking efficiency on offense and caught eight passes from his tight end position … had 64 tackles as a junior when he also played tight end … was a team captain as a senior … also was a basketball center at Ursuline and ran the hurdles one year … high school coach was Dick Angle … played in the Ohio High School North-South All-Star Game … mother is a detective in Youngstown … plans to major in either business or political science … career goal is to become an attorney … born 11-20-73.
Defense
| Season | Team | G | GS | Tkl | Solo | Asst | TFL | TFL Yds | Sacks | Sack Yds | FF | FR |
| --- | --- | --- | --- | --- | --- | --- | --- | --- | --- | --- | --- | --- |
| 1994 | Ohio State | 2 | 0 | 0 | 0 | 0 | 0 | 0 | 0 | 0 | 0 | 0 |
| 1995 | Ohio State | 3 | 0 | 0 | 0 | 0 | 0 | 0 | 0 | 0 | 0 | 0 |
| 1996 | Ohio State | 9 | 0 | 7 | 6 | 1 | 1 | 1 | 0 | 0 | 0 | 0 |
| 1997 | Ohio State | 13 | NA | 32 | 20 | 12 | 6 | 34 | 5 | 30 | 1 | 1 |
| Total | - | 27 | 0 | 39 | 26 | 13 | 7 | 35 | 5 | 30 | 1 | 1 |