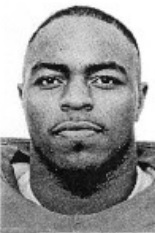 Nationality

United States

Position

TB

Height

6'0"

Weight

215

Birthday

6/18/1967

Hometown

Harrisburg, PA

High School

Bishop McDevitt

Current Team

Ohio State

Seasons

1986, 1987, 1988, 1989
Major: Communications (1987-89)
Weight: 215 (1989), 221 (1988), 214 (1987)
1989 Media Guide: Jaymes Bryant is a solid utility back who can play either running back position … expected to back up Carlos Snow at tailback this year … good north-south runner … has inside power and breakaway speed … has started 10 games the past three years, all at tailback, and has rushed for a total of 1,214 yards and eight touchdowns.
1988: Began the year at fullback, but moved to tailback when injuries left the Buckeyes shorthanded at the latter position … played in 10 games and started the Michigan State and Iowa games … carried the ball 52 times for 245 yards … 4.7 yards per carry paced the OSU running backs … top game was 98 yards at Indiana … averaged 22.8 yards per kick return on four chances.
1988 Media Guide: Has played tailback the past two years, but asked in the spring to move to fullback … starts the year behind the more experienced Bill Matlock … has started eight games the past two seasons and has 969 career yards … an excellent inside runner with good speed … has the potential to be an excellent fullback.
1987: Played in nine games with three starts … top game was 77 yards at Purdue.
1986: Made an impressive debut by rushing for 656 yards (the second highest total ever by an OSU freshman behind only Archie Griffin) and topping the 100-yard mark three times … top game was 145-yard effort against Utah … started five times.
High School: All-Pennsylvania and All-America as a senior … ran for more than 1,300 yards as a senior, helping McDevitt to an 11-1 record … returned a punt 98 yards as time ran out to win a high school game … started all four years at tailback.
Personal: Hobby is poetry … nickname is Dance.
Offense
| Season | Team | G | GS | Comp | Pass Att | Pass TD | Pass Int | Rush Att | Rush Yds | Rush Avg | Rush TD | Rec | Rec Yds | Rec Avg | Rec TD | Lng | Fum | Lost |
| --- | --- | --- | --- | --- | --- | --- | --- | --- | --- | --- | --- | --- | --- | --- | --- | --- | --- | --- |
| 1986 | Ohio State | 12 | 5 | 0 | 0 | 0 | 0 | 141 | 656 | 4.6 | 3 | 5 | 34 | 6.8 | 0 | 33 | 3 | 3 |
| 1987 | Ohio State | 9 | 3 | 0 | 0 | 0 | 0 | 86 | 313 | 3.6 | 3 | 4 | 23 | 5.8 | 0 | 35 | 2 | 0 |
| 1988 | Ohio State | 10 | 2 | 0 | 0 | 0 | 0 | 52 | 245 | 4.7 | 2 | 0 | 0 | 0 | 0 | 26 | 0 | 0 |
| 1989 | Ohio State | 9 | 0 | 0 | 1 | 0 | 1 | 34 | 186 | 5.5 | 1 | 4 | 69 | 17.3 | 1 | 63 | 0 | 0 |
| Total | - | 40 | 10 | 0 | 1 | 0 | 1 | 313 | 1400 | 4.5 | 9 | 13 | 126 | 9.7 | 1 | 63 | 5 | 3 |