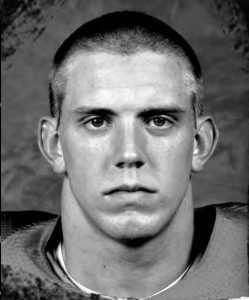 Nationality

United States

Position

MLB

Birthday

12/3/1986

Hometown

Hamel, MN

High School

Wayzata

Height

6'3"

Weight

244

Past Teams

Ohio State

Seasons

2005, 2006, 2007, 2008
Post-OSU Update: James Laurinaitis was the 35th overall pick (2nd round) in the 2009 NFL Draft by the Saint Louis Rams. Laurinaitis played eight years in the NFL, starting all but two games (117 games played). He compiled 871 tackles, 16.5 sacks, and ten interceptions. In 2022, Laurinaitis began a collegiate coaching career as an assistant linebacker coach for Marcus Freeman at Notre Dame. In 2023, he is the assistant linebacker coach for Ohio State. (updated: Jun. 2023)
Major: Communication (2008), Business (2006-07)
Weight: 240 (2008), 244 (2006-07), 231 (2005)
2008 Media Guide: Returning All-American, Butkus and Nagurski Award recipient … the most proficient linebacker in the college ranks today … smart, instinctive player who studies every facet of the game … exceptional dedication in the weight room and on the practice field … wants to make his senior season his best yet.
2007: All-America linebacker and Butkus Award winner … Big Ten defensive player of the year … Nagurski, Lombardi, Bednarik, Lott, Walter Camp player of the year finalist … first team All-America (Walter Camp, FWAA, AFCA, Sporting News, AP, Rivals) … led team with 121 tackles … first team all-Big Ten … voted team captain … 25 career starts … pair of interceptions at Washington … 14 tackles at Minnesota … 12 tackles against Michigan State … career-best 19 tackles in Wisconsin win, along with two TFL and a fumble recovery … 12 tackles vs. Illinois … BCS championship game record 18 tackles vs. LSU … defensive player of week: Youngstown State, Akron … Attack Force award: Washington, Minnesota, Wisconsin … special teams dog tags: Wisconsin … Big Ten player of week: Washington, Wisconsin … Bill Willis award for defensive MVP … Big Ten all-academic.
2007 Media Guide: A returning All-American and Nagurski Award recipient … will be a candidate for more postseason honors in 2007.
2006: Won the 2006 Nagurski Award as the nation's best defensive player … was a finalist for the Butkus and Bednarik awards as a true sophomore… first-team All-Big Ten … named a Walter Camp All-America and also by the Football Writers Association of America … started all 13 games at the middle linebacker spot … led the Buckeyes with 115 tackles, including 53 solo stops … returned first career interception 25 yards in a 24-7 win at No. 2 Texas.
2006 Media Guide: Lettered in 2005 as a true freshman … gradually worked his way up the depth chart to the No. 2 spot behind senior Bobby Carpenter on the strong side … played almost the entire Michigan game after Carpenter suffered a broken ankle on the first play of that contest … started the bowl game against Notre Dame and heads into fall as the projected starter at Carpenter's vacated spot … has added 10 pounds and has significantly increased his strength since last year … is a smart football player with excellent speed and has a very bright future with the Buckeyes.
2005: Played in all 12 games and had nine total tackles … his lone tackle at Michigan came on the final play of the game and helped preserve OSU's 25-21 win at Ann Arbor … two tackles at Minnesota (his home state) was his top effort of the year statistically.
High School: Named Minnesota's Defensive Mr. Football as a senior … rated the 28th-best inside linebacker in the nation by Rivals.com … ranked the top linebacker and No. 4 overall prospect in the state of Minnesota by Rivals.com … timed at 4.7 seconds in the 40-yard dash … collected 193 tackles, including 28 for loss, as a senior after totaling more than 160 tackles as a junior … led Wayzata to the Minnesota 5A state championship game as a senior … added five quarterback sacks and seven QB hurries as a senior … is the first scholarship player from Minnesota to play for the Buckeyes since Sid Gillman (1930-33, captain in 1933) … also a hockey standout and was elected team captain of the squad as a senior … played for Brad Anderson.
Personal: Is the son of Joe and Julie Laurinaitis … father was a popular professional wrestler in the 1980s and 1990s known at "the Animal" … likes to read the Bible before games … favorite actress is Jessica Biel … favorite former Buckeye is Andy Katzenmoyer … favorite cartoon character is Shrek … favorite American from history is George Washington.
Defense
| Season | Team | G | GS | Tkl | Solo | Asst | TFL | TFL Yds | Sacks | Sack Yds | FF | FR | Int | Int Yds | PBU | Blk | Def TD |
| --- | --- | --- | --- | --- | --- | --- | --- | --- | --- | --- | --- | --- | --- | --- | --- | --- | --- |
| 2005 | Ohio State | 12 | 0 | 9 | 3 | 6 | 0.5 | 0 | 0 | 0 | 0 | 0 | 0 | 0 | 0 | 0 | 0 |
| 2006 | Ohio State | 13 | NA | 115 | 53 | 62 | 8.5 | 44 | 1.0 | 10 | 3 | NA | 5 | 56 | 2 | 0 | 0 |
| 2007 | Ohio State | 13 | NA | 121 | 51 | 70 | 8.5 | 34 | 5.0 | 29 | 0 | 1 | 2 | 16 | 1 | 0 | 0 |
| 2008 | Ohio State | 13 | NA | 130 | 52 | 78 | 7.0 | 34 | 4.0 | 28 | 1 | 0 | 2 | 0 | 4 | 0 | 0 |
| Total | - | 51 | 0 | 375 | 159 | 216 | 24.5 | 112 | 10 | 67 | 4 | 1 | 9 | 72 | 7 | 0 | 0 |