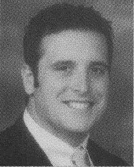 Nationality

United States

Position

FB, ILB

Height

6'1"

Weight

235

Birthday

4/22/1980

Hometown

Cypress, CA

High School

Kennedy

Current Team

Ohio State

Seasons

2000, 2001, 2002
Major: Communication (2001-02), Undeclared (2000)
Weight: 235 (2000-02)
2002 Media Guide: Jack Tucker is a backup fullback and member of the special teams … came to Ohio State as a linebacker after two impressive years in junior college, but was shifted to his present position midway through the 2001 campaign when injuries took a toll at fullback.
2001 Season: Played briefly in four games.
2001 Media Guide: Jack Tucker is a reserve linebacker who transferred from Cerritos College to Ohio State in January of 2000 … played well the following spring and was challenging for a starting spot before suffering a fractured left clavicle in fall camp that ended his season before it started … made several attempts at a comeback, but the injury just did not respond as quickly as he had hoped … did play on a limited basis this past spring and should be healthy heading into the fall … was a standout player during his two years at Cerritos.
2000 Season: Was competing with Jason Ott for playing time and possibly a starting position, but fractured his clavicle Aug. 22 and missed the entire year including the bowl game.
2000 Media Guide: California native Jack Tucker likes to surf, but his attitude on the playing field is anything but laid back. After spending two years at Cerritos College in Norwalk, Calif., Tucker enrolled at Ohio State in January and will bring his hard-nosed, physical attitude to the Ohio State football program this fall. After only a few practices in the scarlet and gray attire, the OSU coaching staff said Tucker sent a message to everyone – he won't shy away from contact. "He needs to learn the system, but he does have a very tough demeanor," Brian Williams, linebackers coach, said. "Jack has a nose for the ball and is a very physical player." Depending on the speed with which he learns the Ohio State defensive schemes, the highly decorated Tucker could challenge for playing time immediately.
1999 (Cerritos College): A second-team All-America at Cerritos by J.C. Grid-Wire … ranked by SuperPrep as the fifth-best junior college linebacker in the nation … totaled 120 tackles … first-team all-Mission Conference selection … helped his team to an 8-3 finish and a win in the Strawberry Bowl.
1998 (Cerritos College): Led team with 114 tackles including 53 solo stops … first-team all-Mission Conference pick … recorded three forced fumbles, three tackles-for-loss and three interceptions … named the team's Defensive Most Valuable Player and Co-Freshman of the Year.
High School: Attended Kennedy High School … the Empire League's Most Valuable Player as a senior … also chosen the league's Defensive Player of the Year as a junior … three-time first-team all-league pick … first-team all-CIF selection as a senior … also starred in baseball.
Personal: Son of Jack and Paul Tucker … born April 22, 1980 … lists Bill Romanowski as his favorite athlete and "The Great Gatsby" as his favorite book … an avid surfer and golfer.
Offense
| Season | Team | G | GS | KR | KR Yds |
| --- | --- | --- | --- | --- | --- |
| 2001 | Ohio State | 5 | 0 | 0 | 0 |
| 2002 | Ohio State | 11 | 0 | 1 | 0 |
| Total | - | 16 | 0 | 1 | 0 |
Defense
| Season | Team | G | GS | Tkl | Solo | Asst | KR | KR Yds |
| --- | --- | --- | --- | --- | --- | --- | --- | --- |
| 2001 | Ohio State | 5 | 0 | 0 | 0 | 0 | 0 | 0 |
| 2002 | Ohio State | 11 | 0 | 2 | 1 | 1 | 1 | 0 |
| Total | - | 16 | 0 | 2 | 1 | 1 | 1 | 0 |