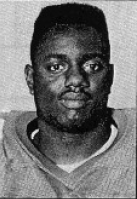 Nationality

United States

Position

CB

Birthday

11/22/1970

Hometown

Sarasota, FL

High School

Riverview

Height

5'11"

Weight

180

Current Team

Ohio State

Seasons

1989, 1990, 1991, 1992
Major: Communications (1991-92), Undecided (1989-90)
Weight: 185 (1992), 190 (1991), 180 (1990), 170 (1989)
1992 Media Guide: Will start at the field corner (wide side) … Paulk is the Buckeyes' fastest defensive back and an outstanding one-on-one defender … has played in 36 games the past three years and has 21 starts, including all 12 games last year, giving him a string of 15 straight heading into the 1992 campaign … has been a durable player throughout his career, although he did miss most of last year's Michigan game after spraining his ankle in the first quarter … wound up with 37 tackles in 1991, including 29 solos … had eight tackles against Washington State and again at Illinois … six tackles against Syracuse in the Hall of Fame Bowl … lone interception of the year came against Louisville … showed his speed against Northwestern in Cleveland, taking a pass from punter Tim Williams on an aborted punt and then zigging and zagging his way through the Wildcats for 21 yards.
1991 Media Guide: Will be the starter at the open-side corner … the Buckeyes' fastest defensive player and a very adept one-on-one defender … started six games last year, including the final three, and has nine career starts … totals last season included 35 tackles and three passes broken up in the 12 games he played in … blocked punts against Illinois and Iowa, the latter setting up a key touchdown in the Buckeyes' thrilling come-from-behind win over the Hawkeyes (27-26) … seven tackles against Illinois was his season high.
1990 Media Guide: Fine young athlete who will start at right cornerback … picked up valuable experience last year as a freshman, playing in all 12 games and starting three times … finished the year with 28 tackles … also had one interception … has a 33-inch vertical jump and breaks well on the ball … had a very good spring and will get better with experience.
1989: Started the Boston College, Illinois and Indiana games when regular David Brown was hurt … lone interception came against Illinois … five tackles against Indiana and Illinois were his top efforts.
HIGH SCHOOL: All-state and honorable mention USA Today All-American team … combined for 12 interceptions his junior and senior years, running back three of those for touchdowns … also earned four letters in track … 10.66 in the 100 meters … has been timed at 4.40 in the 40-yard dash.
PERSONAL: Hobbies include building model trucks … admires Walter Payton … would like to major in business or electrical engineering … goes by his middle name, Lezon.
Defense
| Season | Team | G | GS | Tkl | Solo | Asst | TFL | TFL Yds | FR | Int | Int Yds | PBU | Blk | PR | PR Yds | PR TD |
| --- | --- | --- | --- | --- | --- | --- | --- | --- | --- | --- | --- | --- | --- | --- | --- | --- |
| 1989 | Ohio State | 12 | 3 | 28 | 16 | 12 | 0 | 0 | 0 | 1 | 16 | 3 | 0 | 0 | 0 | 0 |
| 1990 | Ohio State | 12 | 4 | 36 | 25 | 11 | 0 | 0 | 1 | 0 | 0 | 3 | 2 | 1 | 8 | 0 |
| 1991 | Ohio State | 12 | 9 | 37 | 29 | 8 | 2 | 5 | 0 | 1 | 0 | 3 | 0 | 0 | 0 | 0 |
| Total | - | 36 | 16 | 101 | 70 | 31 | 2 | 5 | 1 | 2 | 16 | 9 | 2 | 1 | 8 | 0 |