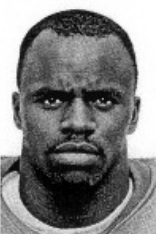 Nationality

United States

Position

CB, S

Height

6'0"

Weight

182

Birthday

7/7/1966

Hometown

Utica, NY

High School

Notre Dame

Current Team

Ohio State

Seasons

1985, 1986, 1987, 1988, 1989
Major: Communications (1987-89), Business (1985)
Weight: 182 (1989), 180 (1988), 184 (1986), 182 (1985)
1989 Media Guide: In his fourth year as a starter and the Buckeyes' most experienced defensive player … moves from safety to cornerback this year to take better advantage of his athletic ability … excellent speed … could play any of the secondary positions … has eight career interceptions … missed the spring game last April because of a severe concussion suffered in practice.
1988: Started the first eight games, but saw limited action the last three due to a hamstring pull … totaled 41 tackles … recorded a 10-yard sack in the closing seconds at Minnesota that helped preserve OSU's 13-6 win.
1988 Media Guide: One of the top safeties in the Big Ten … hard hitter who has a nose for the ball … had three interceptions and four pass breakups last year … nine tackles and an interception at Michigan.
1987: Started all 11 games and had 53 tackles, including 27 in the last three games.
1986: Started 12 of the 13 games and had a 100-yard interception return for a TD at Purdue that tied the Big Ten modern era record … played a total of 333.5 minutes, tops for all freshmen and fifth-highest on the entire team.
1986 Media Guide: Figures to be Ohio State's backup safety to Terry White.
1985: Redshirted.
1985 Media Guide: The fastest of the freshman recruits … runs the 100-meter dash in 10.7 … consistently runs the 40 in 4.5 … will likely be used in the secondary.
High School: All-state tailback as a senior, rushing for 1,225 yards and 17 touchdowns … was a sprinter on the U.S. team that competed in West Germany … 10.7 in the 100 meters is his best time … set the New York high school record in the 100-meter dash.
Personal: Hobbies are jogging and fishing … has five brothers and one sister … raised by his grandmother after his parents were killed 15 years ago.
Defense
| Season | Team | G | GS | Tkl | Solo | Asst | TFL | TFL Yds | Sacks | Sack Yds | FF | FR | Int | Int Yds | PBU | Blk | Def TD | PR | PR Yds |
| --- | --- | --- | --- | --- | --- | --- | --- | --- | --- | --- | --- | --- | --- | --- | --- | --- | --- | --- | --- |
| 1986 | Ohio State | 13 | 12 | 70 | 39 | 31 | 0 | 0 | 0 | 0 | 0 | 3 | 4 | 117 | 2 | 0 | 1 | 0 | 0 |
| 1987 | Ohio State | 11 | 11 | 53 | 25 | 28 | 1 | 3 | 0 | 0 | 0 | 1 | 3 | 33 | 4 | 1 | 0 | 1 | 6 |
| 1988 | Ohio State | 10 | 8 | 41 | 27 | 14 | 1.0 | 10 | 1.0 | 10 | 0 | 0 | 1 | 2 | 4 | 0 | 0 | 0 | 0 |
| 1989 | Ohio State | 12 | 11 | 48 | 28 | 20 | 1 | 6 | 0 | 0 | 0 | 1 | 4 | 66 | 7 | 0 | 1 | 0 | 0 |
| Total | - | 46 | 42 | 212 | 119 | 93 | 3 | 19 | 1 | 10 | 0 | 5 | 12 | 218 | 17 | 1 | 2 | 1 | 6 |